Two women who cut a bus's lane at an unloading bay of a mall, ended up being furious for almost colliding with it
Netizen Angelyn Saavedra posted videos of the incident where the women were shouting at the bus driver, and at one point, one of them even punched the driver
Social media users slam the women's actions, citing that while they can buy a car, they certainly cannot afford discipline and respect
A netizen posted on Facebook videos of two women who were livid at a bus driver for almost crashing their car—but turned out that they were in the wrong as they were the ones who cut the bus's lane and swerved to the unloading bay of public buses at a mall in Manila.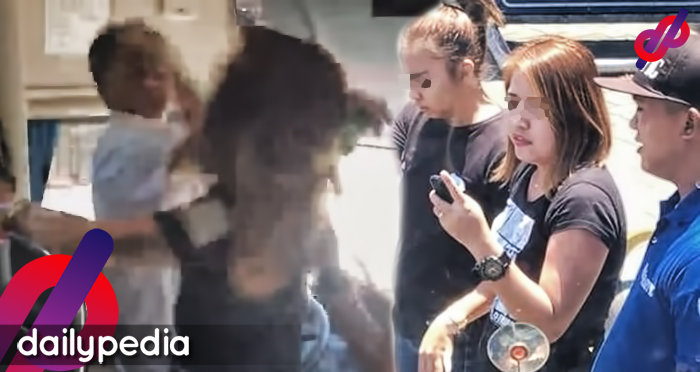 Facebook user Angelyn Loquias Saavedra reported on April 5 that the bus was unloading passengers at Mall of Asia when the incident happened.
"Kitang kita sa video ang ka walang respetong paglapit, pagduru duro at pag suntok ng mga babaeng driver (may ari nung kotse) kay kuya bus driver. Kahit mga (enforcer) wala man lang nagawa, kundi pagdiinan din na may kasalanan si kuyang bus driver. Mabuti nalang may isang taga media na tumulong at gumawa ng paraan. We salute you (Ma'am) for taking such action over that situation 👍🏻" wrote Saavedra.
The latter remark was made in reference to a middle-aged woman named Monique Legacy, who was one of the passengers of the bus, and the person who mediated on behalf of the bus driver and spoke to the traffic enforcers how the man was not in any liability, since there were no damages made to the car of the irate complainants.
The videos show that the passengers and the bus driver were visibly upset over the inconvenience they experienced from the women.
The Metropolitan Manila Development Authority (MMDA) website explained that "swerving is not a traffic violation per se. It is defined as a movement wherein vehicles shift from a lane to another. However, it can constitute the offense of reckless driving if it is done without precautions (e.g. swerving in an abrupt and careless manner, swerving without the use of signals, swerving across solid lines). Swerving can also constitute the offense of Disregarding Traffic Signs if there are signs present that explicitly prohibit swerving in the area."
"In ordinary use, (swerving) means the abrupt change of lane; then, MMDA refined it to a change in several lanes. 'Swerving' is simply an unsafe change of lane," said Lawyer Robby Consunji, Top Gear Philippines' columnist, in an article by Inquirer.net posted on March 29, 2017.
"Para sa mga ibang driver dyan. Disiplina po pag dating sa daan 😊 PS: Kayo na bahala humusga, tumingin sa posisyon ng mga sasakyan 😅 at kung ano pa 😊" added Saavedra.
Social media users who read her post and watched the videos sympathized with the bus driver while others tore at the conduct of the women-accusers and even the traffic enforcers.
"Bumili ng sasakyan, walang alam sa batas trapiko. Lol," wrote netizen Kelvin Grefiel Chu.
"May pangbili ng sasakyan pero walang pangbili ng disiplina sa sarili," chimed Rovelyn Miniano.
"Yung ibang mga tagapagpatupad ng batas dito sa Pinas nakabase lang kung sino ang may pera," pointed out another netizen.