• A hotel asked for proof of marriage when booking for a hotel room
• Some of the netizens reacted positively but some think it's offensive
• The hotel has reiterated their statement that they are "stewards of the Lord" and they believe in the sanctity of marriage
A hotel at Badiangan, Iloilo went viral on social media, after a netizen posted a photo of their hotel guidelines when booking for a hotel room. This photo earned different reactions from netizens who expressed their opinions.
A Facebook user, Bonnie Degala, shared a photo of Epharathah Farms guidelines for couples who are planning to book at their hotel.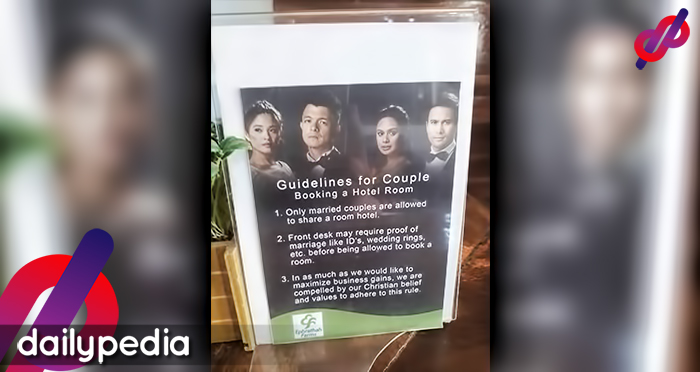 The following rules are:
1. Only married couples are allowed to share a room.
2. The front desk may require proof of marriage like IDs, wedding rings, etc. before being allowed to book a room.
3. In as much as we would like to maximize our business gains, we are compelled by our Christian belief and values to adhere to this rule.
The establishment used the poster of the ABS-CBN teleyerse "Halik" as the background layout of their hotel guidelines which captured the netizens' attention. The said teleserye tells the story of complicated relationships in portraying an unfaithful marriage.
Degala admired the hotel's rules as he captioned his post with "Ethical business is good business. That's how an economic human enterprise helps build God's kingdom here on earth."
Netizens have mixed reactions over the viral post. Some took it positively but some didn't agree with their rules.
A netizen named Rutchel Rapista Amador said "Amen. This is how a hotel should run its business. I salute their management for its great business values – for giving importance on the sanctity of marriage and faith in God."
https://www.facebook.com/1628943843/posts/10212498024718831/?_rdc=2&_rdr
Indeed, they can never please everyone as some think it is offensive.
Nathaniel Arciaga commented, "I don't know, but doesn't ethical business also entail not using a proprietary image that you don't own, nor have no permission to use?
And what about non-romantic couples who are vacationing together? Like a gay man and his female best friend.
At napakadali naman for the Aces and the Jades of this world to get around this rule. Just book two rooms, but sleep in just one. Or babantayan ka pa rin ba ng hotel staff kung may katabi ka ba sa pagtulog sa gabi? Or baka yun ang business strategy, to make "sinners" pay more.
Their business, their rules, I guess. But then again, masyado nang toxic ang mundo. Huwag na natin gamitin ang pagiging "Christian" to prejudge people, or at the very least huwag kayong gumamit ng popularity ng show na wala kayong kinalaman sa pangja-judge ninyo."
Some even gave more focus on the used background image if they asked permission to use the photo.
Christopher Castillon posted questions like "Christian beliefs like piracy? Intellectual Property theft?
Are those not images of actors from ABS-CBN? Used with permission (in a commercial setting/establishment) ?"
On April 18, the Epharathah Farm released an official statement regarding the viral post.
The establishment didn't have the intention to go viral because of the guidelines for it is not in their control if somebody would share photos on social media.
The Epharathah Farm also answered the issue of using the teleserye cast photos. It stated that the photo was only taken from the Internet with the intention of internal use, as they clarified that they never used it for commercial purposes or even posted it online in any of their social media pages for economic gain. The photos are properly credited and written at the bottom of the ads.
The hotel has reiterated their statement that they are "stewards of the Lord" and they believe in the sanctity of marriage.
"Although people may say that this is a bad business decision, our faith in God is greater than money. We have been operating for the last 6 years and this has been our rule since day one. And for the last 6 years, the Lord still sustains His business."