How lucky are Filipinos? We have delicious cuisine, beautiful women, a unique culture, and now we are also one of the first countries to screen the most awaited Marvel's 'Avengers: Endgame.'
This is easily one of the biggest and most anticipated movies of all time so it will not be that surprising to see people do things out of the ordinary.
Here is a list of the craziest things Filipinos did on the first day of the movie's screening.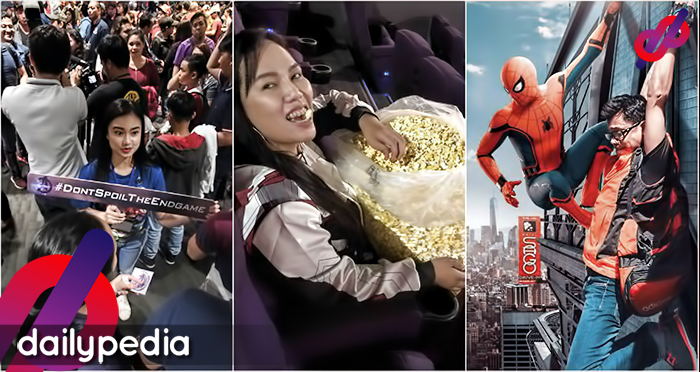 1. The movie has an overall screening time of 3 hours. Most men can't even last that long with their partners. When it comes to movies, food will almost always be a necessity, specifically popcorn.
One woman took popcorn a step too far when she decided to buy what looks like 2 kilograms of popcorn placed in a big plastic bag. Netizens were fascinated with her antics and found it to be hilarious!
Even she herself knows that it could take an entire day to finish that popcorn.
2. Megaworld Lifestyle Mall announced that the most-awaited Avengers movie of all time will be shown with Chinese subtitles. Netizens and people were not too happy with the announcement, and people who have bought tickets in advance aired their frustration by asking for refunds.
https://twitter.com/tudssiazon/status/1120649265661956097
I am both amazed and angered by Marvel Studios, Walt Disney Studios, and Megaworld for thinking that we will enjoy watching Avengers with Chinese subs in our country's cinemas? Think again! Scrap that Chinese subs!

— BIBOYism (@Biboyism101) April 22, 2019
Talking about the 'thing' with Megaworld adding Chinese subs to Avengers: Endgame. A friend who is hearing impaired said, "I hope they consider adding English subtitles. It's been years since I haven't watched in a movie theater because of lack of subs."

— Kat Sales (@saberkite) April 23, 2019
They felt that the Chinese were being given special treatment and one more reason for the outrage is that there is still tension between the two countries. Filipinos might be overreacting since the Chinese subtitles will only be shown in selected cinemas.
3. Graduation is a significant moment for any student. But one student thought that graduation can wait and went straight to buying an Avenger's ticket while wearing his graduation attire.
But its okay, he does not look like someone who would win an award anyway.
https://www.facebook.com/iknowthatinfo/photos/a.1822366484528320/2082943731803926/?type=3&theater
4. When we say 4:30 in the morning, some people go out for a jog, some are still sleeping, some are preparing to go to work. But the real Avengers fans, or those who are unemployed, at 4:30 in the morning on the day of the screening, headed straight to the cinemas to line up for tickets.
Done watching "Avengers: Endgame"? Just a friendly reminder: #DontSpoilTheEndgame. (Mark Demayo, ABS-CBN News)

ICYMI: Some fans lined up as early as 4:30 a.m. Wednesday for the first screening of the film. Read more here: https://t.co/27Iqu6v88L pic.twitter.com/14AMvpYfVI

— ABS-CBN News (@ABSCBNNews) April 24, 2019
For those who are not fans of the series, now you know how important this movie is!
5. The video shows Filipinos inside a mall running up an escalator with full speed. They kept on running when they reached the second floor. People are pushing each other trying to make it to the cinemas.
Who would have thought that we would see a marathon happen inside a mall. The entire thing looked like a scene out of World War Z.
https://www.facebook.com/PinoyViralStudio/videos/282515966036951/
6. Filipinos are creatively funny. One Marvel Fan by the name of Edgar Torres Jr, photo-shopped himself with several Marvel heroes creating a parody of photos. He also included well known personalities like Coco Martin.
https://www.facebook.com/MCU.DCEU.fanclub/posts/409087989671913
His posts have garnered over 35,000 shares and 25,000 likes.
7. Cosplayers showed up in KCC Mall Zamboanga dressed up as several Marvel Heroes. People were intrigued with them although they looked like the midget versions of the original ones but nonetheless made the people, especially the kids, happy.
These are just some of the most peculiar things Pinoys have done during the screening of one of the biggest movies of all time. Imagine if there would be a bigger movie than the 'Avengers: Endgame,' and that movie will be screened first in this country, what other crazy things can we expect from Filipino moviegoers? Hmm.