A Facebook user shared online how an old seller succumbed to a scheme of fake money payment while vending bananas
Netizens who were touched by the story sent the original poster some cash to be given to Lolo Solomon
Local authorities advised the public, as well as the vendors to always keep an eye against fake money
A social media user took to Facebook on April 21 to share the wretched plight of one ageing seller of bananas who became victim of fake money, when a customer paid him with a fake 1,000 peso bill, which brought netizens to vexation and sympathy.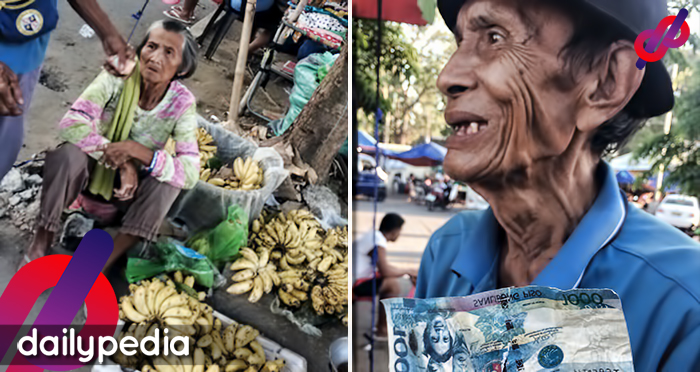 Concerned netizen An Ge Lie posted a picture of Lolo Solomon holding the fake money and explained his circumstance to other social media users. The old vendor, together with his wife, were selling in a market in Minglanilla, Cebu when a buyer bought bananas from him which amounted to 100 pesos.
This scammer paid with the fake money and ended up with 900 pesos, along with Lolo Solomon's merchandise. Facebook users who have read An Ge Lie's post were angered by the dishonest customer, many of them pointing out that this person had no conscience left to him/her by fooling the old and poor vendor.
nangompra ko sayos buntag, kani c lolo gbyran ug 1,000 nga fake. gsuklian pd tawn nia ug 900 pesos ky balig 100 pesos…

Posted by An Ge Lie on Saturday, April 20, 2019
The original poster called for help from their local news page to catch the swindler. She even made a live video to help collect and donate money from other concerned netizens to support Lolo Solomon. Her actions were admired by other Facebook users for aiding the poor merchant.
Her post went viral with 46 thousand reactions and 105 thousand shares online, with social media users depositing money in An Ge Lie's bank account to be given to Lolo Solomon.
Posted by An Ge Lie on Saturday, April 20, 2019
In the meantime, local authorities warned the public, especially merchants, to be vigilant with regard to the payments they receive from customers, ensuring that they are authentic.