A loving and proud sister shared online the story of her adoptive brother who graduated elementary, despite having general learning disability
Wayne once wished on his birthday cake the chance to graduate and never become a 'repeater'
PC Pau also narrated her brother's good character even though he has low grades, which warmed netizens' hearts
A netizen proudly shared on Facebook the achievement of her youngest, adopted brother, who is graduating from elementary school, despite having low grades and a general learning disability.
PC Pau shared Wayne's photo in his boy scouts uniform and a picture of his report card, while disclosing online the trials and tribulations of her adopted brother, whose biological mother died of lupus; whereas his biological father left him and now has a new family of his own.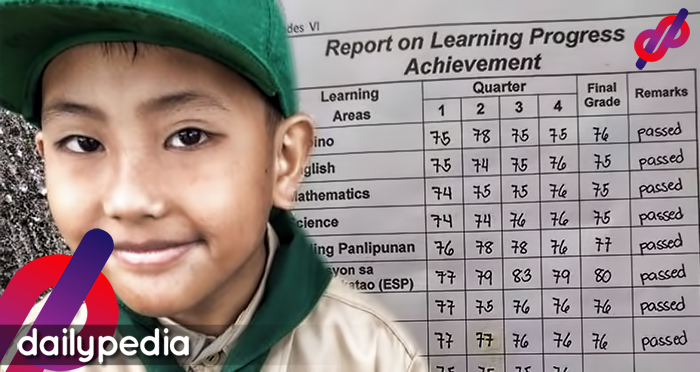 "At one point, as a family, we decided that kahit mag repeat nalang siya ng grade 6. He would also agree and accept that. He would always tell us 'okay lang naman mag repeat ako pag di ako pumasa.' One day, after school, he came running home, excitedly shouting 'mama, gagraduate daw ako!' he sat down between me and our mama and he continued with 'ate, totoo pala ang birthday wish kasi ang wish ko sana maka graduate ako tapos nagkatotoo,'" wrote the original poster.
Said kid is 12 years old and has a hard time reading, writing, and speaking. He could not construct sentences well and only started learning how to read syllables and memorizing the alphabet while in Grade 6.  In comparison to other children of his age, he is small, likes to play games that 4 or 5 year old children enjoy, and could not keep still.
PC Pau admitted that they do not actually know what her adopted brother's condition is.
"We tried a lot of times, especially when his mother died but every time we would try to teach him how to read or try to familiarize him with the alphabet, he would always cry in front of his notebooks or study materials. He managed to pass the 1st to the 5th grade in elementary with a general average ranging from 76 – 78. An 80 in his card would make us really proud," added the netizen.
They also were not aware if the boy had any assignments and would only come to know of it when his classmates would pass by their house to tell their family instructions on what happened in school and what their home works were.
Presently, PC Pau's brother still has a hard time constructing stories and relaying messages but he managed to graduate in elementary last April 1, with a general average of 76.
https://www.facebook.com/paulene.claire.79/posts/405851606911415
"Many people might question 'why was he allowed to graduate with that kind of average?' or 'he is barely able to read and write, how did he pass?' The thing is, he tried and kept trying. He tried to focus, but the urge to play is stronger. He tried to listen, but there are things that he is more interested in doing. He tried explaining, but he did not know how to," related the concerned sister.
Wayne grew up with PC Pau's family, who were really tight knit with the boy's biological parents before. She also shared that their family never scolded the boy and never made him feel like he was inadequate.
"Behind those almost failing grades, behind those unexplained explanations, were dreams and a great character," she said.
PC Pau also attested to the boy's good character by using his allowance of 20 pesos to buy their mother coffee or his nephews biscuit. The meager change that would be left to him will be saved in an improvised coin bank and he would sacrifice his savings if he felt that his adoptive family would not be able to buy rice or viands.
"Grades will never define him. He may have low grades, but he has a great character, an attitude that we will never exchange for anything. He can't explain himself clearly with words, but his actions speak for him. We love him no matter how low or high his grades will be. We love him for being him… We are proud of you, what you are now and what you will become. Continue following your dreams. Mama Alma is always watching over you. We love you so much," affectionately expressed the netizen.
Netizens who read the story admired Wayne's perseverance and congratulated him on his feat.
https://www.facebook.com/paulene.claire.79/posts/406371853526057
Lorie Serrano Dela Torre commented on the post, saying "Congrats Wayne! Good job!!! Wala sa GWA ang kabutihang loob ng bata. Aanhin ang mataas na marka kung ang ugali ay basura."
Maridol Dy advised, "Have you tried bringing him to a psychologist? Para malaman if he is under the autism spectrum. Once malaman kasi the reason behind his delayed learning, mas matutulungan siyang makasabay. Nevertheless, you were such a wonderful family for not giving up on Wayne and constantly being patient with him. Congratulations on graduating elementary, Wayne!"
PC Pau's post has now gone viral receiving over 101 thousand reactions and 29 thousand shares online.