A couple who celebrated their relationship's anniversary posted lewd pictures of themselves on twitter.
Their modern-day love story started by following each other on twitter and talking on Snapchat.
Other social media users celebrated with them while a few did not appreciate seeing their lewd photographs.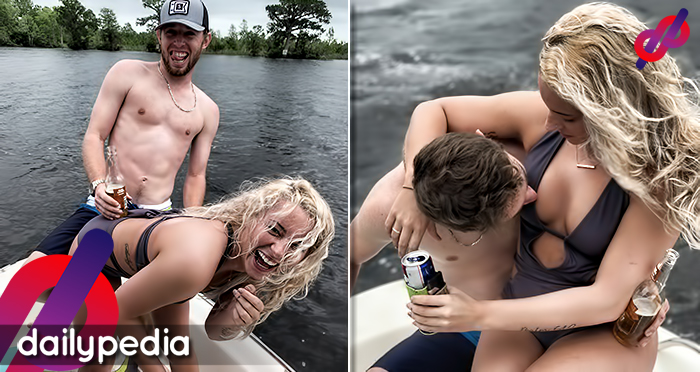 A couple's photographs made the rounds on social media on April 15, as they happily pronounced their relationship with sexually suggestive poses.
"The river ain't the only thing I'm hitting today," wrote a Netizen named "Brice" coupled with pictures of him and his girlfriend in bawdy poses.
Brice narrated then the start of his and his girlfriend Cher's relationship—and what an apt thing to share it on social media that brought them together, twitter that is.
Brice, who is from South Carolina, said that Cher, who is a native of Missouri, followed him on twitter. He then found her Snapchat handle, added her, and proceeded to send her a privately message.
"Next thing you know, we got an Airbnb and planned to meet in Nashville," said Brice, bringing the song 'Meet Me Halfway' to life.
According to the twitter user, however, Cher couldn't wait to see him so she drove down two days before their planned meet-up.
"We spent an awesome weekend in Nashville. A couple weeks later she moved down here and we found her a job and now (we're) here," added Brice.
Brice's post has received over four thousand likes online. Most of the social media users found their story adorable while some raised their Internet-brows on the two.
"(I'm) not against straight people but do it in private," replied one Twitter user.
https://twitter.com/semimorocha/status/1118744691787337729
While another used a meme to express his dissension on the post:
"What an attention seeking f***** lol" accused another social media user.
"These pictures are about the last thing we all publicly want to see," commented one Netizen.
"Never seen people have love for each other? Damn my guy that sucks," defended another social media user.
"This is a great modern love story. A great pick-me-up on a Monday!" wrote one Twitter user.
"Cutest thing I've ever seen, congrats on the win to both of you! 💞" said another.
https://twitter.com/Serenity_632/status/1118001113222078465?s=19
"This is so damn awkward," one Netizen pointed out.
https://twitter.com/Tomriddz/status/1117926530716504065?s=19
"When you're as goofy as us. It really isn't 😂" claimed the original poster.
https://twitter.com/brysonallenn6/status/1117927089666179073?s=19