A Cebu City councilor posts photos of campaign ads covering their murals, urges public to save them
Netizens were peeved upon seeing the photos and they vowed not to vote for those who are in the campaign ads
It is unclear, as of the moment, whether the running candidates violated campaign rules set up by the Comelec
A Cebu City Councilor raised concern on Facebook about how their murals were now littered with campaign ads, which irked many netizens.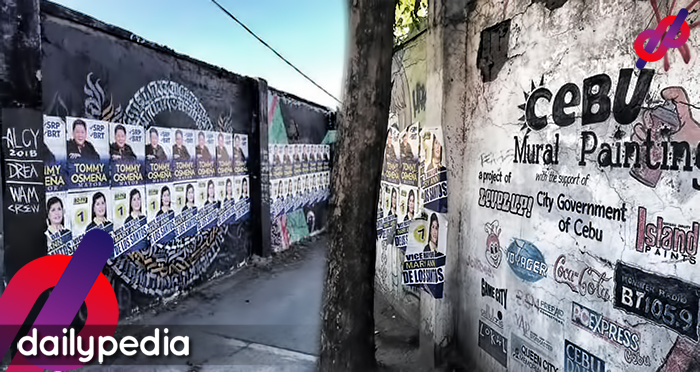 Local legislator Joel Garganera posted photos on his account, captioning it with "MURALS NO MORE! Our local artist has turned these walls into a gallery of artsy colors and advocacy, until our city government officials decided to replace them with their faces and promises."
He added, "I pity our Cebuano artists who put their heart, talents, and resources in coming up with these very informative wall paintings. Please spare our murals. -#Panday #SaveOurMurals".
Garganera was a former barangay captain of Brgy. Tinago for close to 30 years and his post has now garnered over 17 thousand reactions and 17 thousand shares online, many of whom were dismayed over their local government officials' actions. A few others wanted the names and faces in the posters covering their murals to be remembered so that the public could veer away from voting them.
In line with the Fair Elections Act, the Commission on Elections (Comelec) has set up campaign rules for this year's midterm elections.
According to an article by Rappler, discussing the rules set by Comelec, parties and independent candidates can put up posters in conspicuous public places with the heaviest foot traffic like plazas, markets, and barangay centers. The posters cannot be placed in trees along public roads and plants in any public grounds.
Campaign ads should also not be present in these places:
Publicly-owned LED or LCD screens along highways and streets or on walls of public buildings, and other similar devices owned by the national or local government
Patrol cars, ambulances, or other motor vehicles owned by the national or local government
Public transport vehicles owned and controlled by government, such as the MRT, LRT, and PNR
Waiting sheds, sidewalks, street/lamp posts, electric posts/wires, traffic signs, and others on public property
Pedestrian overpasses and underpasses, flyovers, bridges, main roads, and center islands of roads
Schools, public shrines, barangay halls, government offices, health centers, and other public structures
Within the premises of public transport terminals owned and controlled by government
Voters and poll watchers may report violations of the campaign ads to the Comelec through the following methods: (1) phone: (02) 525-9294 or (02) 525-9296, (2) email: [email protected] and (3) online: Comelec's Facebook and Twitter pages.