Bullying videos in Ateneo Junior High School have gone viral on Facebook.
It showed a student physically hurting others by using his taekwondo skills.
Ateneo de Manila University has released a statement saying that they are conducting an investigation regarding the incident.
Videos have gone viral on Facebook showing a kid bullying his schoolmates from Ateneo Junior High School.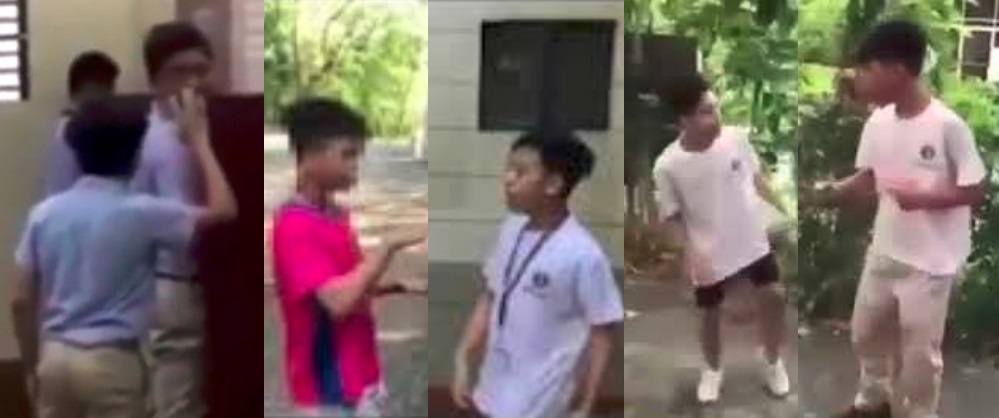 Three videos of the taekwondo athlete have spread around the platform. The first one was him fighting with a student wearing white.
The taller student have surrendered at the end of the video.
No to BULLYING. I was bullied alot in HS to the point that I dont want to go to school bec i felt unwanted dis kid was already been doing alot of physical violence and this is his 3rd time. privileged rich kid fxcked up attitude. #ateneobully #NoToBullying pic.twitter.com/6AZsSqireM

— BlueGureum • ☁️☁️☁️ (@bluegureum) December 20, 2018
Another video showed a student kneeling in front of the athlete while being told to say that he's stupid and even asked him to kiss his foot.
Martial arts should be used as form of defence and he used this to 4 students. Is this something that we need to tolerate? He made his schoolmate kneeled and ask him to tell everyone Sabihin mo BOBO ka(tell everyone you're stupid) hes a bully period. #JoaquinMontes #NoToBullying pic.twitter.com/j56R64hcBG

— BlueGureum • ☁️☁️☁️ (@bluegureum) December 21, 2018
The third video was the worst as he repeatedly kicked and punched another student in the face. This resulted to the latter having a bloody face after the taekwondo athlete was done beating him.
As multiple uploads of the videos have gone viral, Ateneo de Manila University has released a statement, signed by principal Jose Antonio Salvador, saying that they are aware of the content that has been going around social media.
"The Ateneo Junior High School is dealing with this matter seriously beginning with an immediate investigation that ensued the moment the report reached us.
"We express our concern about the risks associated with sharing the video, online and in social media groups."
It also stated that the privacy of the students have been breached and it has also "provoked" uncalled for reactions.
"May we appeal however to the rest to help in putting a stop to the indiscriminate spreading of the video."
Viral videos solicit reactions from netizens
https://twitter.com/smilerenjun_/status/1076000883995885568
https://twitter.com/lijakjoys/status/1075705628541108224
https://twitter.com/nikallamzon/status/1075710110855421953
as much as the parents are to blame for their son's behavior,
the school should be held accountable because these incidents all happened inside their school. 3 times na documented yung pambubully and now that its gone viral, ngayon lang kayo maginvestigate?! #ateneo #bully

— Karlo Domingo (@karlodomingo) December 20, 2018
I once visited ateneo for a tournament in taekwondo, and won my third gold medal. I even fought with a atenean in my last round… he and his teammates seems nice and very disciplined. Did they changed their coach for him to bully anyone????

— ᜏᜆᜉᜃ᜔ (@RafnotRap) December 20, 2018
beyond imposing punitive sanctions on the bully/criminal, i hope ateneo immediately contacts the students who were bullied and their families.

those students need counseling and their families require proper assistance so they and their children can cope with such an atrocity.

— Pilo Hilbay (@fthilbay) December 20, 2018
So I just watched the video of ateneo bullying incident and it really pisses me off. And i just read in some posts that he(the bully) does Taek Kwan Do and it's obvious that he uses sport to harm people.

— マイカ (@slvtrmyks) December 20, 2018
https://twitter.com/JessePepino/status/1075638788796215296
Joaquin Montes the bully in the said video has the same attitude with his older brother Diego as stated by a netizen in the 2nd photo. I hope Ateneo will give him the right taste of his own medicine.
crdts to the ss. pic.twitter.com/4HHUUMCKVO

— Sotero (@ColorSpyGuy) December 20, 2018
Saw this vid of a bully of a punk! Bully o dignidad??? Ateneo (think it is because of the uniform) should kick his ass out! No room for this kind of behavior. pic.twitter.com/3y9EWJMyFZ

— Jam Jongko (@jamjongko) December 20, 2018
i watched the ateneo jh bullshit and what im about to say is very questionable but there's a part where im blaming the victim in this situation i mean, boy you're 10 ft taller and buffer than your bully dont be a bitch and kill him, you got nothing to lose and hes got everything pic.twitter.com/wSORynMIvS

— JASON🔥WHITE (@JustinGaite) December 20, 2018