Catriona Gray wowed the crowd with her national costume at the Miss Universe 2018.
Her national costume showcased different symbols representing the Philippines as a nation. 
Miss Philippines Catriona Gray broke the tradition of the Filipiniana outfit during the pre-pageant show for the 2018 Miss Universe in Bangkok, Thailand.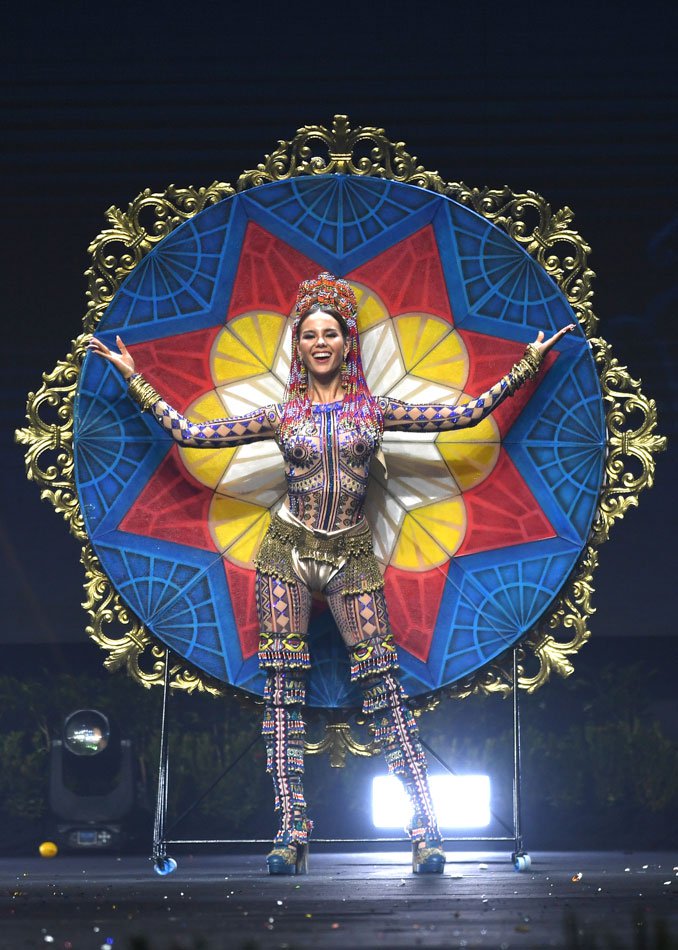 Along with other 92 candidates from across the globe, Gray sported a colorful costume that is dubbed LUZVIMINDA: Magdiwang. Lumaban. Pagyamanin. It became one of the most applauded during the show.
In an interview with ABS-CBN, she said that she intended to really "represent the Philippines in all forms".
Gray added, "When people see the Philippine sash, it's just a word on a sash, but really, we're made up of so many different places and so much different aspects to our culture."
The festive and colorful attire was a collaboration between lantern-maker Eric Quiwa, fashion designer Jearson Dimavivas, architect and artist Carlos Buendia Jr., and well-known shoemaker Jojo Bragais.
https://www.instagram.com/p/BrPtJaXghWu/
Buendia explained that Luzon is represented by the Christmas lantern from Pampanga with a brass border designed and made in Apalit. Painted at the back of the lantern are historical scenes with inscriptions of Lupang Hinirang written in Baybayin.
Additional details were written in Gray Instagram account, "The island group of VISAYAS is represented by a body suit with authentic "tattoo designs" embellished with crystals derived from patterns used by the "PINTADOS" who are indigenous peoples found in various islands in this part of the Philippines. The tattoo patterns are authentic and based from the manusript "BOXER CODEX" written in 1590.
"The island group of MINDANAO is represented by an authentic 'HEADPIECE & BRASS ACCESSORIES' from the province of South Cotabato and customized KNEE-HIGH BOOTS with embroidered designs inspired by different indigenous textile patterns from the southern part of the Philippines"
It also highlighted victories, festivals, heroes, and national icons.
Netizens expressed their amazement on Twitter.
have u seen Catriona Gray's Miss U 2018 National Costume?!??! ANG GANDA!!!! May Baybayin doon, right???? anD IT TRANSLATES TO A VERSE FROM OUR NATIONAL ANTHEM!!! pic.twitter.com/Zmt62jsHjo

— Kez (@kzvhon) December 10, 2018
She's ready to light up the Universe! Let's wait Catriona Gray until she show us this costume! 😍 I'm so proud of what Catriona and her team has made for her and our country! 🇵🇭 MABUHAY KAYO! #MissUniverse #Philippines #CatrionaGray pic.twitter.com/Q8J3Y0lf6D

— Pia Wurtzbach (@PiaWurtzbachUni) December 10, 2018
https://twitter.com/heypervjun/status/1072133526936444929
This has been the best national costume a Filipina has ever wore in an international pageant. There's so much symbolism to it. She showcased to the world how rich the culture Philippines has. Bobo lang talaga ang di maka intindi at appreciate sa national costume ni Catriona! pic.twitter.com/zvBipFPs4l

— shawn (@theshawnmendez) December 10, 2018
Catriona's National Costume is so beautiful. See those details? Truly she set the bar higher. Big parol and those paintings at the back. Creative efforts pulled this off, and Catriona nailed it on stage. #MissUniverse #Philippines pic.twitter.com/ueVsDUMbnf

— Raine (@nyeeelll) December 10, 2018
The 2018 Miss Universe beauty pageant has 93 contestants will compete in swimwear and evening gown in front of a selection committee during the preliminary competition on Thursday, December 13.