Blogger Drew Olivar got slammed for urging students to commit suicide.
He stated that instead of doing rallies, students should just hang themselves.
After his pepedederalismo and sign language controversies with PCOO Assistant Secretary Mocha Uson, and bomb threat scare on Facebook, blogger Andrew Olivar was slammed once again for another issue.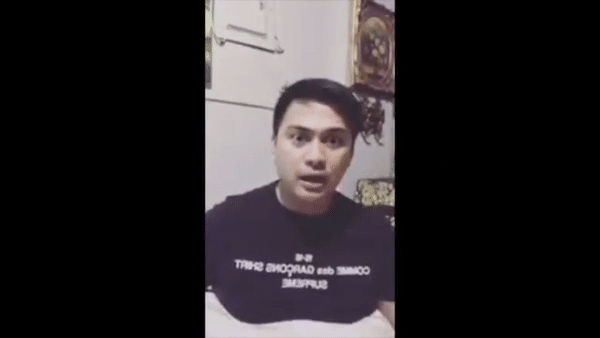 In a video that made rounds on Thursday, September 27, Olivar said that student rallyists should just kill and hang themselves at the University of the Philippines' Oblation, instead of holding protests.
"Mag-suicide kayo diyan sa school ninyo para mas okay, para mabawasan. Mag-(Oblation) kayo diyan, 'yung statue ninyo. Magbigti kayo lahat doon para matapos na talaga."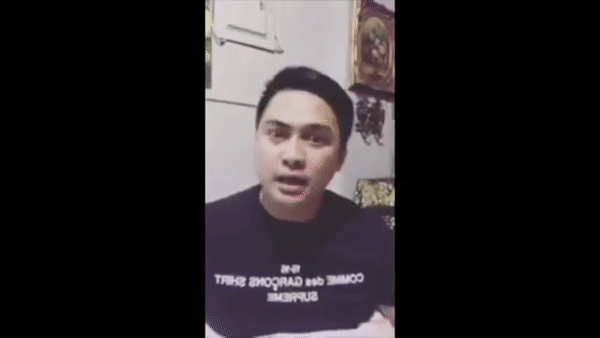 At the time of his video, President Rodrigo Duterte threatened to give the student protesters' slot to bright enrollees from lumad or indigenous communities.
Mental Health advocates immediately slammed the blogger for his thoughtless comments about suicide and self harm.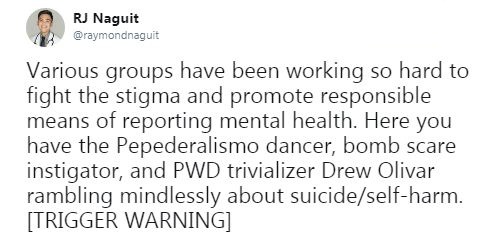 Various groups have been working so hard to fight the stigma and promote responsible means of reporting mental health. Here you have the Pepederalismo dancer, bomb scare instigator, and PWD trivializer Drew Olivar rambling mindlessly about suicide/self-harm. [TRIGGER WARNING]
Another netizen proceeded on calling the blogger "lowlife" and the administration "pathetic."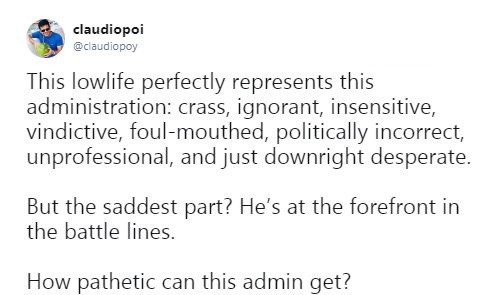 This lowlife perfectly represents this administration: crass, ignorant, insensitive, vindictive, foul-mouthed, politically incorrect, unprofessional, and just downright desperate.

But the saddest part? He's at the forefront in the battle lines.

How pathetic can this admin get?
@iiamerns stated that they've been trying to spread Mental Health awareness but the blogger is doing them, and the administration, no help.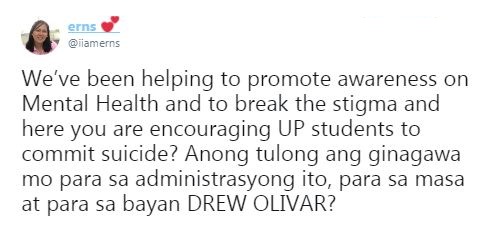 We've been helping to promote awareness on Mental Health and to break the stigma and here you are encouraging UP students to commit suicide? Anong tulong ang ginagawa mo para sa administrasyong ito, para sa masa at para sa bayan DREW OLIVAR?
Laurence Bien Laure asked what it would take to make Olivar responsible for what he has done.

What would it take to make Drew Olivar responsible for these kinds of insensitive remarks?
Ji Glenn Guerero felt sad for those trying so hard to promote the advocacy on social media.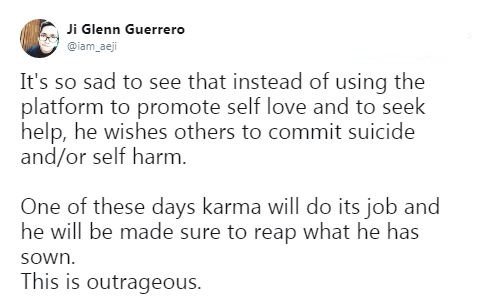 It's so sad to see that instead of using the platform to promote self love and to seek help, he wishes others to commit suicide and/or self harm.

One of these days karma will do its job and he will be made sure to reap what he has sown.
This is outrageous.
James Linga tweeted that the only reason that Olivar has the guts to say anything he wants is because he's under the protection of the current administration.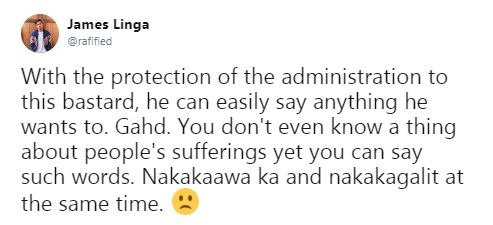 With the protection of the administration to this bastard, he can easily say anything he wants to. Gahd. You don't even know a thing about people's sufferings yet you can say such words. Nakakaawa ka and nakakagalit at the same time.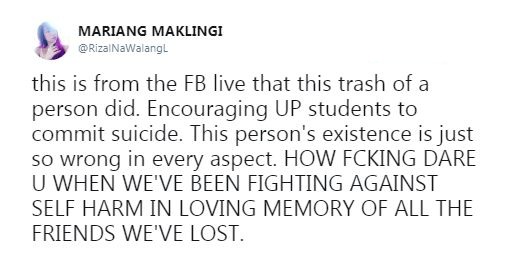 this is from the FB live that this trash of a person did. Encouraging UP students to commit suicide. This person's existence is just so wrong in every aspect. HOW FCKING DARE U WHEN WE'VE BEEN FIGHTING AGAINST SELF HARM IN LOVING MEMORY OF ALL THE FRIENDS WE'VE LOST.
Another netizen hashtagged #JailDrewOlivar.

When you're trying to be positive today then you came across this piece of trash. Bullshit. #JailDrewOlivar