'Charlie' vandalized a coral in Batangas.
Diver's post about the incident went viral as people expressed their anger.
People are now on the look-out for a certain Charlie after a diver discovered the name written on one of the corals at the house reef of Bauan Divers Sanctuary in Batangas.
The photos were shared by a diver named Vince Tenchavez. He said that it was done in the area where his team is working hard to protect the coral life.

Charlie, whoever you are, take that stick, banger, or whatever you used to write on these beautiful corals – and shove it up your…

We found these on September 23, 2018 at around 40ft depth at the house reef of Bauan Divers Sanctuary – in an area where my group and the BDS staff are working hard to propagate coral life by building coral propagation units.
He added that he's also calling out those who are with Charlie when he was vandalizing the corals.
Vince reminded everyone that the coral took decades or hundreds of years to grow, so damaging them is certainly not a joke.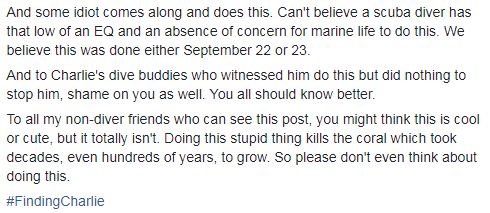 And some idiot comes along and does this. Can't believe a scuba diver has that low of an EQ and an absence of concern for marine life to do this. We believe this was done either September 22 or 23.

And to Charlie's dive buddies who witnessed him do this but did nothing to stop him, shame on you as well. You all should know better.

To all my non-diver friends who can see this post, you might think this is cool or cute, but it totally isn't. Doing this stupid thing kills the coral which took decades, even hundreds of years, to grow. So please don't even think about doing this.

#FindingCharlie
He added that they have checked the guest book of Bauan Divers Sanctuary and found no 'Charlie' there. They believe that it is a deed of a diver from another resort in the area.
"Just to add – A lot of people have been asking me to check the guest list of Bauan Divers Sanctuary, which we already did. And no one named Charlie was checked in last weekend when we were doing our clean up dives with the resort.
"So we believe this person might be a diver from another resort doing a boat dive at the house reef of BDS. There were several boats with several divers diving there over those 2 days. So it's actually very difficult to find out who this person is.
"If this person posted his masterpiece on social media, someone should have noticed it by now. But as of today, no one has reported yet."