Six-year-old boy from Nueva Ecija suffered from focal seizures as a result of using too much gadgets.
The boy and his parents traveled from the province to Metro Manila to have the child checked at St. Luke's Medical Center.
Parents have always reminded their children to limit their gaming and usage of gadgets, however, sometimes it just can't be stopped. Sometimes kids don't understand why, but this boy's case may enlighten the public even the kids of today.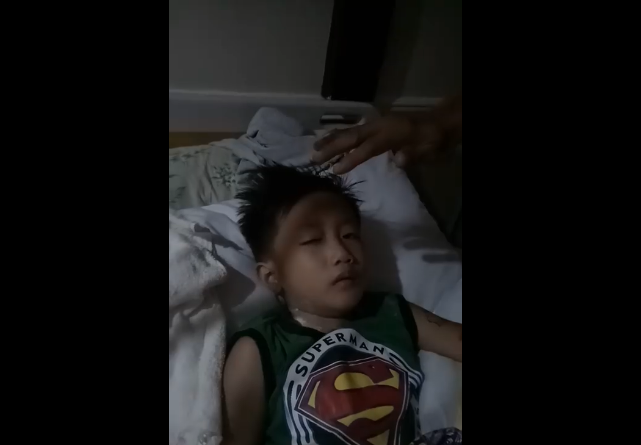 A six-year-old boy from Gapan, Nueva Ecija, suffered from uncontrollable facial seizures after supposedly gaming for nine hours straight. Father Edgar Lising, shared a video of his son, John Nathan Lising, while suffering from facial tics that caused his eyes to blink and lips to shake nonstop.
Video Courtesy of Edgar Lising | Facebook
Nathan got admitted at a local hospital, but as the boy's CT-Scan findings were normal, he was brought home. A few days after, Edgar posted another video of his son having tics as they're on the way to Manila to find a hospital.

PAHELP NAMAN PO ON THE WAY PO KAMI PAPUNTANG MAYNILA SAAN PO KAYANG HOSPITAL NMIN PWEDENG DALHIN ANG ANAK KO PARA SA AGARANG PAGALING PO NYA …HIS SUFFERING SEIZURE DISORDER PO…
Video Courtesy of Edgar Lising | Facebook
After undergoing an electroencephalogram (EEG) at St. Luke's Medical Center, the results came back negative of any irregularities with his brain.
Please see article on Tip #1 to Limit Tics: Reduce Electronics.
In a report by Nextshark, Edgar said that his son has been healthy and never had problems before.
The boy's mother, Judee, added that Nathan watches cartoons as soon as he wakes up then plays video games as soon as he comes from school (from 3PM) until midnight.
Nathan's parents have stopped him from using any electronic toys and are just currently making him take his medicines.  Edgar said, "Just got home from his pedia neuro for follow up check up after 2weeks of taking medicine(valproic acid/depakene)….doctor change his medicine because he dont like taste of depakene…if only he takes his medecine regularly maybe hes ok now…"