An old woman scammer is back doing her old tricks; asking for blood donations spotted once again in Ortigas.
The grandma was exposed as a scammer in 2014 in a post saying that she's really a part of an active syndicate.
After eight years since her scamming modus operandi was discovered, the 77 year-old grandma is back once again.
The old lady has been looking for preys since 2010 and was not exposed until 2014, when a netizen exposed her scheme that she is really a part of a syndicate that earns money by fooling people. She was first discovered wandering around the streets of Manila.
A netizen was shocked upon encountering the woman in Ortigas, who was, as usual, asking for blood donations. Facebook user Rochelle Guetan-Tamundong posted that she spotted the grandma walking along Garnet Road.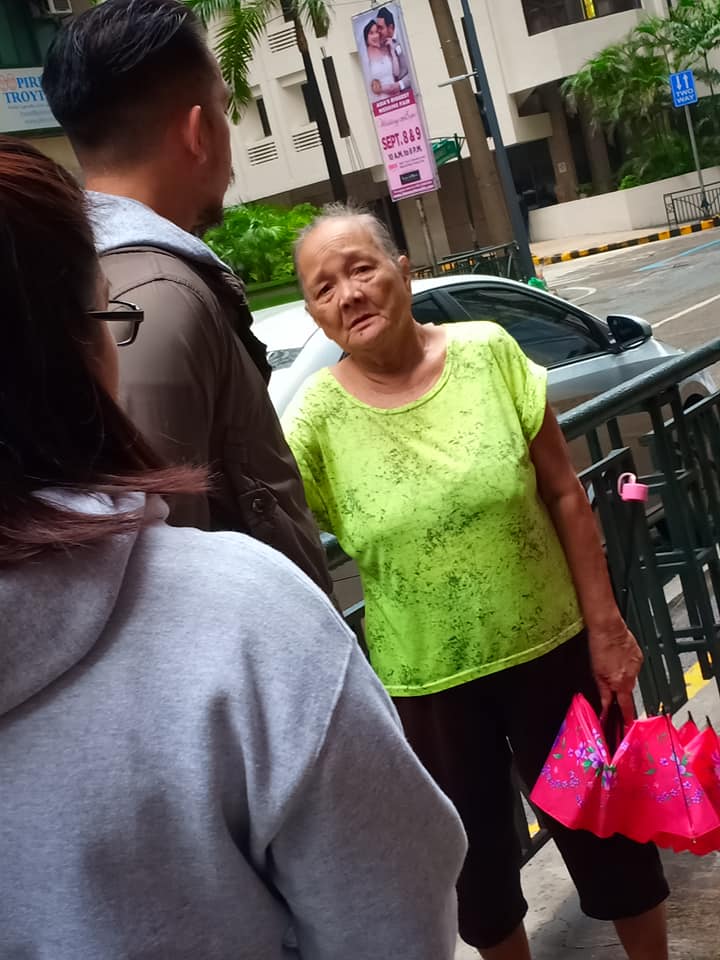 Tamundong shared that she got goosebumps once the lady asked her if she's a blood donor.
"Nak, blood donor ka ba? Kelangan ko ng donor para sa apo ko may leukemia" the old lady greeted her. The netizen shared that when the grandma caught her taking a photo, the old lady suddenly turned around.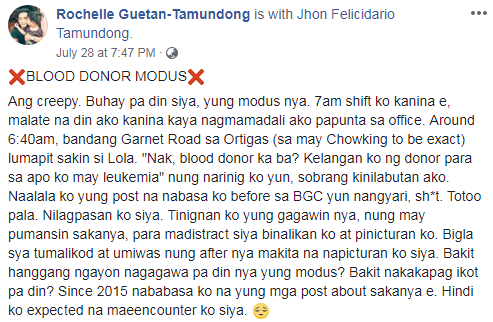 BLOOD DONOR MODUS

Ang creepy. Buhay pa din siya, yung modus nya. 7am shift ko kanina e, malate na din ako kanina kaya nagmamadali ako papunta sa office. Around 6:40am, bandang Garnet Road sa Ortigas (sa may Chowking to be exact) lumapit sakin si Lola. "Nak, blood donor ka ba? Kelangan ko ng donor para sa apo ko may leukemia" nung narinig ko yun, sobrang kinilabutan ako. Naalala ko yung post na nabasa ko before sa BGC yun nangyari, sh*t. Totoo pala. Nilagpasan ko siya. Tinignan ko yung gagawin nya, nung may pumansin sakanya, para madistract siya binalikan ko at pinicturan ko. Bigla sya tumalikod at umiwas nung after nya makita na napicturan ko siya. Bakit hanggang ngayon nagagawa pa din nya yung modus? Bakit nakakapag ikot pa din? Since 2015 nababasa ko na yung mga post about sakanya e. Hindi ko expected na maeencounter ko siya.
The woman named Hermina Morales was exposed by a Netizen named Abbie Santos.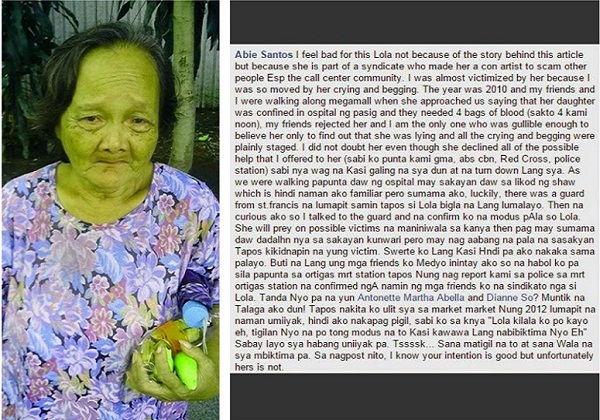 Santos narrated her first encounter with the grandma and how she found out the modus operandi.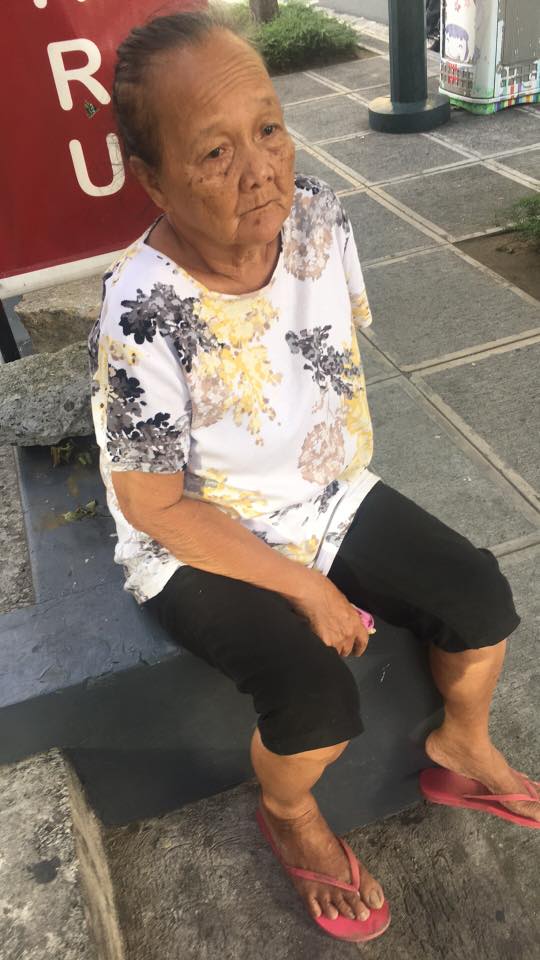 She was encountered for the second time by a certain Len Paus in Bonifacio Global City on May 15, 2017. Paus wrote that the grandma approached her and cried about the needed blood donation.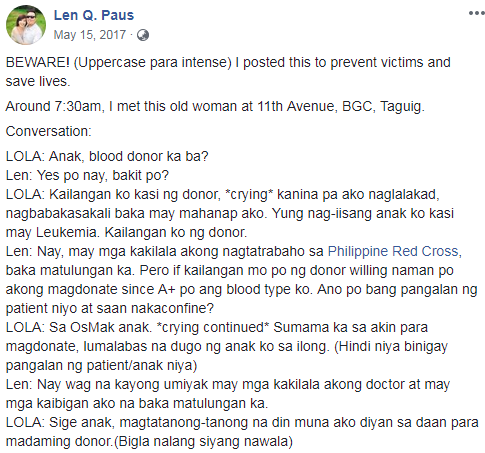 When then Netizen told the story to her classmate who works for Red Cross, that's the time that she got informed about the scam.