Netizen shares a touching situation of a hardworking grandpa in Davao.
The grandpa was found skinning coconut shells despite old age and blindness.
There has been a lot of stories about grandpas and grandmas that keep on working hard just to provide to their family. Netizens are often amazed about these individuals as a number of younger people often complain about their workload, but these elderly workers never stopped despite their old age.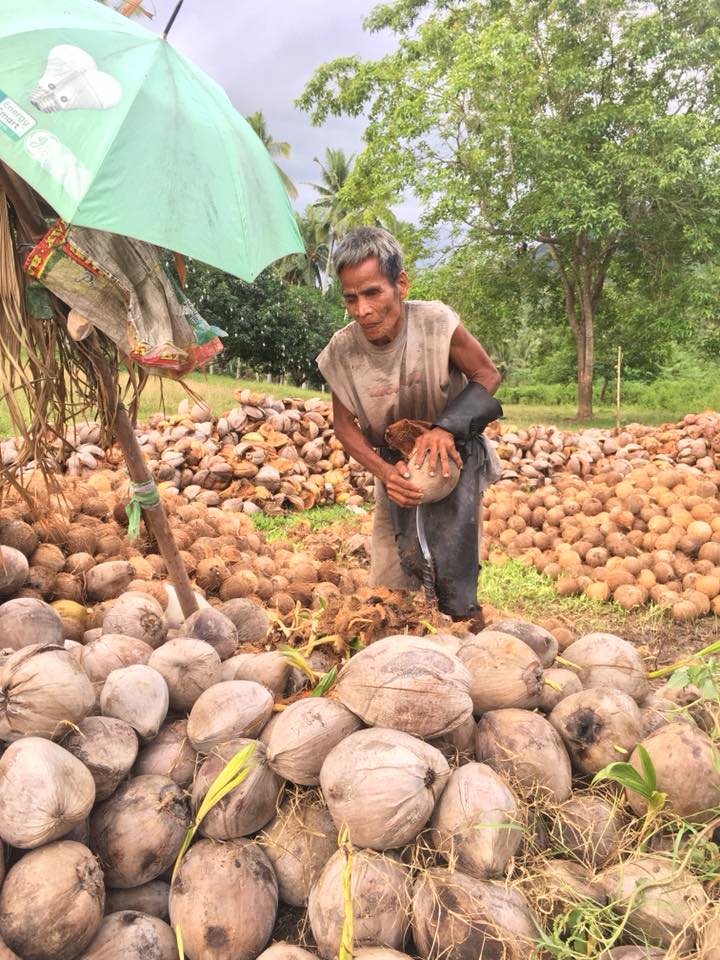 However, this one case is quite special. In a post of a certain Facebook user named Yang Yang, she shared the situation of a hardworking old man at a sea of coconuts. Aside from the grandpa being poor, he is also not given the chance to have eyesight since birth.
The netizen encountered the blind grandpa as she wanted to ask the 69-year-old Jr Velasquez Jr. for some spare coconut shells. She was surprised to find out that he was blind since he looked so hardworking while picking up pieces of the fruit.
Yang Yang was touched as she realized that even if the man is blind, God still gave him the ability to do something. She also discovered that the grandpa lives alone, which means that he does all the household chores by himself.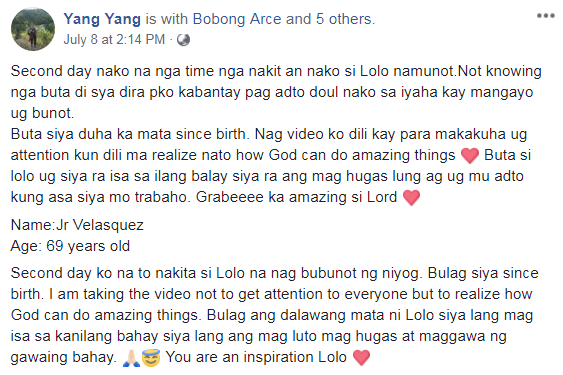 Name:Jr Velasquez
Age: 69 years old

Second day ko na to nakita si Lolo na nag bubunot ng niyog. Bulag siya since birth. I am taking the video not to get attention to everyone but to realize how God can do amazing things. Bulag ang dalawang mata ni Lolo siya lang mag isa sa kanilang bahay siya lang ang mag luto mag hugas at maggawa ng gawaing bahay.  You are an inspiration Lolo
As the video became viral, Yang Yang has revealed that there have been people who tried to take advantage of the situation and the grandfather's new found fame. She stated that she hopes that they would stop trying to make money using the whole situation.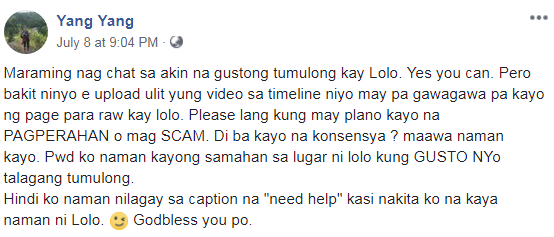 Maraming nag chat sa akin na gustong tumulong kay Lolo. Yes you can. Pero bakit ninyo e upload ulit yung video sa timeline niyo may pa gawagawa pa kayo ng page para raw kay lolo. Please lang kung may plano kayo na PAGPERAHAN o mag SCAM. Di ba kayo na konsensya ? maawa naman kayo. Pwd ko naman kayong samahan sa lugar ni lolo kung GUSTO NYo talagang tumulong. 
Hindi ko naman nilagay sa caption na "need help" kasi nakita ko na kaya naman ni Lolo.  Godbless you po.
Yang Yang also stated that she has informed the grandpa that he became viral and shared that the grandpa felt thankful.