Hashtag member Jameson Blake continues to be the talk of the town because of his viral tweet.
Entertainment personalities expressesed their mixed opinions regarding the issue.
Actor and Hashtag member Jameson Blake has been on the hot seat lately because of his viral tweet, asking if someone is willing to make him a graphic design in exchange for a "shout-out".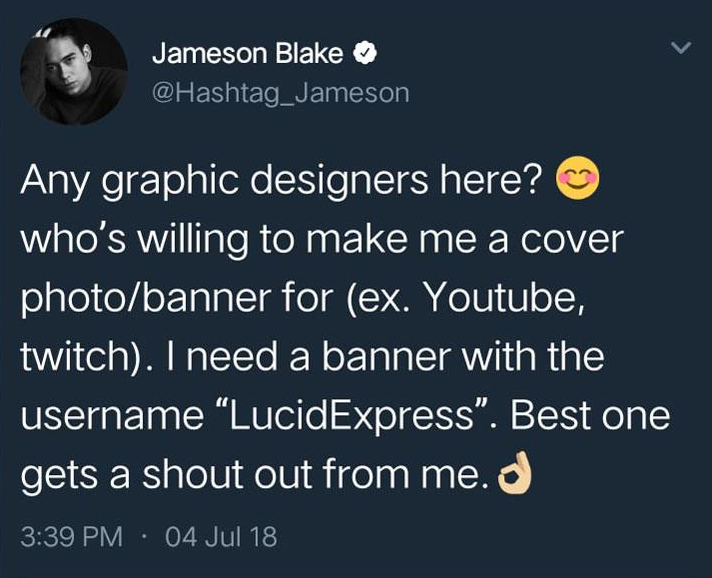 "Any graphic designers here? Who's willing to make me a cover photo/banner for (ex. Youtube, twitch). I need a banner with the username 'LucidExpress.' Best one gets a shout out from me."
While a majority of the netizens seem to call out Jameson for not willing to pay the artist, celebrities, and people in the entertainment industry seem to have mixed reactions.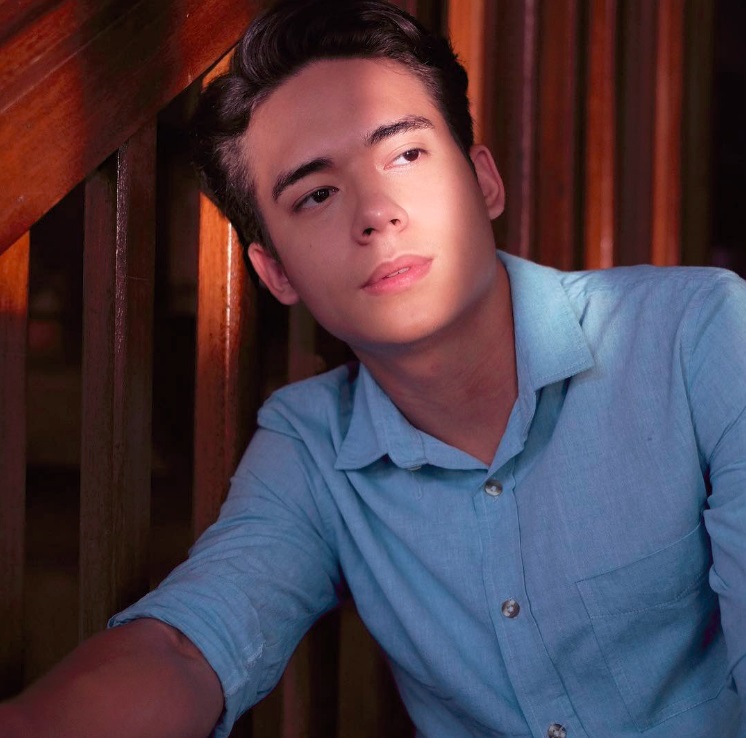 Director Gino Santos expressed his annoyance regarding the actor's request in a series of Tweets. He also stated that the artists did not graduate and spent countless hours practicing their craft for a simple shout out.

When Celebrities fish for things from the fans.. major cringe.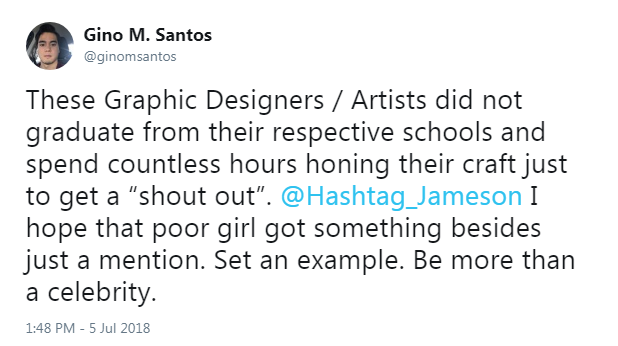 These Graphic Designers / Artists did not graduate from their respective schools and spend countless hours honing their craft just to get a "shout out". @Hashtag_Jameson I hope that poor girl got something besides just a mention. Set an example. Be more than a celebrity.
Disk jockey and host Tin Gamboa (commonly known as DJ Suzy) and television host Bianca Gonzales engaged in a Twitter conversation regarding their opinions regarding the incident.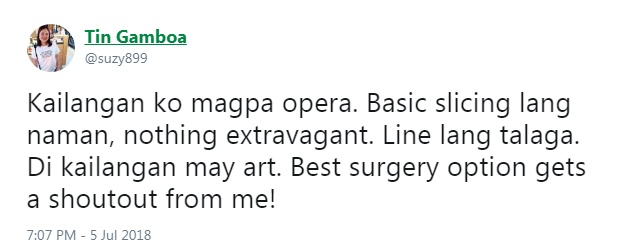 Kailangan ko magpa opera. Basic slicing lang naman, nothing extravagant. Line lang talaga. Di kailangan may art. Best surgery option gets a shoutout from me!

OMG savage.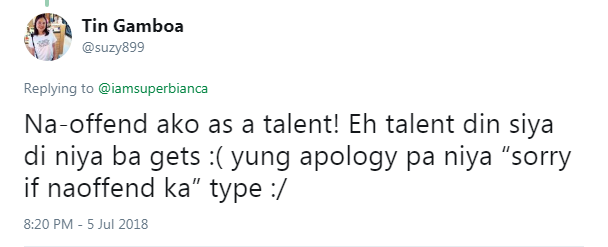 Na-offend ako as a talent! Eh talent din siya di niya ba gets 🙁 yung apology pa niya "sorry if naoffend ka" type :/
Bianca ended the conversation on a positive note, saying that this will make people aware that professional service must be paid for.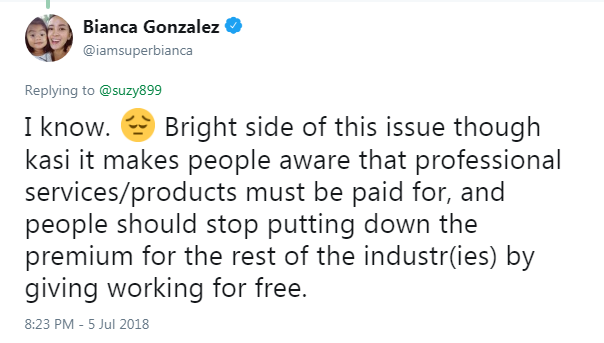 I know. Bright side of this issue though kasi it makes people aware that professional services/products must be paid for, and people should stop putting down the premium for the rest of the industr(ies) by giving working for free.
PJ Edrinal also made a subtle call out to Jameson Blake and posted a status on his private account saying that "Art is Freedom, but Art is not Free". He also said that the actor should just "should just hire a professional, rather than asking."
Showbiz personality IC Mendoza also commented that "he justified it pa that he's just asking for a "simple design""
Trixie Dauz then took it to a different angle saying that Jameson should've defended the artist who volunteered to do the artwork for his social media platforms, as she received negative comments when he gave her a shout out.
I wish he had defended the girl who made the design for him though when the "heat" shifted onto her.. A true gentleman would have done that.
Despite the negative feedback, there are personalities that understood his point and disagreed with the opinion of the majority.
Director Frasco Mortiz posted a sarcastic tweet saying that the feedback that Jameson is receiving right now just shows how "nice" Filipinos have become online.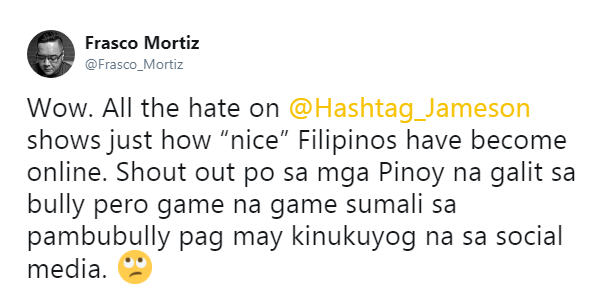 Wow. All the hate on @Hashtag_Jameson shows just how "nice" Filipinos have become online. Shout out po sa mga Pinoy na galit sa bully pero game na game sumali sa pambubully pag may kinukuyog na sa social media.
JP Laxamana also defended Jameson by saying that it's okay to work for free when you're just starting out, and raising your rates when you think that you're "indispensable".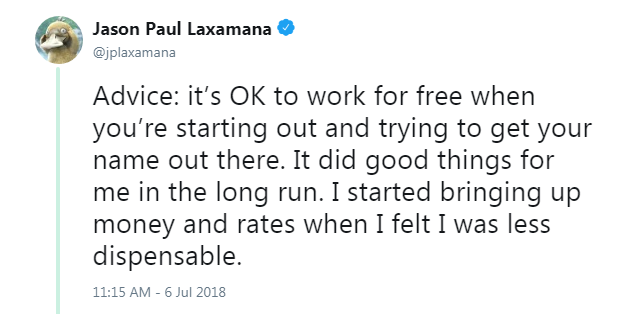 Advice: it's OK to work for free when you're starting out and trying to get your name out there. It did good things for me in the long run. I started bringing up money and rates when I felt I was less dispensable.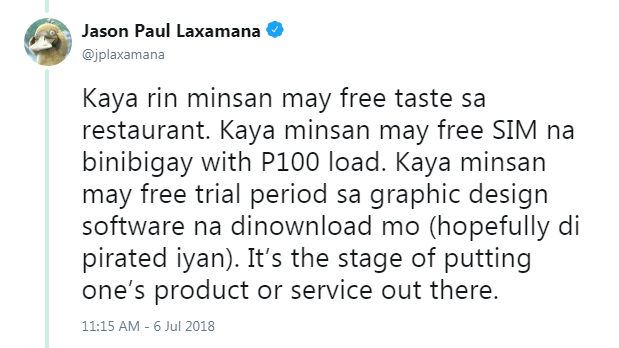 Kaya rin minsan may free taste sa restaurant. Kaya minsan may free SIM na binibigay with P100 load. Kaya minsan may free trial period sa graphic design software na dinownload mo (hopefully di pirated iyan). It's the stage of putting one's product or service out there.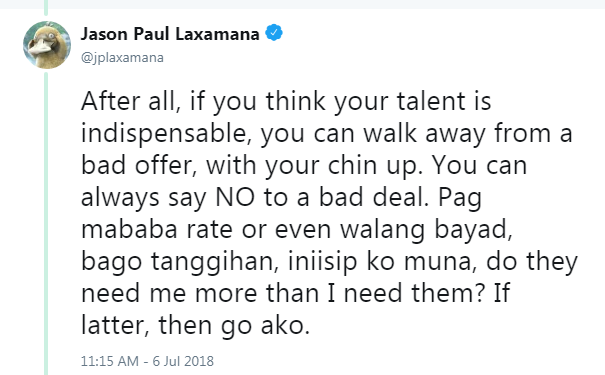 After all, if you think your talent is indispensable, you can walk away from a bad offer, with your chin up. You can always say NO to a bad deal. Pag mababa rate or even walang bayad, bago tanggihan, iniisip ko muna, do they need me more than I need them? If latter, then go ako.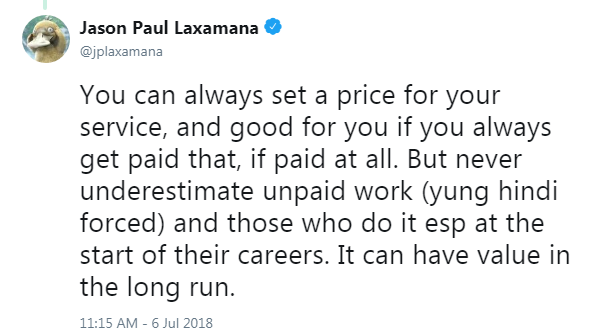 You can always set a price for your service, and good for you if you always get paid that, if paid at all. But never underestimate unpaid work (yung hindi forced) and those who do it esp at the start of their careers. It can have value in the long run.
Television writer Suzette Doctolero called out those who slammed Jameson. She expressed that there's nothing wrong with asking for free service in exchange for a promo. She also praised the actor for being witty and strong.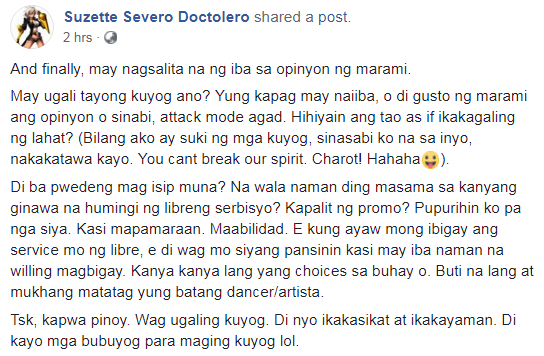 And finally, may nagsalita na ng iba sa opinyon ng marami.

May ugali tayong kuyog ano? Yung kapag may naiiba, o di gusto ng marami ang opinyon o sinabi, attack mode agad. Hihiyain ang tao as if ikakagaling ng lahat? (Bilang ako ay suki ng mga kuyog, sinasabi ko na sa inyo, nakakatawa kayo. You cant break our spirit. Charot! Hahaha).

Di ba pwedeng mag isip muna? Na wala naman ding masama sa kanyang ginawa na humingi ng libreng serbisyo? Kapalit ng promo? Pupurihin ko pa nga siya. Kasi mapamaraan. Maabilidad. E kung ayaw mong ibigay ang service mo ng libre, e di wag mo siyang pansinin kasi may iba naman na willing magbigay. Kanya kanya lang yang choices sa buhay o. Buti na lang at mukhang matatag yung batang dancer/artista.

Tsk, kapwa pinoy. Wag ugaling kuyog. Di nyo ikakasikat at ikakayaman. Di kayo mga bubuyog para maging kuyog lol.