Netizen posts about how three men got involved in beating up her gay friend at one famous bar in Biñan, Laguna
Cases are waiting to be filed as soon as they find one of the two guys who started the physical beating
In a post made by Facebook user Natsuki Dee, she stated that her gay friend, JD Adufina, got beaten up by men at one famous bar in Biñan, Laguna.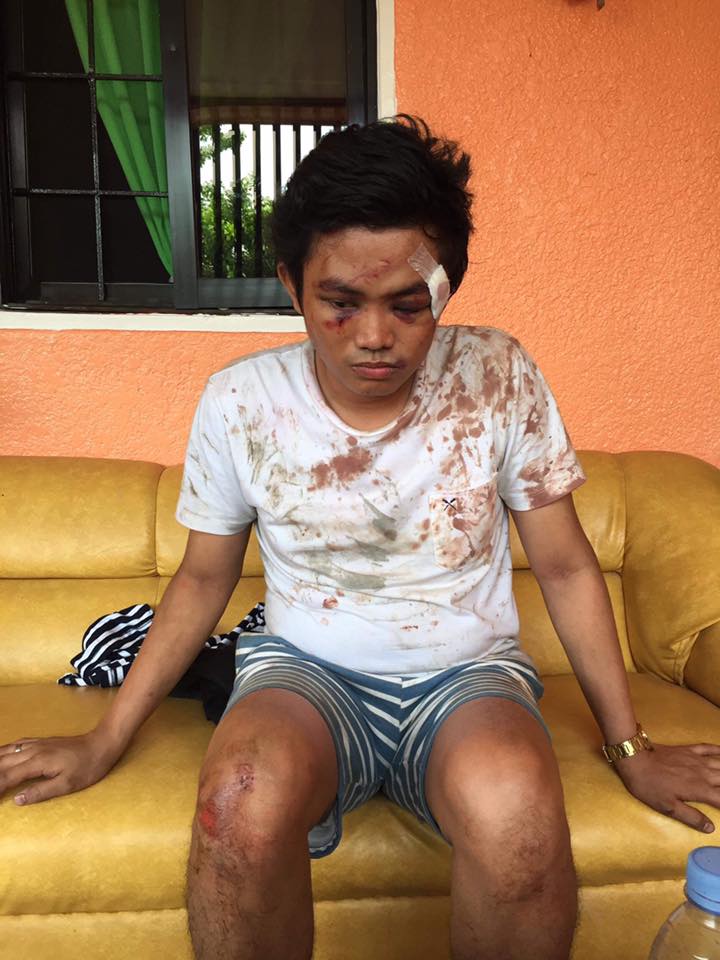 According to Natsuki, it started when a few friends introduced her and JD to a male friend. Then the man started to poke fun at JD and put strong force on their handshake.
JD reacted as he was hurt by the said handshake which resulted him throwing nachos at the guy. By that time, two friends of the guy saw the incident and went near the scene and started arguing with the victim.
A bouncer stopped the argument and ushered the three men out but it turned out that they were waiting for JD to go outside the bar. When they spotted the guy, that's when the beating started.
The victim was hurt by two of the three guys involved.
You can read the public Facebook post below: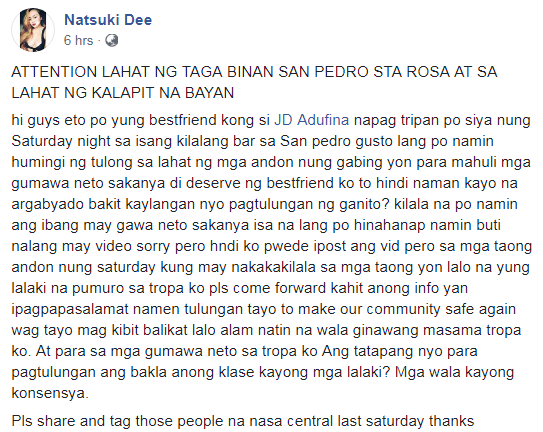 "ATTENTION LAHAT NG TAGA BINAN SAN PEDRO STA ROSA AT SA LAHAT NG KALAPIT NA BAYAN

hi guys eto po yung bestfriend kong si JD Adufina napag tripan po siya nung Saturday night sa isang kilalang bar sa San pedro gusto lang po namin humingi ng tulong sa lahat ng mga andon nung gabing yon para mahuli mga gumawa neto sakanya di deserve ng bestfriend ko to hindi naman kayo na argabyado bakit kaylangan nyo pagtulungan ng ganito?

kilala na po namin ang ibang may gawa neto sakanya isa na lang po hinahanap namin buti nalang may video sorry pero hndi ko pwede ipost ang vid pero sa mga taong andon nung saturday kung may nakakakilala sa mga taong yon lalo na yung lalaki na pumuro sa tropa ko pls come forward kahit anong info yan ipagpapasalamat namen tulungan tayo to make our community safe again wag tayo mag kibit balikat lalo alam natin na wala ginawang masama tropa ko.

At para sa mga gumawa neto sa tropa ko Ang tatapang nyo para pagtulungan ang bakla anong klase kayong mga lalaki? Mga wala kayong konsensya.

Pls share and tag those people na nasa central last saturday thanks"