Bianca Gonzalez tweets annoyance regarding counter-flows on the road
Netizens agree with her tweet while others state that she should not wish ill on others
Television host and celebrity mom Bianca Gonzalez lashes out at counter-flowing drivers she may have encountered while on the road. In her recent tweet, she called out those who counter-flow on clogged roads.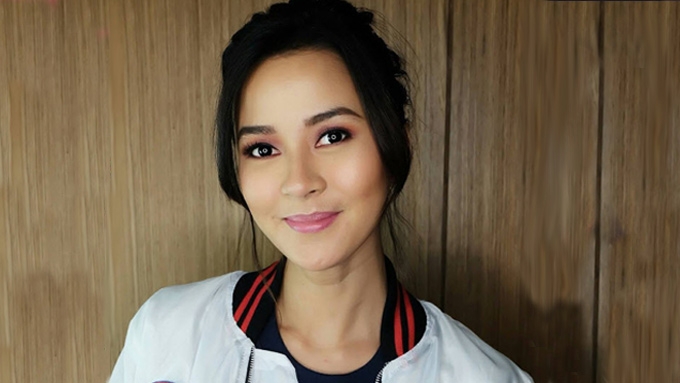 Bianca further stated that she hopes that those who do such act will get into an accident for them to feel what kind of bother they bring to other motorists.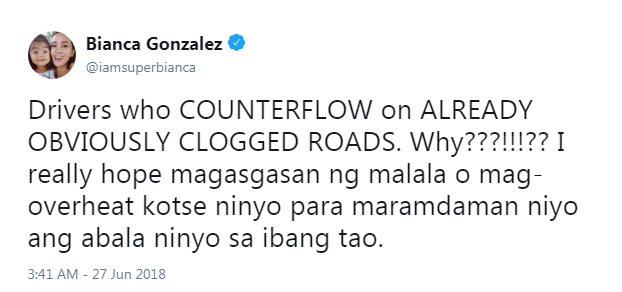 "Drivers who COUNTERFLOW on ALREADY OBVIOUSLY CLOGGED ROADS. Why???!!!?? I really hope magasgasan ng malala o mag-overheat kotse ninyo para maramdaman niyo ang abala ninyo sa ibang tao."
Other netizens agreed with her post while some stated that she should not wish ill to other people.

"I feel u! Tao lang can't help it minsan ganyan din iniisip ko."

"Ang sabi nila sobrang madiskarte daw ang mga Pinoy sa lahat ng bagay. Sa sobrang madiskarte yan nagiging istupido."

"Hayy! Truth! Tapos pag sila ang na agrabyado sila ang g na g! Tapos kawawang kawawa ang mga 4 wheels! Gravity! Shoutout sa mga tricycle, motor at mga bike. #peace"

"… Still we don't want to wish bad things sa iba sana…."

"love you B, but i hope you do not wish bad things to happen to others. not a good example."

"Lab na lab kita miss B,pero mali po na magbitaw kayo ng di magandang salita para sa kapwa ninyo..sabi nga nila kung ano daw ang ibinabato mo sa kapwa mo dobleng balik sayo…RELAX Miss B!!"
According to the Metropolitan Manila Development Authority (MMDA)'s website, illegal or unauthorized counter-flow may result in a Php3,000 violation fee or worse, have your license suspended for a minimum of 3 months.