Actress Agot Isidro expresses disappointment over Pres. Duterte as she tweets "President ba talaga 'yan?"
Duterte supporters continuously sends death threats to Isidro 
Actress Agot Isidro slams President Rodrigo Duterte on Twitter questioning the legitimacy of his position.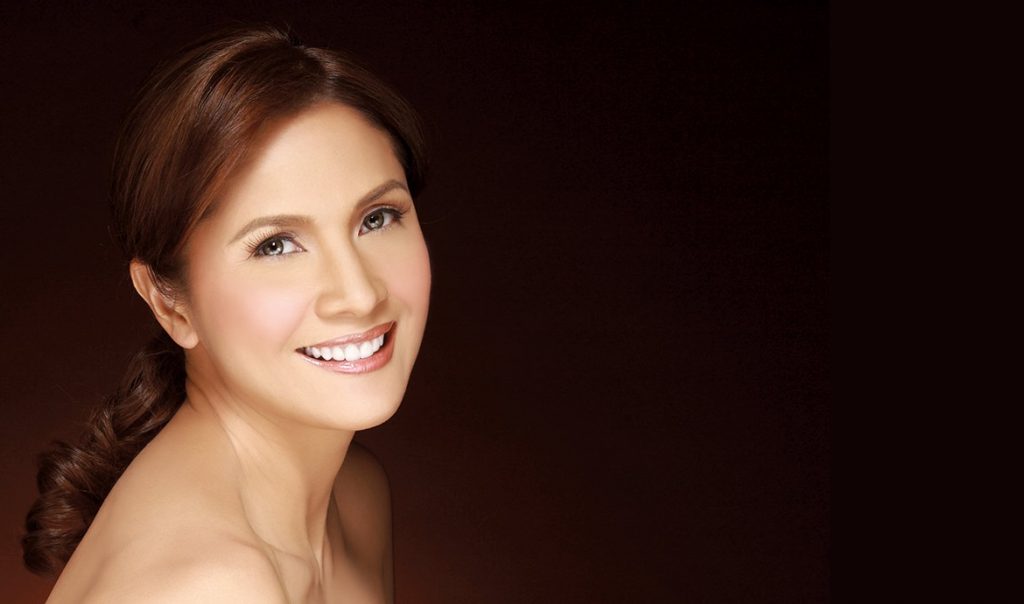 It all started when Duterte made comments about VP Leni Robredo in the middle of discussions regarding the status of the Vice Precidency. He then asked the status regarding the recounting of votes which based on an electoral protest filed by former Senator Bongbong Marcos.
"Ano bang… Ano bang latest count nito kay Bongbong, pati kay ano? Ma-vice president ba talaga 'yan?" 
Isidro is known to never stopping herself from sharing her thoughts and exercising her freedom of expression as the actress has criticized the government in the past. She then commented on the President's spill,
"The Vice-President acts more presidential than the President.

President be talaga yan?"
Dutertes supporters did not hold back from expressing their annoyance on Isidro's tweet. One DDS (Diehard Duterte Supporter) even went as far as wishing for her children to be rape and massacred.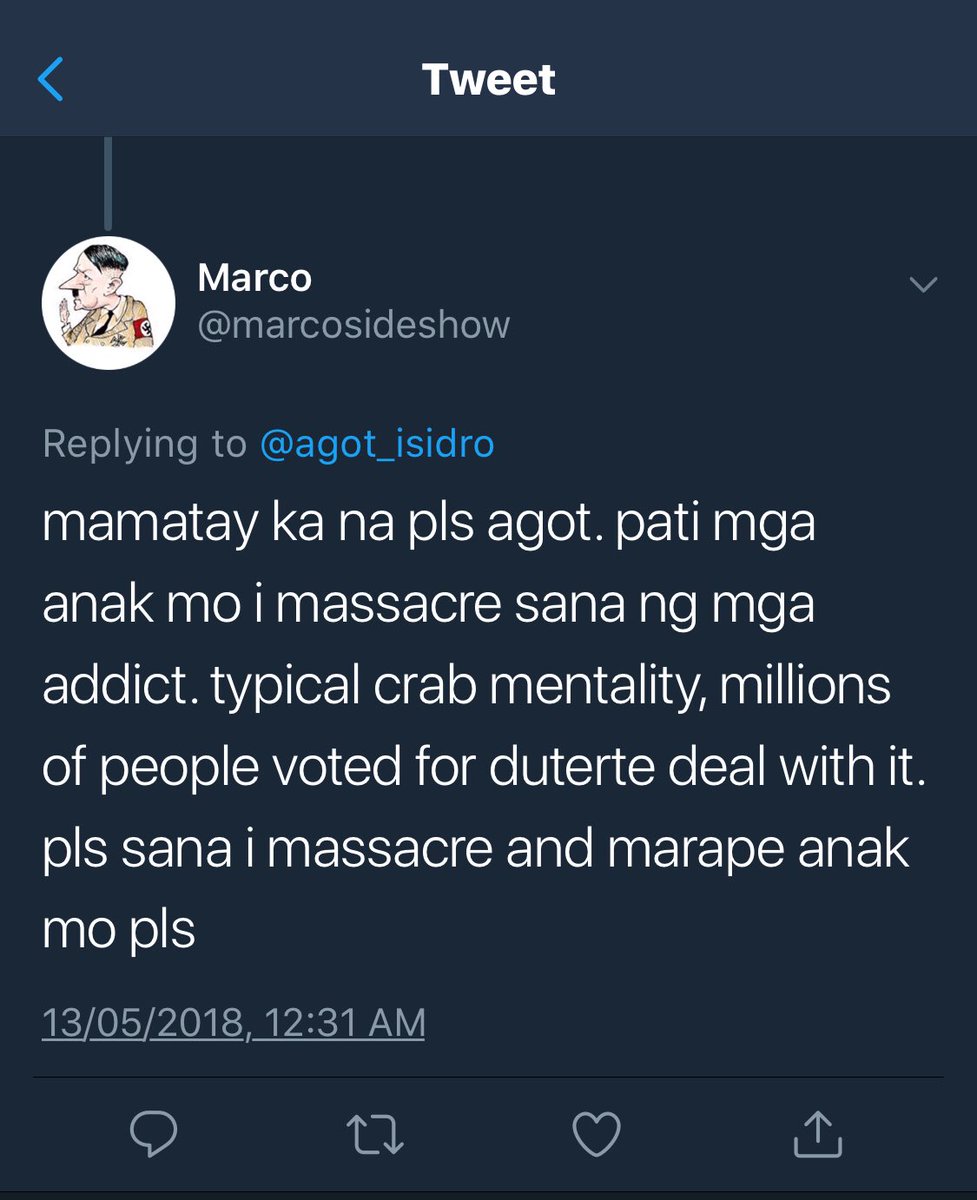 "mamatay ka na pls agot. pati mga anak mo i massacre sana ng mga addict. typical crab mentality, millions of people voted for duterte deal with it. pls sana i massacre and marape mga anak mo pls"
Another user also threatened to splash acid on Isidro's face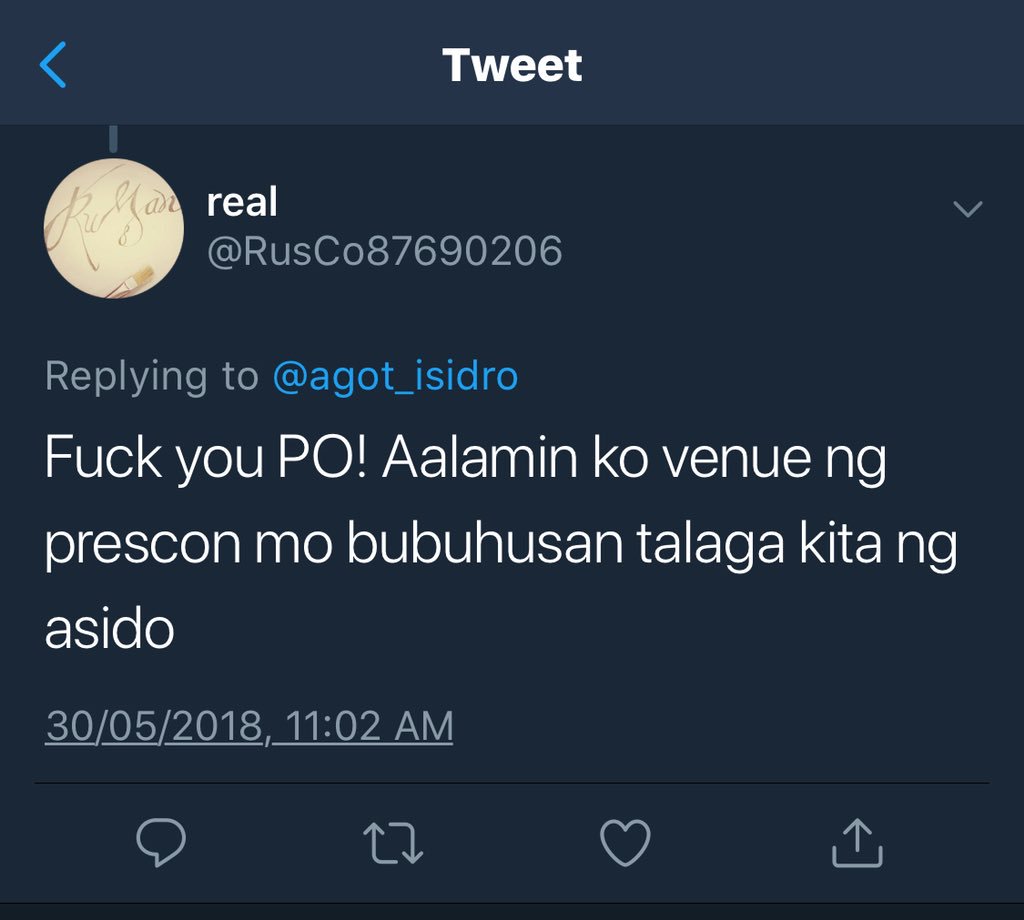 "F*ck you PO! Aalamin ko venue ng prescon mo bubuhusan talaga kita ng asido"
The actress responded by tweeting that their threats and insults do not do anything to her but make her stronger.
"Dear DDS, 

Your threats and insults do not do anything to me BUT make me STRONGER.

Kaya sige lang."
Isidro has not only been vocal about her tweets against the President but also regarding the ousting of Chief Justice Maria Lourdes Cereno. She has been criticizing the senators for their "inaction" and late response regarding the whole issue.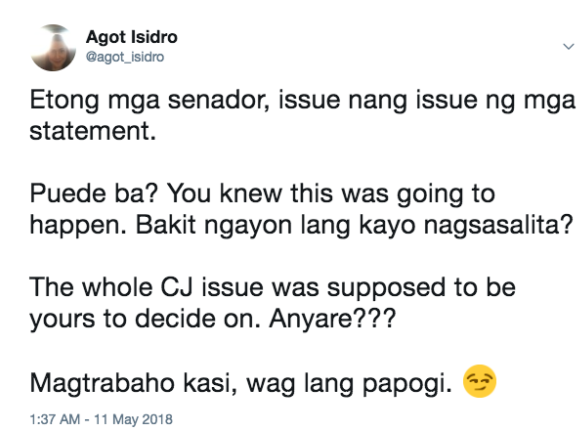 "Etong mga senador, issue nang issue ng mga statement.

Puede ba? You knew this was going to happen. Bakit ngayon lang kayo nagsasalita?

The whole CJ issue was supposed to be yours to decide on. Anyare???

Magtrabaho kasi, wag lang papogi."