"Don't play with fire if you can't take the heat."
In a Filipino context, this is probably often heard in situations where two young couples have pre-marital sex, with the girl, as might be expected, getting pregnant and both of them (or at the very least, one of them) can't 'stand the heat,' wanting to get out of the situation (a possible parenting situation, yes), as though they don't already know that life is, evidently, consequential and "as you sow, so shall you reap."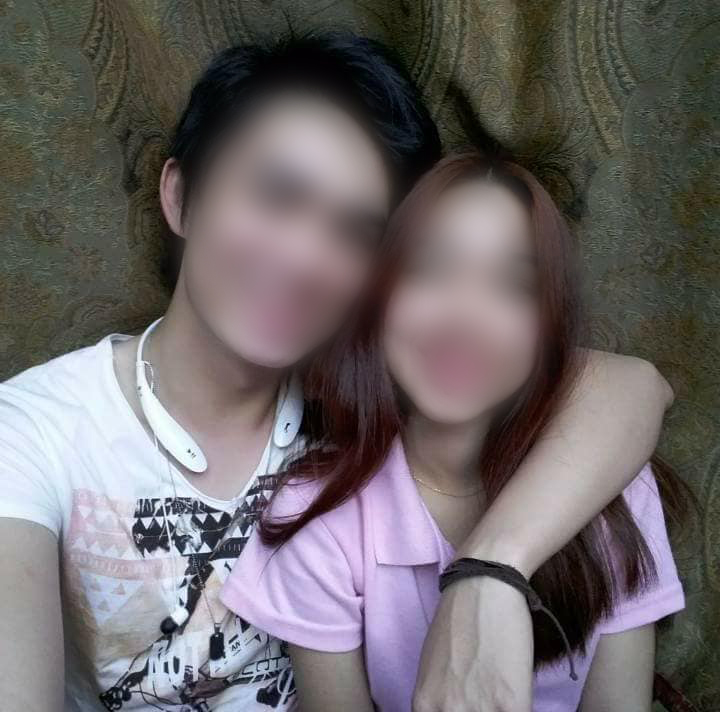 A perfect example of this, probably, is netizen Kimberly Ong's ex-boyfriend.
Kim's Facebook post initially got viral in less than a week, amassing more than 100,000 reactions. The post, mostly, is a narration of Kim's love story with her alleged ex-boyfriend Andrew Buenviaje – and how it unfolded to become something entirely toxic, to the point of, well … abortion.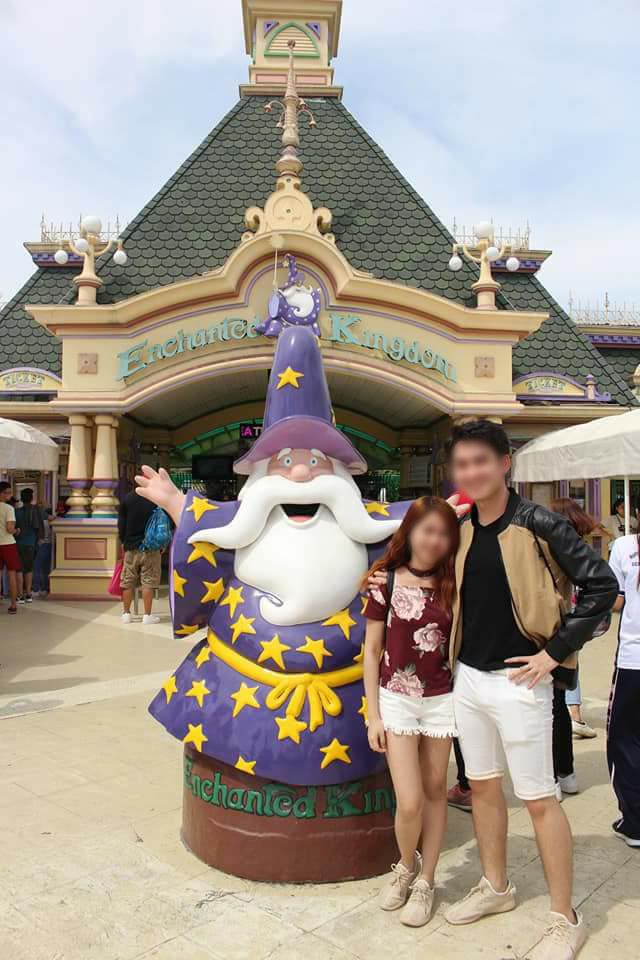 Reading it, personally, I easily rooted for Kim. She is just like each of us. She is indeed a template character in Star Cinema movies. She loves unconditionally, like a martyr. Wagas kung wagas, parang bakla – todo bigay, kumbaga.
As she narrated, "triple triple best best na binigay ko sa'yo (Andrew)." However, her efforts came to no avail as, according to her, Andrew kept on cheating, leaving her for another girl – only to come back after some time because he loved her. Kim allowed him and forgave him at some point (at too many points, actually).
Personally, while reading it, I suddenly felt the need to imagine Kim's backstory, where she came from and how she grew up, what she values in life and how she regards the world – even on a vague sense.
Being trapped in a sorry situation like that, choosing to be in a relationship with someone who doesn't give value to you, says a lot of things about one's character. However, I don't blame Kim for staying. Above all, it prepared her for the biggest lesson she is set to learn in life.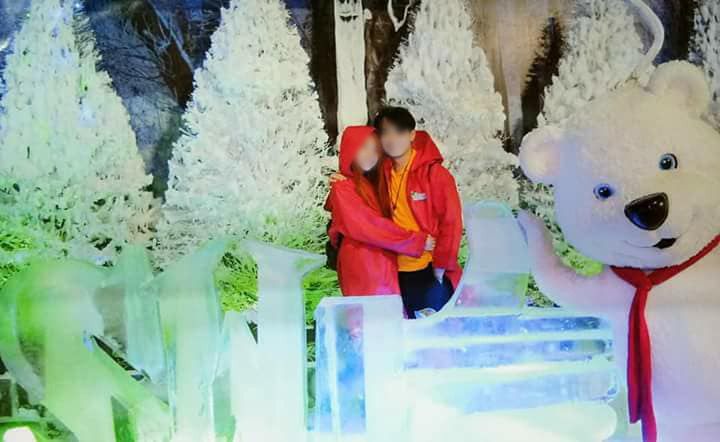 But what bothered me a lot is how this Andrew replied to Kim (according to the many screenshots she posted). I got bothered by how he [Andrew] is so sure about himself of wanting to abort the baby – their baby.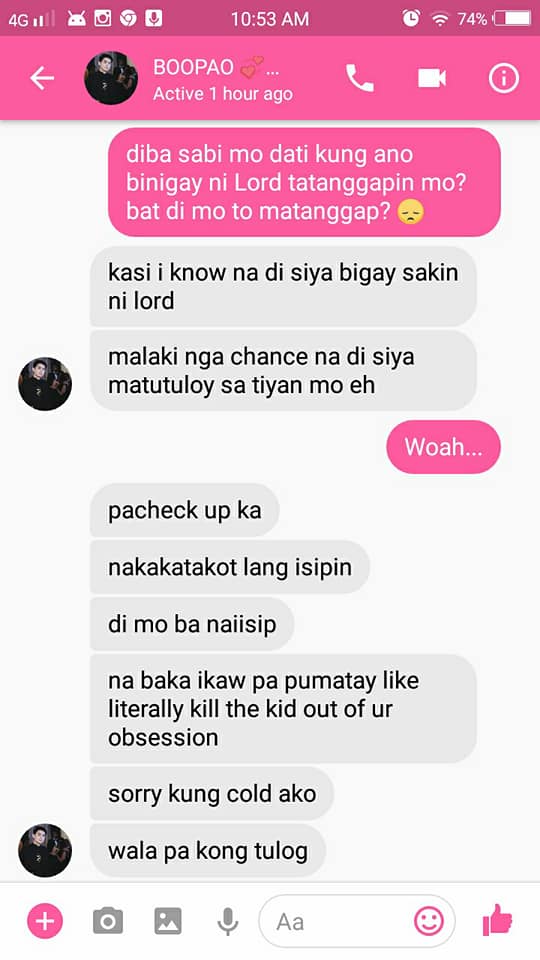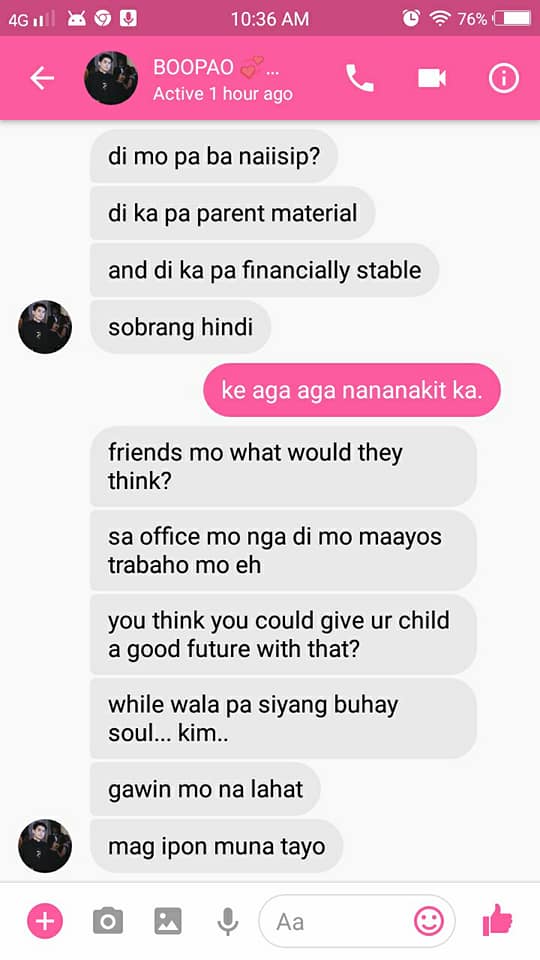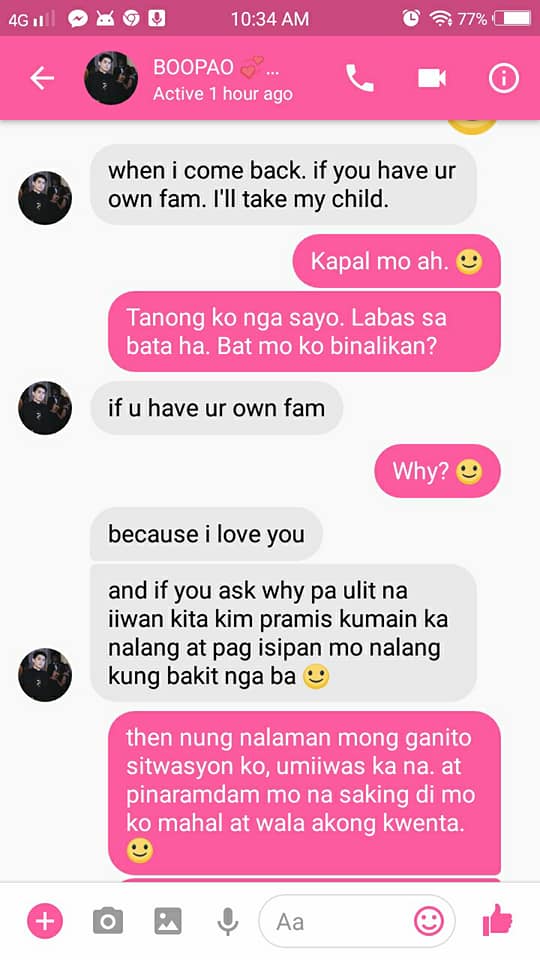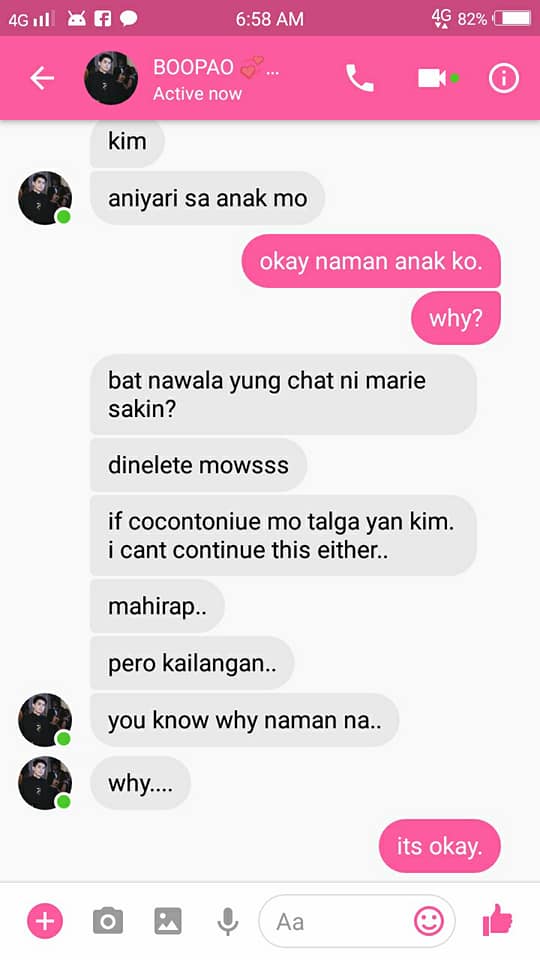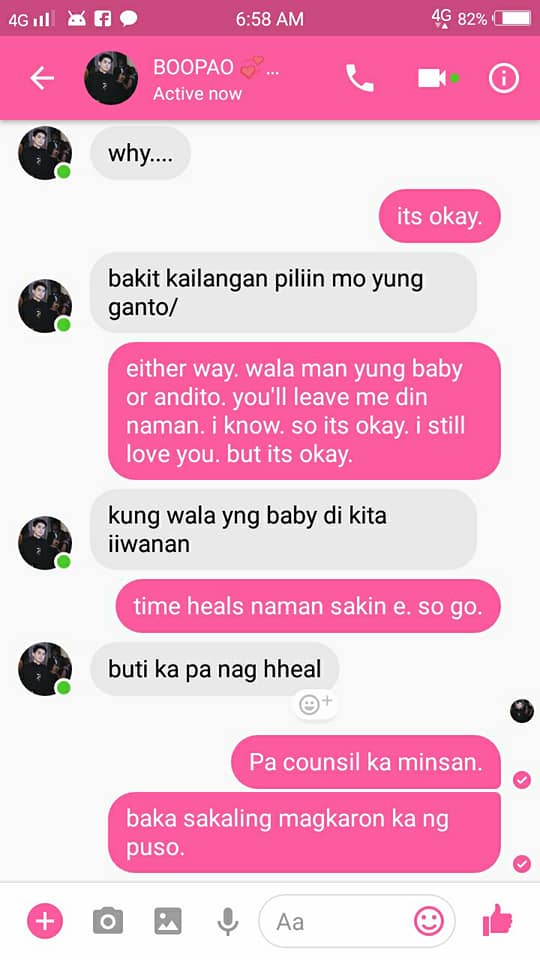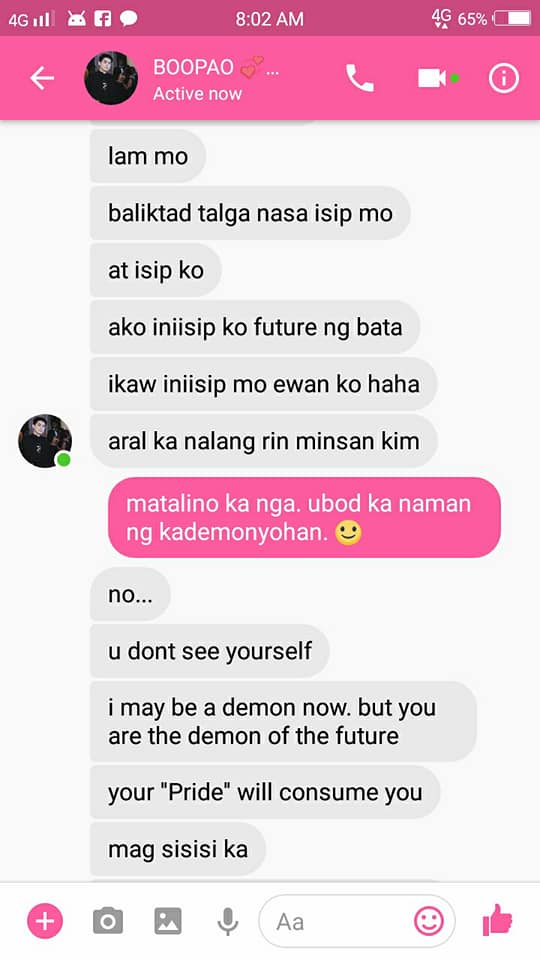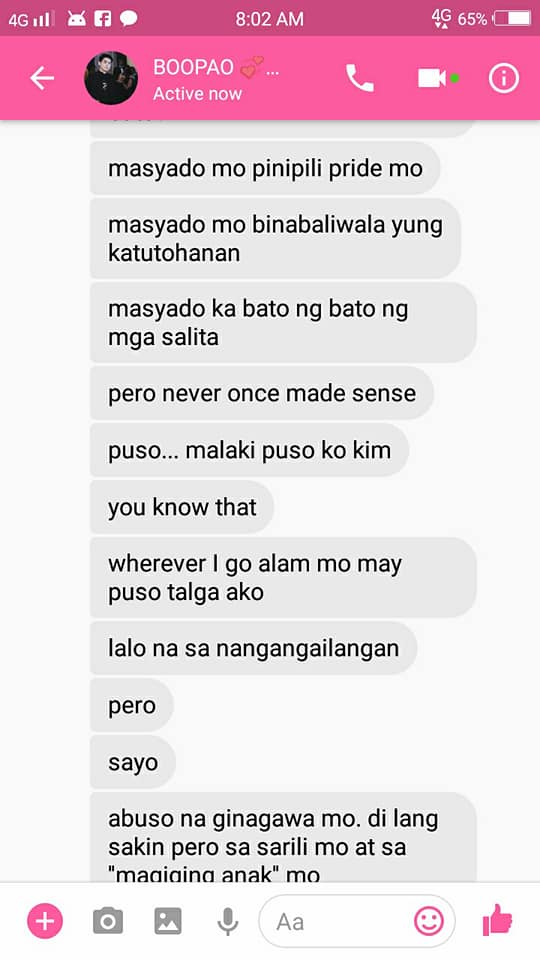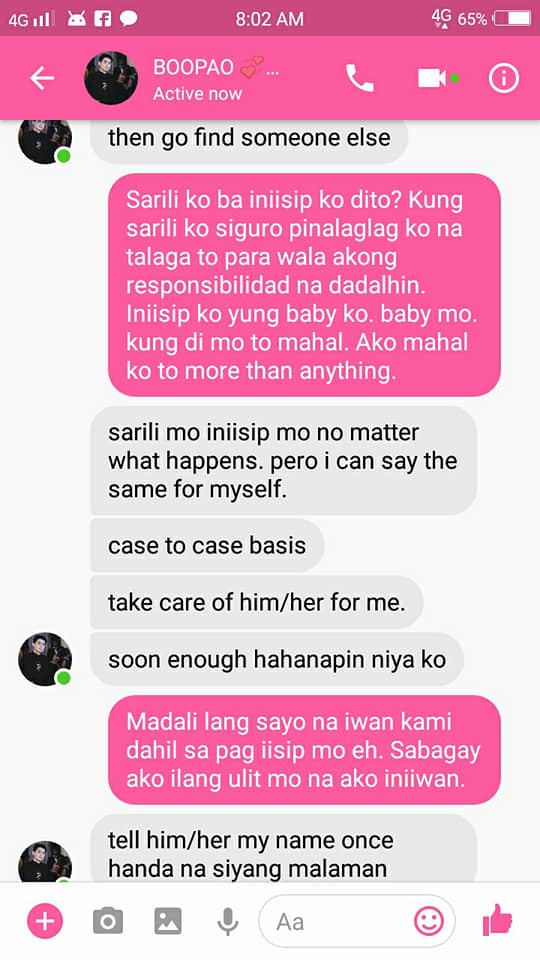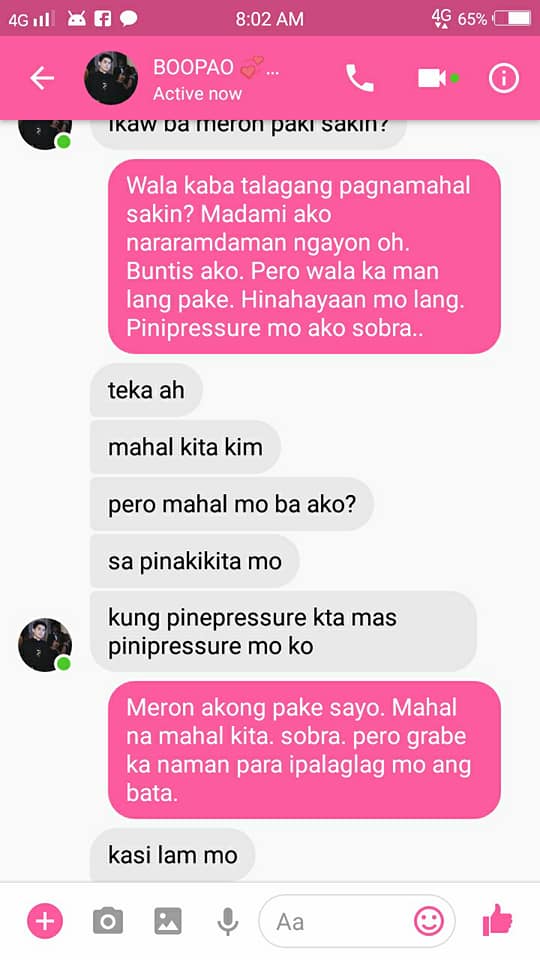 According to the screenshots, Andrew wanted the baby aborted not only because they are not geared up for future responsibilities, but he is also thinking about the welfare of the baby, in the future, with incapable parents.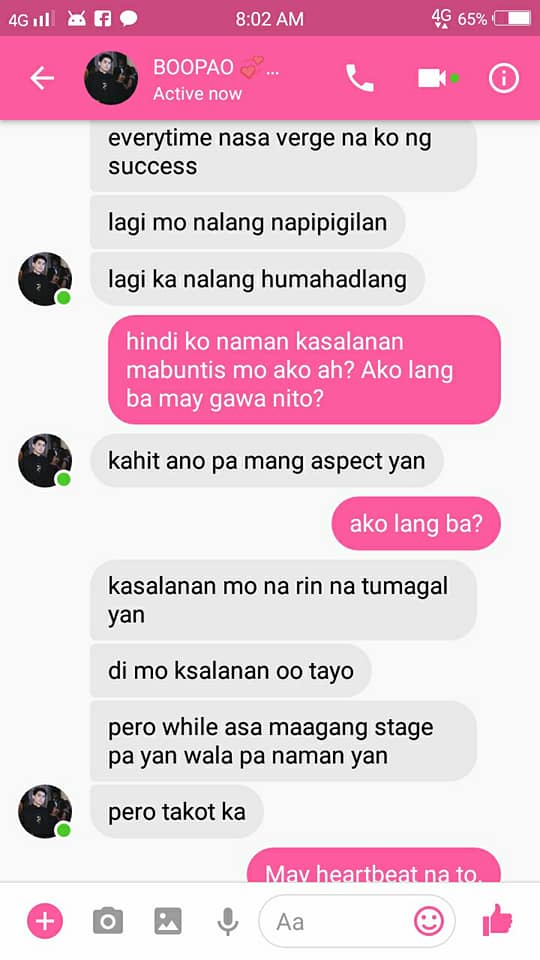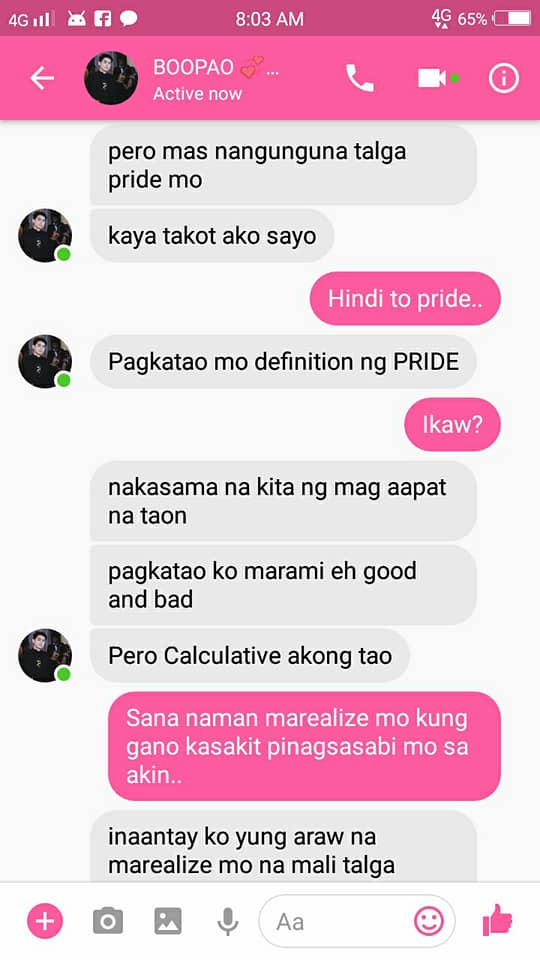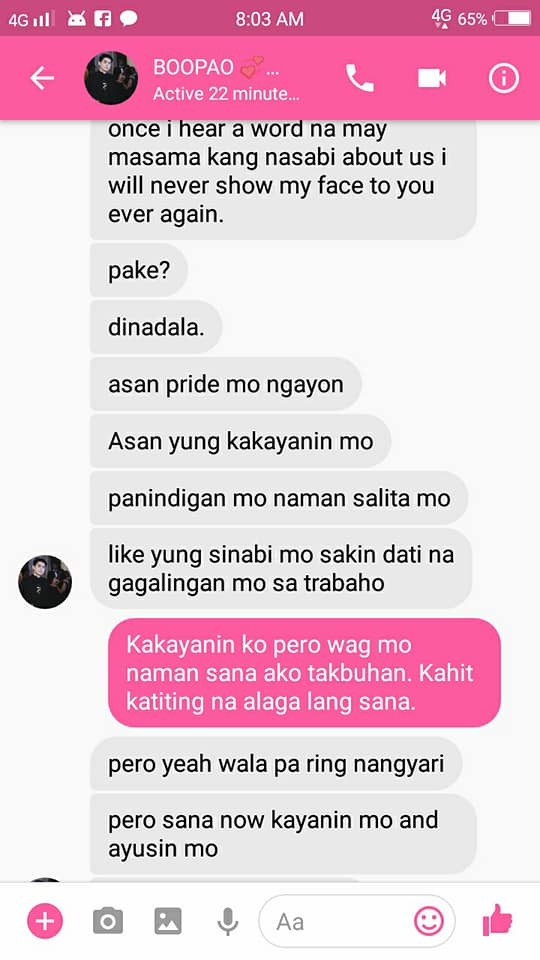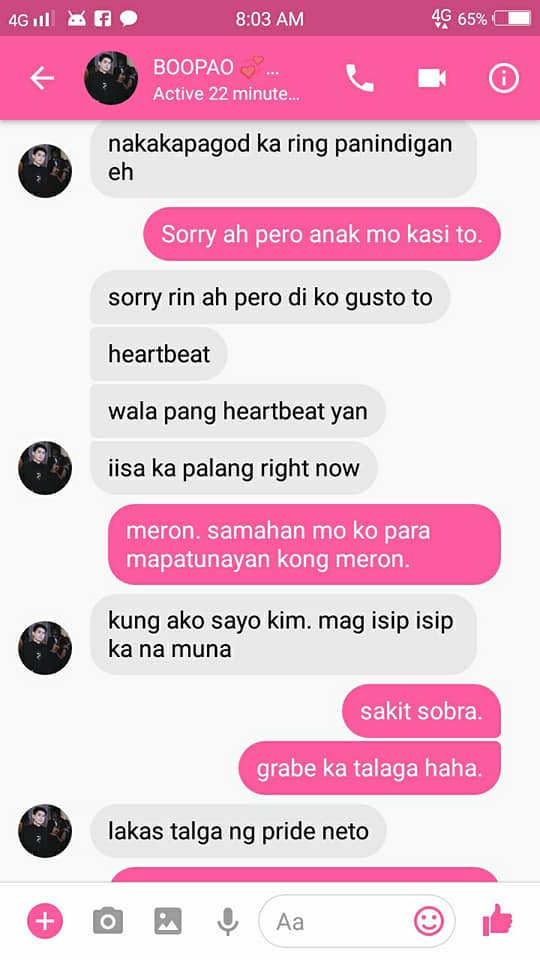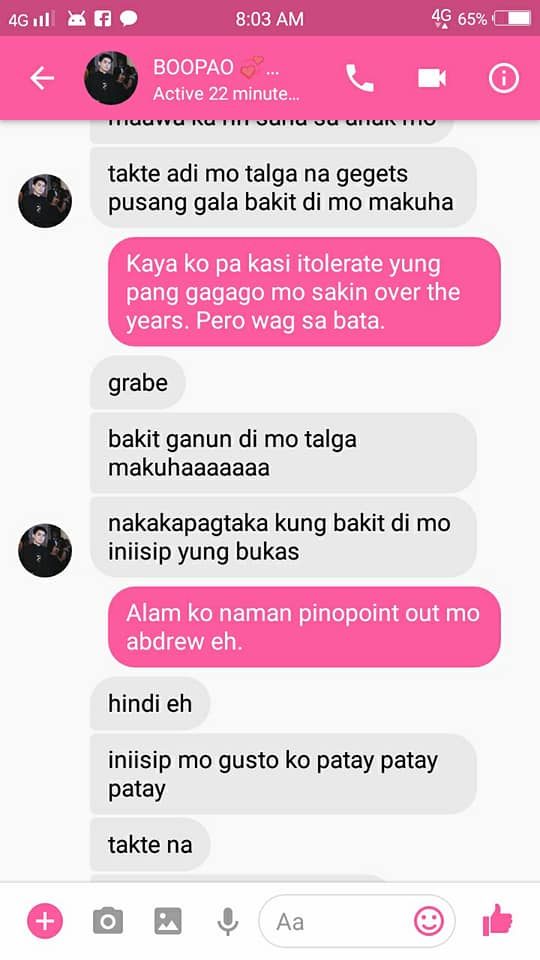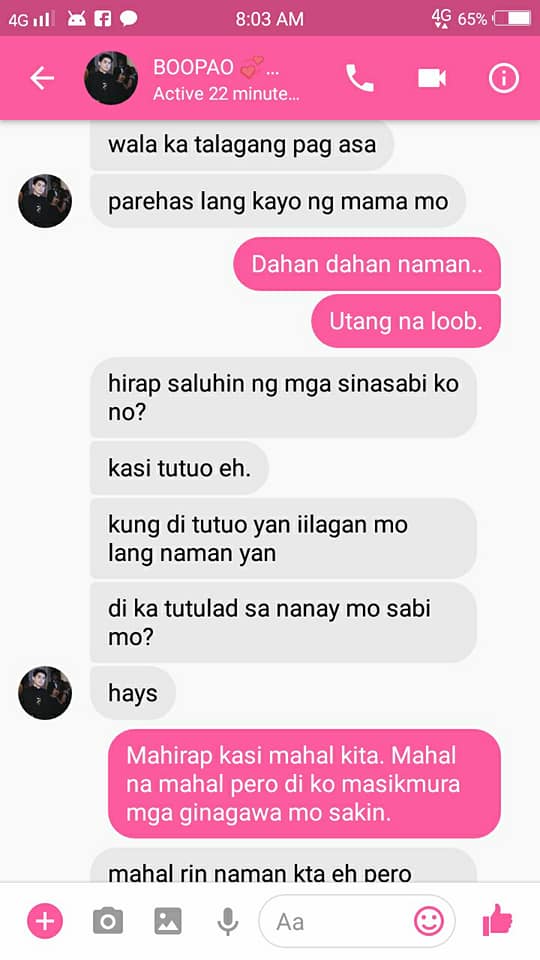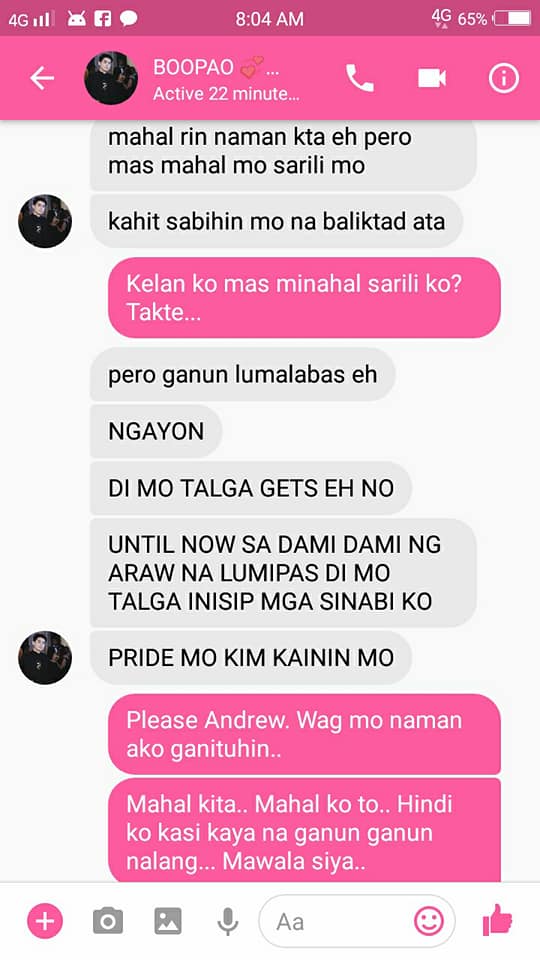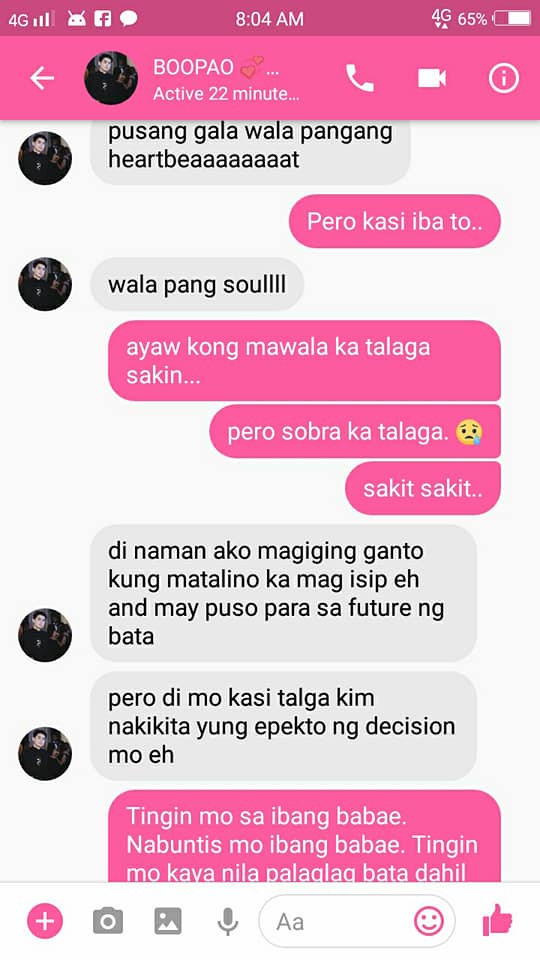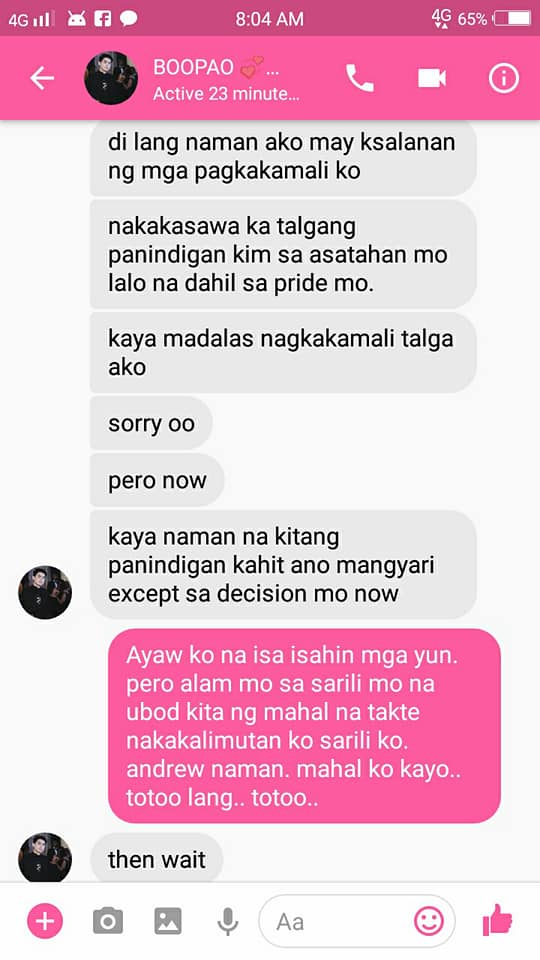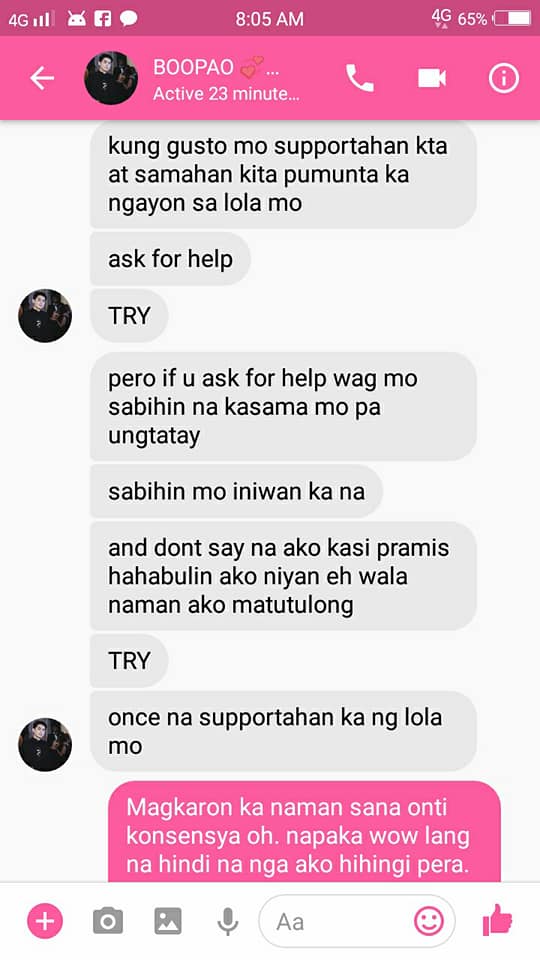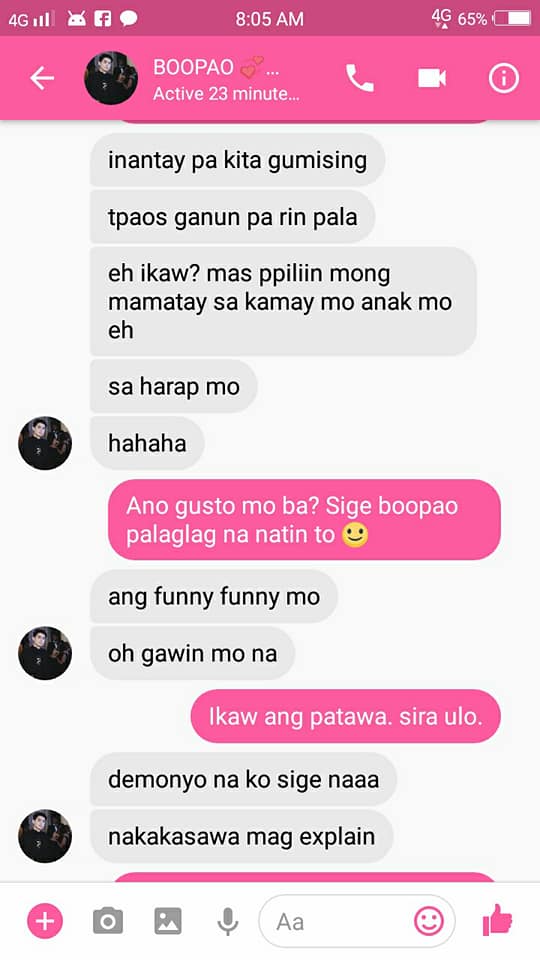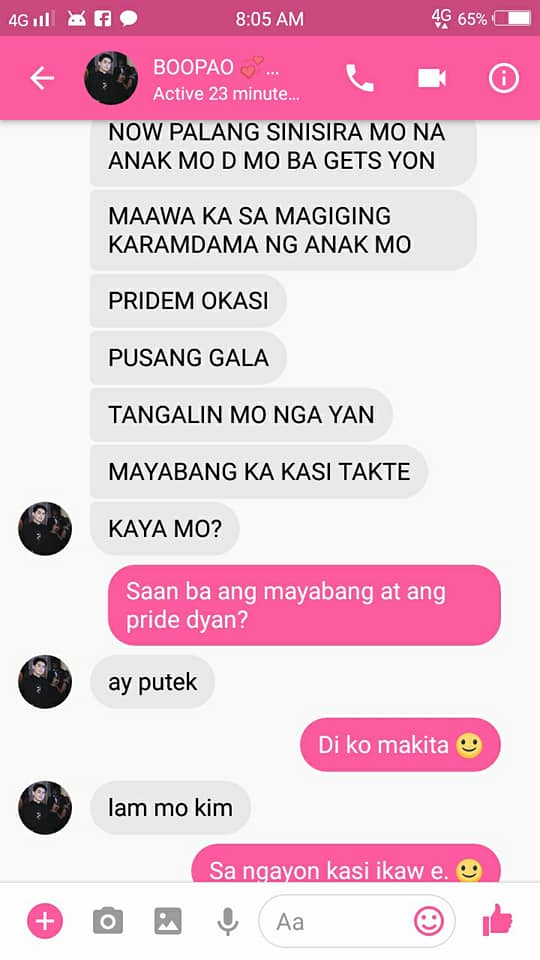 I wonder if it really is the case. Again, reading it, I wondered: Where did this guy come from? How was he raised by his parents? How does he see the world? What will be his future?
As we all know, abortion in the country is mostly illegal or banned by law.  Abortion is permitted to save a woman's life but the law does not state this explicitly. Meanwhile, according to an article by Inter Press Service (IPS), pre-marital sex is increasing worldwide (as of April 2018). Despite this, the Philippines is still one of the countries that believe sex between unmarried adults is morally unacceptable, garnering 71% of its population to believe it. I just wonder where that 71% is right now.
Meanwhile, Kimberly is able to move on from her boyfriend. At the end of her FB post, she said:
"Andrew Buenviaje, Salamat nalang sa memories. Akala ko ikaw na ang taong makakasama ko, hindi pala. Ikaw pala ang kakamuhian kong tao sa buong buhay ko. Hindi ka kamahal mahal. Minahal kita ng sobra pero malala ka. Sobrang lala mong tao. Sa sobrang pagmamahal ko sayo nakalimutan ko ng mahalin sarili ko."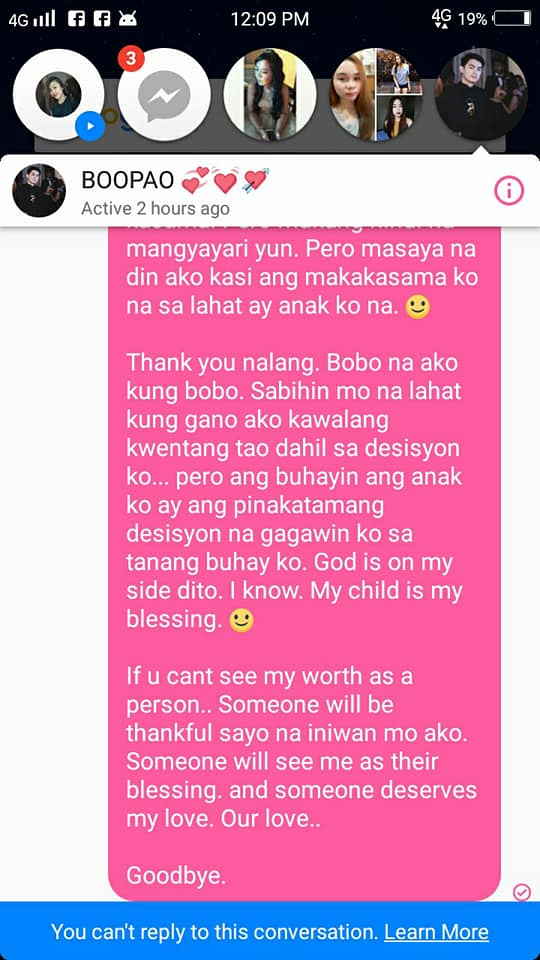 (I really believe Kim is set for a beautiful journey ahead. We can only hope for her healthy pregnancy.)