Graduates share their school journey through social media posts
These stories will inspire you to finish your studies!
Inspiring graduation stories
It's that time of the year again! The months of March to May means the end of many years of studying, all-nighters, exams, cramming, and so much more school-related activities that every student will surely treasure in their hearts. And because not everyone is given a chance to speak in the official ceremonies, most graduates opt to share their journey through social media posts and we've gathered some of them just for you! After all, we can't help but read all their inspiring (and sometimes funny) stories!
These graduation stories will definitely inspire you to pursue your dreams and persevere until you, too, can turn your 'grad-waiting' to 'graduating'!
1. The grateful daughter
Just recently, Daisy Marie's post on her Facebook account made rounds in the internet as it sincerely touches the heart of the netizens. Contrary to most graduation pictures wherein the graduates are seen wearing their togas, Daisy Marie chose to post a creative shot of her wearing her mother's barangay uniform with her father's jeepney sign boards.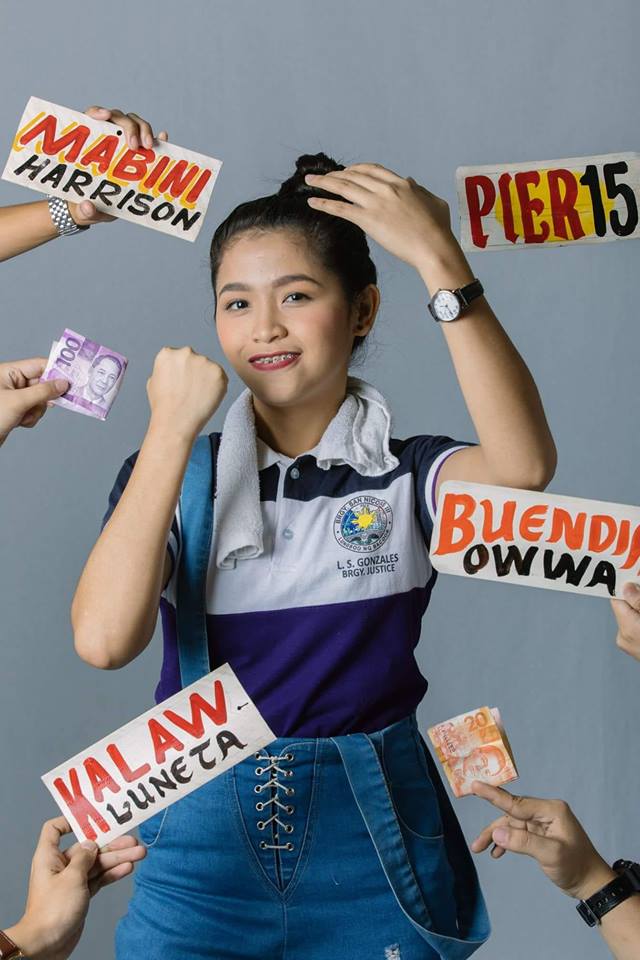 According to Daisy, this is her way of showing her gratitude to her parents who worked really hard just to let her finish her studies. She is very proud to share how her mother who is a barangay worker and her father who is a jeepney driver was able to provide for her studies despite all the hardships and some financial problems.

Daisy is a graduate from Technological University of the Philippines- Manila with a degree of BS in Electronics Engineering. In the end, Daisy congratulated not only herself but her parents as well for all the hard work and the sacrifices. This is a great example of how we should realize all the strivings of our parents and to work or study hard in order to repay all their efforts. Parents really are the real heroes!
(Post and picture grabbed from Daisy Marie's FB account)
2. The oldest graduate
The next inspiring story is coming from the oldest graduate of this year. Sixty-six years old grandma just completed her grade 10 studies at Cotabato City National High School. Everyone's very happy with her achievement and this is just a proof of how we can still achieve our dreams no matter how long it takes.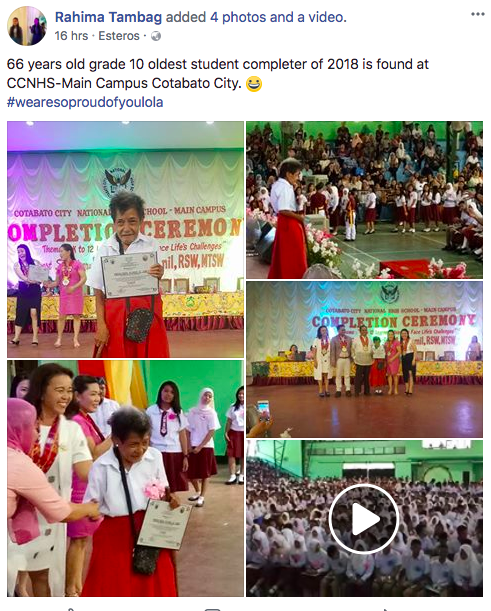 Remember: "It does not matter how slowly you go as long as you do not stop. – Confucius." And as one netizen pointed out, this is an inspiration to everyone to never stop dreaming and believing in one's self. Congratulations to you, lola!
(Credits to Rahima Tambag)
3. The working student
"Hirap now, giginhawa later," this is how Johnel Janu Bagares started his very inspirational graduation post. Johnel shared his story with a goal of inspiring other working students to never give up and to just continue on pursuing their dreams. Johnel worked different kinds of jobs ranging from being a shoe vendor at Cartimar, Pasay to being a service crew in one of the fast food chains in Manila.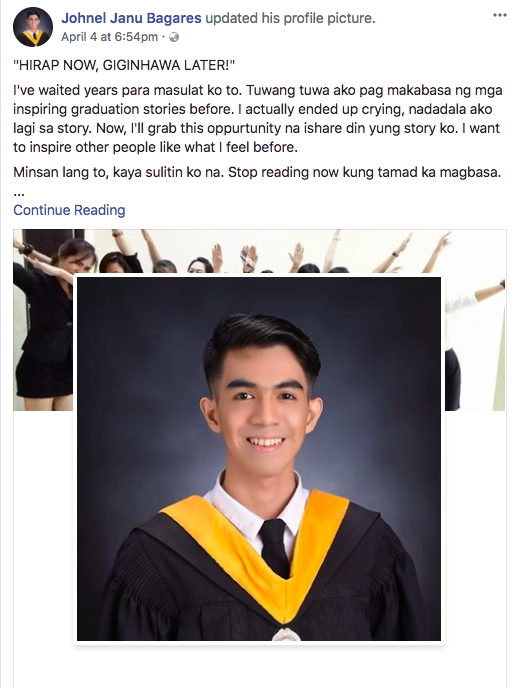 Despite juggling the difficult realities of studies and work, Johnel was still able to successfully surpass all the hardships and achieve his dream of finishing his studies. It is also very inspiring to know that despite the busy schedule of work and school, he was still able to excel in his academics. He finished as a Cum Laude with a degree of BS in Business Administration, major in Business Management at Eulogio Amang Rodriguez Institute of Science and Technology (EARIST).
In the end, Johnel summed up his story by sharing that "success really entails sacrifices."
(Post grabbed from Johnel's FB account)
4. The 'finally graduating'
Dahn Saliendra is also a working student who persevered just to finish his studies. Although many may find his graduation picture while holding a broom as quite amusing, later on, you'll realize how inspiring it really is.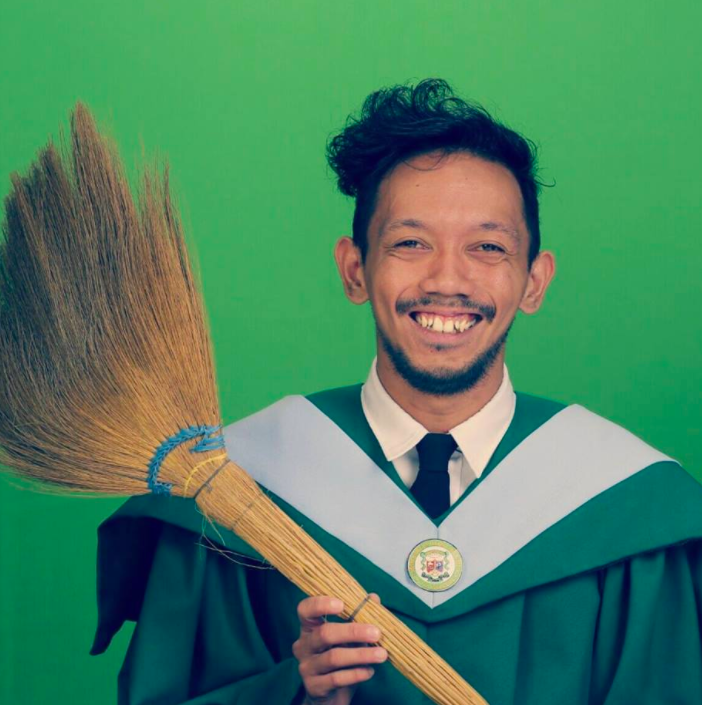 Dahn shared his 6 years of college journey through his Facebook post that has now gone viral. In order for him to fund his studies, he became a working student and was assigned at the janitorial service of his school until he was assigned to work at the personnel office, still with cleaning duties. He took up BS in Education major in Mathematics at Notre Dame of Marbel University at Koronadal City, South Cotabato.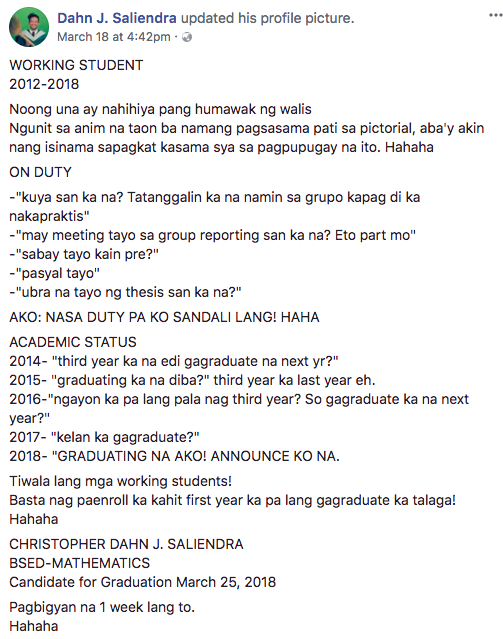 The broom that he is holding on his graduation picture is just a simple remembrance of his hard work as a working student. And finally, after years and years of being asked by people on whether or not he will already graduate, by this year, Dahn can already proudly announce, "Graduating na ako!" Surely, hard work pays off!
(Post grabbed from Dahn's FB account)
5. The 'will never give up'
This is another story of how being financially unfortunate cannot hinder a person in achieving his/her dreams. Mailyn Esquelito Akoy graduated with a degree of Bachelor of Arts in Economics from Sultan Kudarat State University despite being poor.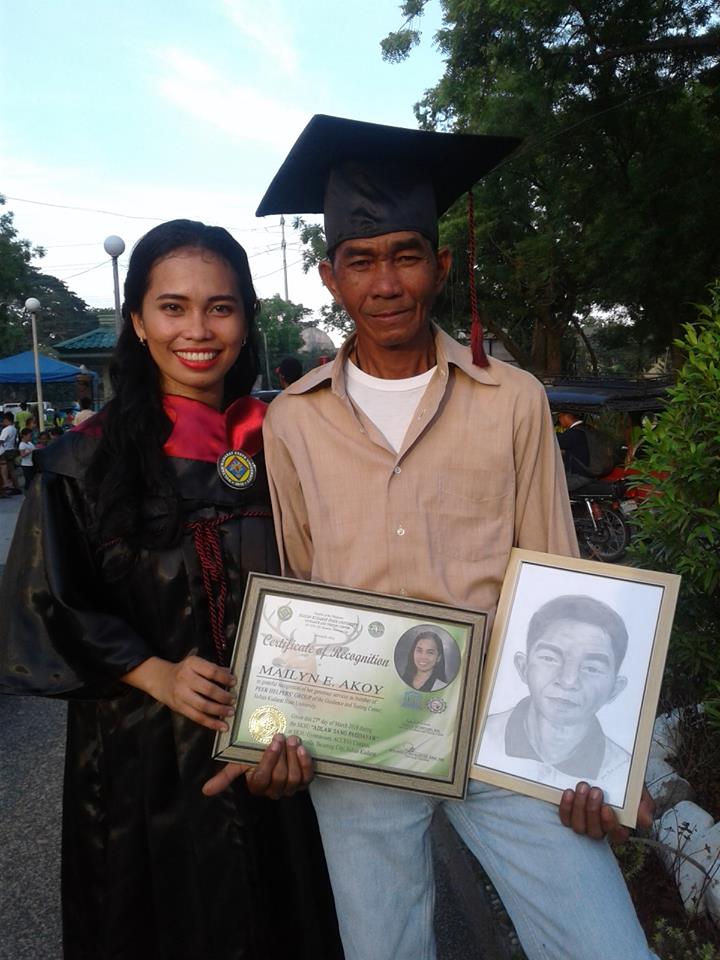 Being financially challenged, with the help of her father who is a "kargador," she was still able to finish her studies by working and trying to get scholarships. Her hardships are really commendable as it reaches the point wherein she has to wear the same set of uniform every day to school. With every challenge that comes along the way of their family, she was still able to surpass it and get her diploma at the very end.
(Picture grabbed from Mailyn's FB post)
Ultimately, we all know how many hours of studying and effort that each student puts in their work. Each is an inspiration to continue on achieving our dreams and believing in ourself. To everyone who has successfully completed their studies or even to those who just completed another year in school, cheers to all of you!
Congratulations to all the graduates! We are so proud of you! Good luck in all your future endeavors!
What do you think about this? Share your thoughts!