This man got discriminated by various gadget shops for looking dirty 
Saleswoman saves the day and helps the man to get a new phone!
This Facebook story might just make you go #awwww and be inspired to spread goodness!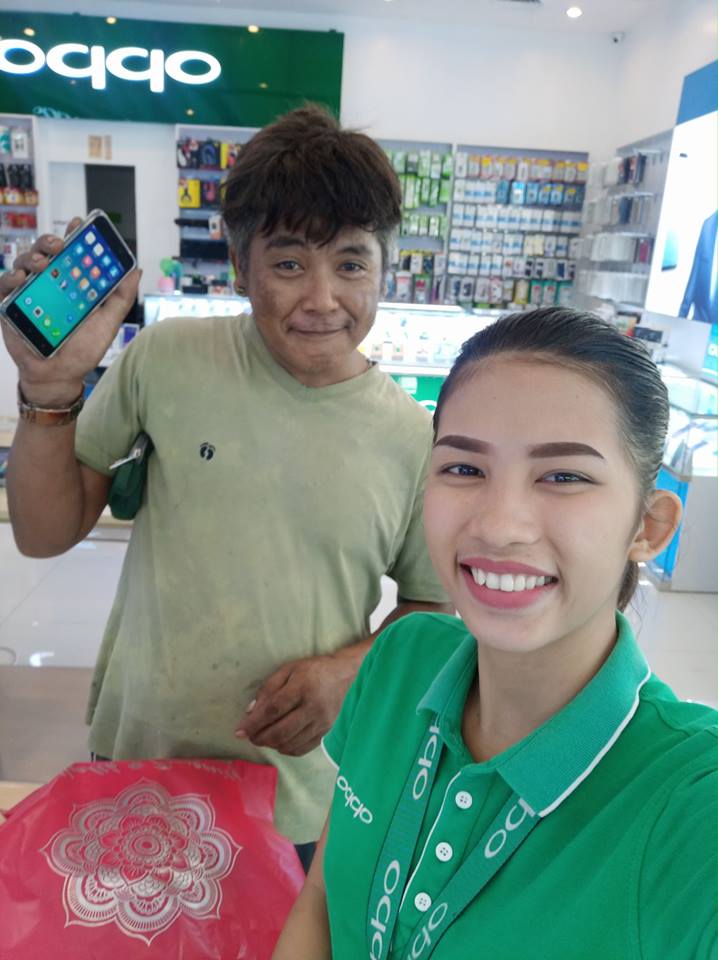 On a Facebook post by the sales agent, Pinky Baylosis, she shared how she helped a man to get a new phone after being rejected by other gadget stores.
As stated on the post, many gadget stores tried to turn down the man for being smelly and looking dirty. However, Pinky was able to see past beyond the looks of the man and tried to help him in getting a new phone. She showed and demonstrated to him the OPPO A57 and in the end, he decided to buy it with his own hard earned cash.
The man even apologized because his money is made up of mostly of 50 and 100 peso bills but still, Pinky entertained him.
She also shared how she admired the man for still being able to smile despite his circumstances and stated that he deserves the new phone as an outcome of his hard work.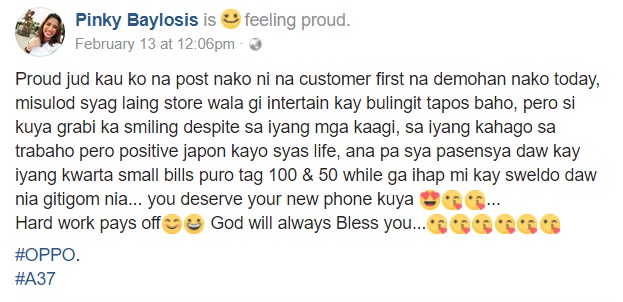 The post has gone viral and many netizens shared how their hearts were touched by the story.
"Good job girl…ana gyud dili mamili og customer na e entertain..as long as wala nagbinuang ng customer or ga yaga2 lng..entertina gyud..ayaw pili unsay postora…Kay dli nimo ma underestimate ang tao…mabuhay ka girl…sana dumami pa sales mo"

"Godbless u ate.you are very kind person and have a good heart.dili porket mabaho sya or dungison sya ug nawong dili na nato sya e intertain pareho ghapon sya sa atoa nga mga anak sa ginoo.so dili dayon ta mag judge dayon. naa man sya kwrta o wala we should to intertain coz it's our work as a sales lady."

"Hwag nyong maliitin ung mga taong ganyan.kc minsan un pala ang magbbigay ng swerte sa araw nyo.blessing yan mga ganyan.minsan bag ddisguise yan,d natin alam angel pla un..😇godbless sayo😇😇😇"

"i was a former huawei retail supervisor and this is something oppo management should be very proud of. You trained your promoters very well"

"Good job k jan ate!..kw ang role model ng mga S.A dapat hwag nating hayaan n manaig ang pag giging mapanghusga s kapwa dapat just love😉😘😊"

Ultimately, Pinky thanked all those who appreciated her post:

Nothing beats a good and heart-warming story this Valentine's day! Spread love and happiness!
What do you think about this?