Filipino horror films to watch during Halloween and Undas season.
Classic horror, supernatural films, psychological thrillers and mysteries.
These movies have the high notoriety among Filipinos.
Halloween is in approaching and binge-watching is one of the things to do when this holiday comes. These are the timeless Filipino horror movies that will makes you scream with terror every time.
The Road (2011)

Directed by Yam Laranas 

This is a psychological thriller that will make you want to watch it again and again. The story is about teenagers (Barbie Forteza, Lexi Fernandez and Derrick Monasterio) who went missing after a joyride gone wrong along a haunted and abandoned road. Luis Medina (TJ Trinidad) is the investigator assigned to the case. While he was investigating, he finds the decaying body of another victim in the same road. The body used to belong to one of the two sisters who went missing ten years before. Digging further, Luis will get himself into a mystery full of brutality and murders.
Sigaw (2004)

Directed by Yam Laranas

This is another psychological thriller that will make you think what is the main story and what is not. The story is about Marvin (Richard Guiterrez) savoring his independence by moving into his own appartment. Although he likes his apartment, he wakes up at night because of screams of help at the middle of the night. At the end of the hallway of his floor lives Bert (Jomari Yllana), Anna (Iza Calzado) and her little daughter, Lara (Ella Guevarra). Bert, usually drunk, always suspects Anna on cheating on him which leads to him beating her causing the disturbances. Anna usually asks for help from Jude (James Blanco) who lives in the middle of the hallway.
Sukob (2006)
Directed by Chito S. Roño

This story is about the superstition in which one should not get married in the same year that an immediate relative dies or no siblings should be married within the year. The story is about two women, Sandy (Kris Aquino) and Diana (Claudine Barretto) who gets married. They are both haunted by a ghostly flower girl who asks for a life in order to break the curse.
The Healing (2012)
Directed by Chito S. Roño
This is another Filipino horror film that will confuse you but surely will make you want to see it again. Seth (Vilma Santos) took her father to a fate healer, Manang Elsa (Daria Ramirez), after he suffered from a stroke. After her father regained his strength, his miraculous healing astounded the whole neighborhood. A handful of people came to Seth and asked her for help to bring them to Manang Elsa. When she did, they started to face a curse they didn't know they cast on themselves.
Feng Shui (2004)
Directed by Chito S. Roño
When someone stares and sees themselves in the Bagua mirror, they get killed according to their Chinese zodiac sign. Joy (Kris Aquino) found the bagua mirror inside a bus left by a man. She later shows the Bagua to Aling Biring (Luz Fernandez) who tells Joy that she should keep it because it will drive away evil spirits and bring good luck to their family. Joy finds out that Aling Biring was killed because of leptospirosis and the man who left the Bagua was hit by a Rabbit Liner bus. She now has to save herself, her friends and her family in being affected by the curse.
Seklusyon (2016)

Directed by Erik Matti
This is the most recent horror film in this list. It is truly horrifying because of its relation to the religious beliefs of many here in the Philippines. The story is about a little girl, Anghela Sta. Ana (Rhed Bustamante), who heals people miraculously. When she heals someone, black gooey liquid drips from her mouth. Padre Ricardo (Neil Ryan Sese) gets suspicious about the nun who accompanies her, Sister Cecilia (Phoebe Walker). But the issue does not just stop here because there is a lot of mystery surrounding Anghela, who she is and what she does.
Itim
Directed by Mike de Leon
Jun (Tommy Abuel), a photographer, befriended a strange woman named Teresa (Charo Santos) in his hometown during Holy Week. When Teresa started acting weird, Jun and her mother asked for help from a spiritualist or medium. They find out that Teresa is being possessed by a potentially dangerous spirit.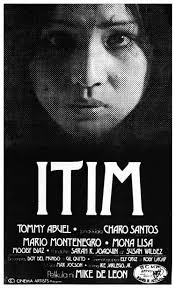 TxT (2006)
Directed by Mike Tuviera
Joyce (Angel Locsin) was a caregiver in a local elderly home. She broke up with her obsessive boyfriend, Roman (Oyo Sotto). As a final request, Roman asked Joyce to drive him home with his car. The two got into a tragic accident killing Roman and injuring Joyce. Alex (Dennis Trillo), a call center agent, had feelings for Joyce but didn't act on it. He comforted Joyce in such a hard time, instead. After a few days, Joyce receives texts from Roman's number considering it as a cruel prank. Or is it?
https://www.youtube.com/watch?v=byJewJ4hPtQ
'Wag Kang Lilingon (2006)
Directed by Jerry Lopez Sineneng and Quark Henares
This movie has recurring themes that tie down both Angel (Kristine Hermosa) and Melissa (Anne Curtis) together: the spirits that haunts them, the mirror and the house. There may be many spirits haunting them, there is only one culprit. It all started when Angel lit a candle in front of a mirror with her little sister, Nina (Celine Lim). Apparently, they opened a portal between the two worlds.
Patayin sa Sindak si Barbara (1995)

Directed by Chito S. Roño
Barbara (Lorna Tolentino) had always been a loving sister to Ruth (Dawn Zulueta). Barbara loved her so much that she even sacrificed the guy that she loved, Nick (Tonton Guiterrez). When Nick and Ruth got married, Barbara fled to the United States just to start a new life and try to give Nick some time to fall in love with Ruth. After a few years of their marriage, Ruth still suspected Nick of harboring feelings for her sister. In a jealous range, she committed suicide by stabbing herself with a huge piece of a broken mirror. The suicide was witnessed by her daughter, Karen (Antoinette Taus) who had become unstable. Barbara comes back to the Philippines and face her past haunting her, in more ways than one.