Grab driver calls for the public's help
Passengers spread poop stains on Grab driver's car
Isn't it in the common ethics to respect one's job, especially when people work hard for it?
Disrespectful
We hear nasty rumors about taxis, Grab, Uber, but this viral post is beyond one's imagination. A furious Grab driver, who chose to remain anonymous, shared his recent encounter with a shitty customer.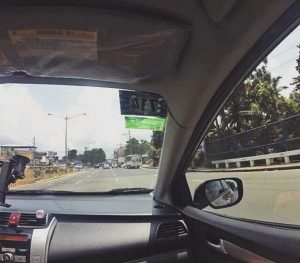 Like, literal shit.
"Kung nandito ka man, sana naman mahiya kayo nung kasama mo na babae sa ginawa niyo sa auto ko. Naghahanap-buhay yung tao dudumihan niyo yung ginagamit ko para kumita," he expresses his anger on Facebook.
He narrated that he was booked by two passenger, one male and one female. The driver noticed the weird actions of the two, then suddenly, an explosive smell surrounded the air-conditioned car. At first, he thought it was just a fart, so he let it pass.
"Pero nung bumaba kayo ng kotse ko, nakita ko na yung kababuyan mo. Pinahid mo pa sa seatcover ko at tumagos pa sa seatcover ko!" he said in disgust.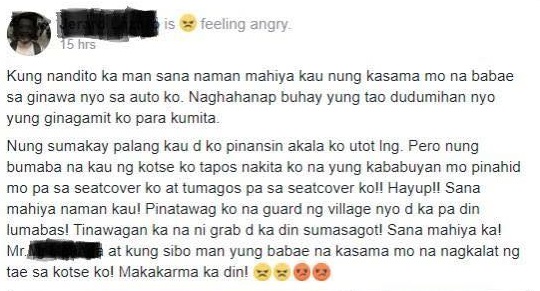 He shouted foul.
The poor Grab driver asked the guards of the village, the one where he dropped the passengers, for some help. The guards hurriedly contacted the two, but to no avail, not even a single apology came out.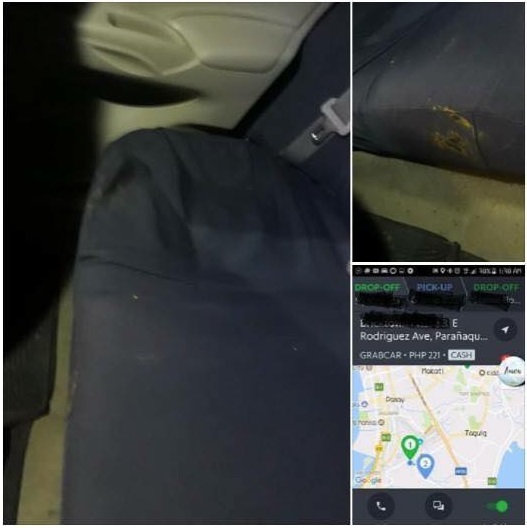 The post was shared by the Philippines CCTV & Dash Cam Spotted and instantly went viral. With almost 3,000 reactions and 1,000 shares, the authorities are trying to find out who the passengers are.
What do you think guys? Share us your thoughts.