Last April 18, 2015, likes and comments flooded when Senyora Santibanez, a humorous Facebook page, posted the picture of a gay couple in a train. The couple was a hot European guy and an Asian man holding hands.
The post which went viral now has over 90,000 likes and over 22,000 shares also gained thousands of different comments most were cyber-bullying the Asian man, Naparuj 'Mond' Kaendi for his appearance judging and questioning why the couple is together.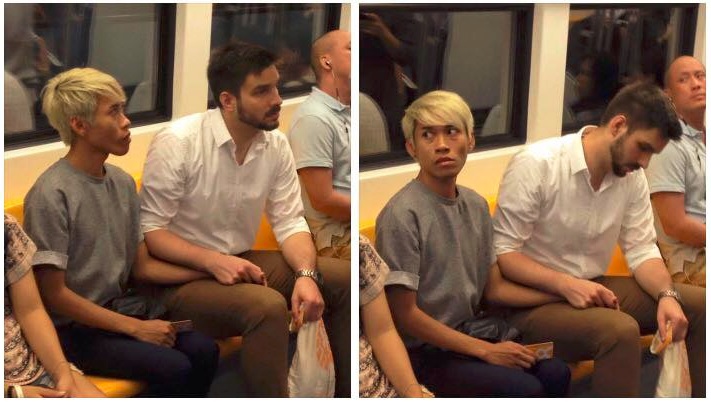 However, a few days after his photos went viral, Mond finally speaks up after his photos caught the attention of everyone internationally.
I saw that person. There was someone staring at us, and I thought to myself, "Here we go again."
Coconuts Bangkok reports that Mond had already experienced the same thing in 2014 when someone took a photo of them during the Songkran holiday. The photo was also spread online but the recent photo of the couple in the train was the one that gained more attention from the public. The rude comments weren't because they were a gay couple, it was because of Mond's appearance and some people said he isn't deserving to be with the hot white guy.
Taking photos of people like that is no different than filming under a woman's skirt. It's a violation of privacy. The first caption I saw was 'I'll have to make my face ugly [to get a hot guy].
Mond has been used to getting ill comments about them being together. People would judge him and say that his husband is just with a hooker because of the way he looks. He also says that he cannot control what other people think because they do not personally know them or how long they have been together.
….these things wouldn't happen if no one took a photo.
Mond says that he will not take any legal action against whoever took their photo and spread it online, however, he wishes to meet that person and receive an apology for what he did.
I want to find the person who first posted the photo. I want that person to apologize.
Although a lot of people showed their support to the couple, Mond is still concerned, mostly for his husband's future career.
I'm afraid this might affect his career. They do background checks in Europe and this is a scandal. People who do this [take photos of others without permission], please stop.

Photo Credit: Bangkok Coconuts
However, the damage has been done, foul words have been thrown at and no one can take them back. Reality is, some people just have nothing better to do than make other people's live miserable by making fun of who they are or how they appear. While the social media has become a tool of bringing people together, the sad thing is, sometimes the reason they come together is just to cyber-bully people who have been living their lives peacefully and privately. What wrong did Mond and his husband do to deserve this? Nothing! They are just two people in love and not afraid to express it in public. It wasn't even an inappropriate kiss. And to the person who took their photo and spread it online, we cannot say anything more but hope that he can also experience the love that Mond shares with his husband.