A lighthearted moment between the stars of 'A Very Good Girl,' Kathryn Bernardo and Dolly De Leon, has become a viral sensation.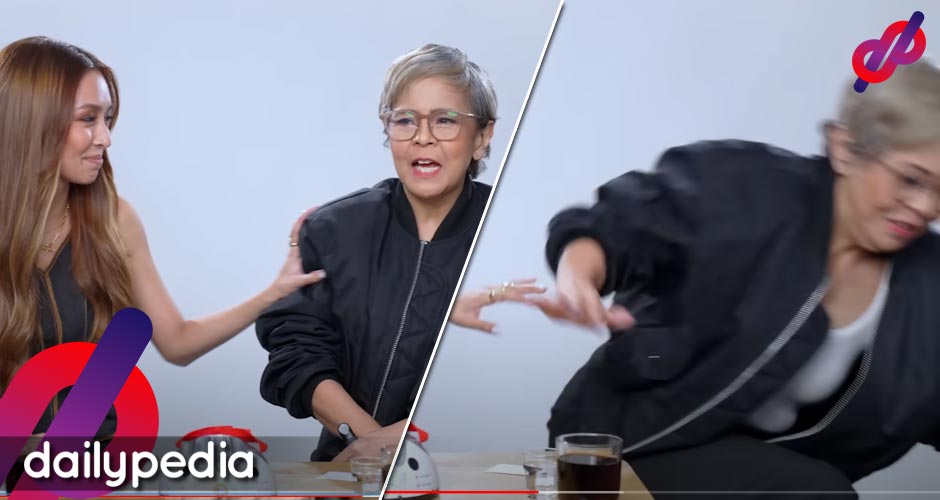 In the video clip, Dolly playfully falls from her chair after a playful nudge from Kathryn.
The two actresses participated in a 'Lie Detector Drinking Game,' in which they answered randomly selected questions.
When asked if she believed Kathryn was a talented actress, Dolly responded with an enthusiastic "yes." She jokingly added that even her own children would attest to Kathryn's acting prowess.
In jest, Kathryn gave Dolly a gentle push after her response, causing the veteran actress to tumble over. Kathryn promptly rose to her feet to assist Dolly in getting back up.
"Oh my God! Miss D! Joke lang 'yon! Joke lang 'yon?" exclaimed Kathryn.
Dolly assured her that it was all in good fun and resumed her seat with laughter.
Kathryn humorously expressed her concern about a potential headline in a local newspaper: "Kathryn tinulak si Miss Dolly."
Dolly quipped, "Nasaktan si Miss Dolly na-injured."
"Kathryn tinulak si Ms. Dolly!"
"Nasaktan si Ms. Dolly, na-injure!"

THEY'RE SO UNSERIOUS AND CHAOTIC! 😭 Sila na mismo gumawa ng headlines on behalf of Philippine tabloids as they knew how those tabloid writers would react to this video where Kath playfully pushed Ms. Dolly. pic.twitter.com/KAgUonHL94

— 🍷 (@jochendria) September 23, 2023
This playful challenge was part of the promotional activities for their upcoming movie, 'A Very Good Girl,' scheduled to premiere in theaters nationwide on September 27.
The film is described as a thrilling revenge story with a blend of sass and class. The story revolves around Philo (Kathryn Bernardo), who devises an intricate plan for vengeance against retail mogul Mother Molly (Dolly De Leon) after a heartless firing triggers a series of unfortunate events. Philo is determined to dismantle Mother Molly's empire and exact the ultimate payback, showing no mercy.
'A Very Good Girl' also features Donna Cariaga, Chie Filomeno, Jake Ejercito, Ana Abad Santos, Gillian Vicencio, Kaori Oinuma, Nour Hooshmand, Althea Ruedas, Nathania Guerrero, and boasts a special participation by Angel Aquino.
With creative direction by Carmi Raymundo, a story by Marionne Dominique Mancol, and a screenplay by Marionne Dominique Mancol, Daniel Saniana, and Jumbo Albano, "A Very Good Girl" is directed by Petersen Vargas.