A customer of 'The Manila Baker' (TMB) has deleted her post following the backlash she received after giving the bakery a negative review.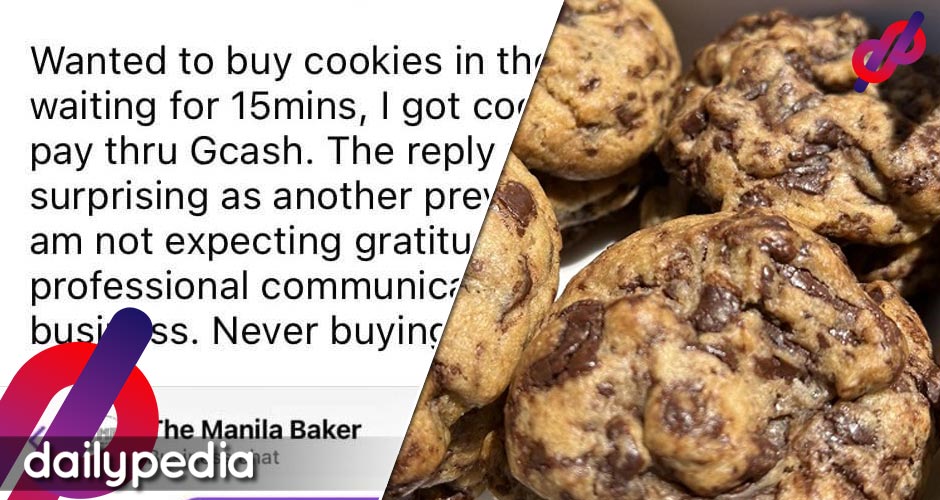 TMB recently experienced an incident where a customer grabbed cookies from their unmanned stall, which subsequently went viral.
However, TMB expressed gratitude after receiving messages of support from social media users.
On July 5, they took to Facebook to express their appreciation for the 'overwhelming' support they received.
"On behalf of our entire Kitchen Team [and] Sales staff, [please] allow us to express our gratitude, MARAMING, MARAMING SALAMAT for your support and countless encouraging messages.
"It's really overwhelming! Honestly, we just want to continue serving you all unique, freshly baked, premium and delicious desserts, so again, [m]araming, maraming SALAMAT."
Following an incident where a Facebook user left a negative review about the bakery at The Podium, expressing that she "doesn't recommend" it, TMB received a surge of support from social media users.
"Wanted to buy cookies in their unmanned kiosk at Podium. After waiting for 15 [minutes], I got cookies [and] messaged their [Facebook] account to pay [through] GCash," the customer said.
"The reply was berating messages instead [shrugging emoji]. Not surprising as another previous review called the owner arrogant. I am not expecting gratitude for my voluntary honesty, but professional communication is a minimum requirement of any business. Never buying here again," the customer added.
In response to the customer's negative review, TMB explained that their staff had temporarily left the stall to attend to tasks such as visiting a bank or using the restroom.
Afterwards, the bakery stall provided its GCash details and expressed gratitude to the customer for making the payment. However, they also mentioned that if the customer had been in a hurry at that moment, they should have sent a message online, as their staff was out running an errand.
"If this was a different situation and nobody informed us, our staff would have been charged with the P800. I do hope you know where we are coming from and understand why this cannot happen again… thank you."
The customer then made her post unavailable to the public following the backlash.
https://twitter.com/whuaffee/status/1676456943278489600?s=20
The 🤸🏼‍♂️ audacity 🤸🏼‍♂️ beshy 🤸🏼‍♂️ ko. Can't help but laughed with what I just read on Facebook and now I wanted to try those cookies of The Manila Baker. Lol 🤣 Besides, this is not an Honesty Store in the first place so why'd you even do it gh0rl? HAHAHAHA pic.twitter.com/ZkCAyGYZqy

— Jayce (@jarleneenriquez) July 5, 2023
In a now deleted post Cristina Ng vs The Manila Baker. Na gaslight pa si owner, they were just looking out for their employee. A headache for missing inventory. What a Karen! pic.twitter.com/GXHs5puCtD

— MCKOI (@drealmckoi) July 5, 2023
Di niyo kaya si Cristina Ng.

Stole cookies from an unmanned kiosk, messaged the store on Facebook hours later to pay for the cookies she took, and then proceeds to post a negative review about the store.

The cheek, the nerve, the audacity, the gall and the gumption. pic.twitter.com/cAOo3Ta48j

— J.K. (@jkdrooling) July 5, 2023
In a now deleted post, someone took 2 boxes of cookies from an unmanned kiosk and decided to become a Karen pic.twitter.com/fnHmtswCpT

— Eve, Psyche and Bluebeard's Waifu (@heynikkipoo) July 5, 2023
Teh, bakit mo namang ginawang community pantry.

😭😭😭 pic.twitter.com/9bSwPRF04y

— Jover Laurio (@PinoyAkoBlog) July 5, 2023
According to Spot.ph, the bakery stall's management expressed sadness over the fact that they had to defend their brand, despite the customer being the one who committed an offense.
Meanwhile, the bakery stall provided an update on Instagram Story, informing the public that their Brown Butter Salted Chocolate Cookies had become a popular and highly sought-after item.
These cookies were the ones grabbed by the customer who posted the negative review.
'The Manila Baker' specializes in selling a range of freshly baked goods including cornbread, apple crumble pie, cookies in various flavors, and an assortment of cakes such as banana cake, chocolate cloud cake, and basque burnt cheesecake, among others.