Netizens were forced to fact-check former Senate President and current Chief Presidential Legal Counsel Juan Ponce Enrile about the Bataan Nuclear Power Plant.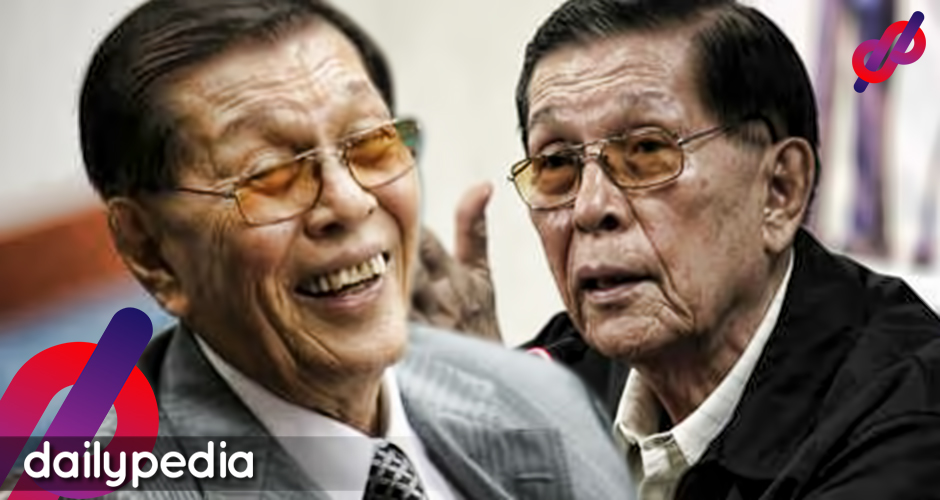 Enrile proposed the removal of the provision in the Constitution that prohibits the Philippines from possessing nuclear weapons.
During Enrile's appearance in a Senate hearing regarding the Constitutional Convention (ConCon) as a means of amending the 1987 Constitution, he suggested that it would be better for the Philippines to possess nuclear weapons in order to avoid being oppressed and becoming a puppet or servant of other countries.
It's considered a form of protection for small countries to have their own nuclear weapons.
"Kung natuloy lamang umano ang pagpapagawa ng Bataan Nuclear Power Plant ay mas nauna pa sana tayo sa Iran at sa North Korea na magkaroon ng nuclear weapon at tiyak na hindi sana tayo ngayon inaapi ng ibang bansa," he said on March 22.
Enrile is in favor of amending the strict economic provisions of the Constitution through a Constituent Assembly (ConAss) in order to fully open the country to foreign investors.
He opposes the House's plan for a Constitutional Convention (ConCon) because it would cost the government a lot of money for delegates, offices, and staff.
Netizens had to correct Enrile about the Bataan Nuclear Power Plant.
Tanga talaga ang matandang to.

1. Hindi sinira ang planta.
2. POWER PLANT ang meron tayo, hindi war heads.
3. Si Marcos ang nagpasara ng POWER PLANT because of safety considerations.
4. Tama si Marcos sa pagpapasara ng BNPP.
5. Puno ng korapsyon ang BNPP. https://t.co/VLEgFYb4pH

— Josh (@joshquising) March 22, 2023
Enrile's still a liar. But what do you expect? He faked his own ambush. https://t.co/VYpChLtUUX

— karl #MarcosMamamatayTao (@eicvsfascism) March 22, 2023
Baka ang paglaunawa nya sa Bataan Nuclear Power Plant sa tagalog eh
Planta ng Nuclear Power sa Bataan.
Dyusko maawa kayo sa matanda.
pagpahingahin nyo na. https://t.co/a5L4tJdLqy

— Choy🇵🇭🇶🇦 (@KaTindig2029) March 22, 2023
Others clowned Enrile.
Jusko pinagsama nyo pa yang dalawang 🤡 https://t.co/yat9NLVneB

— _pi_#COBWEB (@ephiechingu) March 22, 2023
baka akala niya tinatanim ang nuclear bomb sa nuclear power plant https://t.co/lCiV3y1CUX

— baka si sopas to (@mxspja) March 22, 2023
mf wants to make nukes https://t.co/UnXHyRZHfK

— séjo álriz 🪶 (@ritsakuru) March 22, 2023
*Kung hindi sa matinding korapsyon sa ilalim ng dating Diktador na si Marcos, Sr. at ang maluho nitong asawa, nilustay nila ang bilyon-bilyong pera ng taumbayan sa pamamagitan ng sunod-sunod na panlabas na utang na binabayaran pa rin hanggang sa ngayon. https://t.co/lQus4M9owo

— よしお、—yoshio (@topeseki) March 22, 2023
The Bataan Nuclear Power Plant (BNPP) is a nuclear power plant located in Morong, Bataan, in the Philippines. It was built during the Marcos administration in the 1970s and was intended to provide a significant portion of the country's power needs. The BNPP is a Westinghouse light water reactor with a generating capacity of 620 megawatts.
However, the BNPP never became operational. The nuclear plant was completed in 1984 but was never used due to concerns about its safety and viability. The plant was built near an active earthquake fault and a volcanic site, raising concerns about potential accidents and radioactive waste disposal. There were also concerns about the plant's cost, with critics claiming that it was built at a much higher price than comparable power plants.