Filipino-American singer-songwriter Kris Lawrence has turned viral for appearing to defend actress Alex Gonzaga after she smeared cake icing all over a waiter's face at her 35th birthday party.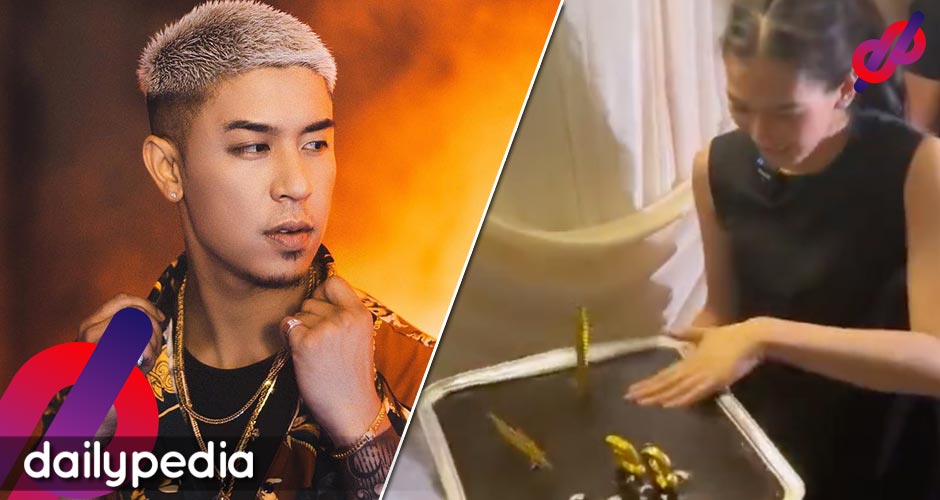 Lawrence commented on The Inquirer's Instagram post, observing that people always seem to have something negative to say. He also said that people often focus on the negative aspects of situations rather than the positive. He also mentioned that he believed the waiter involved in the incident would ultimately be grateful for what happened.
The singer-songwriter expressed, "Let's fast forward and after this event that waiter just went viral, will probably get 'something' after, and a LOT of sympathy. Most recognition he ever got as a waiter. So after all the noise…i'm sure he will be grateful that this happened."
Lawrence also said that Gonzaga was "clearly tipsy and it all comes down to intention", adding that she was "probably trying to have 'fun'."
He then made it clear that he was not defending the actions of the celebrity vlogger. However, he disagreed with the way many people were portraying it as a negative event.
Lawrence explained, "So now putting cake on someone's face at parties is demonized? I thought that was normal. You guys never put cake on anyone's face on a birthday?" he said. "Again not justifying her actions, but geez…stop the bullying. No one is perfect."
In addition, he shared his thoughts on Instagram Stories, stating that he considered smearing cake icing on someone's face to be normal behavior. He even posted a quote card from Mike Tyson on his Instagram Stories.
"So now it's bad to put cake on someone's face during a birthday? I thought that was a normal thing," he wrote.
However, no one agreed with his take on the issue.
Kampi kampihan ng mga enablers, lol.
Ang Yuckie🤮 nong Alex Gonzaga at Kris Lawrence 🤣 pic.twitter.com/EBB7X68ABw

— G (@G1290411949) January 18, 2023
Taena ang matapobre ni Kris Lawrence. Buti wala na career.

— Nico Quejano (@nicoquejano) January 17, 2023
Apparently Kris Lawrence defending Alex Gonzaga's trash behavior 😭😭😭 the clownery of these celebrities 😭 pic.twitter.com/JoqAd32o3S

— miles (@IAMilesLorenzo) January 17, 2023
O alam nyo na mga bakla pag nakita nyo si Kris Lawrence paki lagyan ng jebs flavored icing ang fez ha! Normal thing daw eh.😂

— AltGMA🌈 (@KafosoMo) January 18, 2023
JUST IN: Kris Lawrence " the Donnalyn 2.0 " Added na sa Tea calendar congratulations 👏

So utang na loob at dapat ipagpasalamat pa ata ni Kuya Allan ang nangyari sa kaniyang kahihiyan sa kamay ni malditang Alex Gonzaga. Ayon iyan sa bibliya ni Kris Lawrence. pic.twitter.com/YGsjn9ZK6j

— tea ☕ (@Eyechismis) January 18, 2023
Bumoboses pa tong si Kris Lawrence about sa Alex G issue. Pag laos, quiet na.

Kung di ka pa naging asawa ni Katrina Halili di kita kilala eh. Charot

— Renz Saavedra (@SirRenzSaavedra) January 18, 2023
Kris Lawrence making a stupid comment maybe to get attention cause he's a flop and barely "recognize" these days. Do you feel recognized being on the trend, mister?

— V (@pweachybun) January 17, 2023
Meanwhile, Gonzaga's camp has released a statement regarding the matter.
Entertainment reporter Peter Ledesma, who is also Alex's publicist, informed TV5 reporter MJ Marfori that the Florabel Resto waiter is a friend of Alex's mother, Pinty.
The publicist explained, "This Allan, one of the waiters of Florabel Resto and Catering Service in Valle Verde Pasig, is a friend of Mommy Pinty Gonzaga and the Soriano Family. Kaya majority of the events of Gonzaga and Soriano Family ay sila ang kinukuha ni Mommy Pinty na mag-cater ng food and beverages."
"At itong si Allan ay laging kabiruan na Mommy Pinty and Alex at ito ang parating nagse-serve sa kanila. Kaya tuwing nagkikita ay binabati agad ni Allan ang mag-mommy, magiliw ito sa kanila," he added.
Ledesma stated that Alex would not have acted in the same way if the waiter was not someone she knew. He concluded, "And one more thing ay hindi totoong lasing si Alex na tulad ng pinalalabas ng kanyang detractors and bashers."