Ariean Cristobal and Emanuelle Cruz De Guzman, supporters of former Vice President Leni Robredo, got married.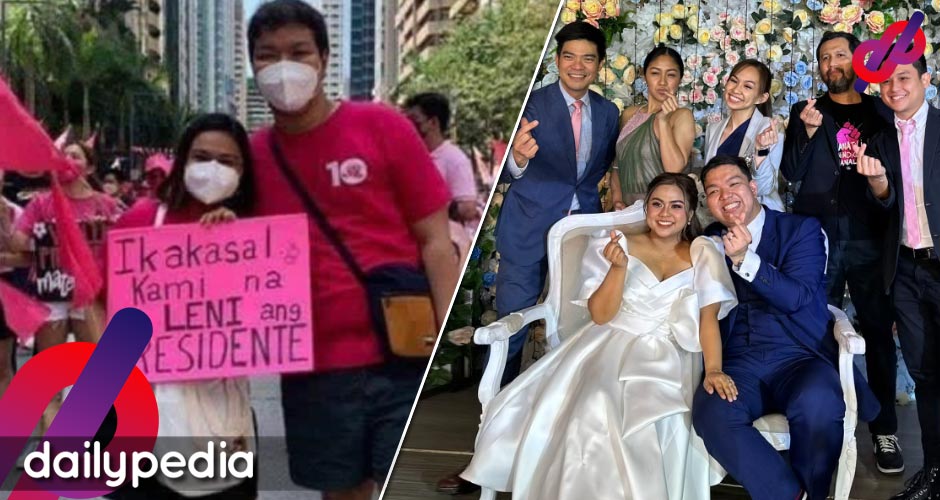 During rallies for the 2016 election, supporters performed a variety of stunts. Supporters of various candidates have gotten quite inventive with their campaign posters and placard-making.
De Guzman and Cristobal decided to join in the fun. Cristobal is seen holding a sign that reads "Ikakasal kami na si Leni ang Presidente" in a viral photo.
The internet was swept by this. Many of the couple's fellow Kakampinks came out in support of them. This couple has even garnered the attention of fashion designer Gladi Echavarre, who has stated on social media that she will create the bride's wedding dress at no cost. At the Miss Universe Philippines 2022 Coronation, Echavarre designed one of Pia Wurtzbach's gowns.
In spite of Robredo's failure to win the presidency, the couple got married.
Singer-songwriter Johnoy Danao shared a photo taken during the wedding of the couple. "Pangakong tinupad ang tumugtog sa kasal nila Ariean at Emanuelle. Congrats sainyo!" he wrote.
https://twitter.com/johnoydanao/status/1602651325699067904?s=20
Happening right now 💖🌷🌸 pic.twitter.com/xXWoC3mbYa

— Rammy Bitong (@rammybitong) December 13, 2022
Earlier this year, the couple did say that they'll still get married regardless of who wins the presidency.
They received a lot of bashing from Robredo critics, too.
"My fiance and I are trying to rise above the negativity, we try not to answer any negative comments," said De Guzman in an online interview with Manila Bulletin.
De Guzman declared, "Getting married is a decision that we've made after a lot of talking, arguing, and everything in between. I love you in every universe Ariean Cristobal" to which the bride responded, "Mahal kita, Emanuelle Cruz De Guzman. We are in this together."
Their initial plan was to write "Engaged Couples for Leni" but changed plans.
"When people started seeing the placard, they congratulated us then someone from 'Team Leni Robredo' approached us to take a picture," he shared.
They didn't know their photo became viral until later; when they got home friends and family started tagging and messaging them with the post.