Netizens blasted Pres. Ferdinand "Bongbong" Marcos Jr. after revealing why he has yet to pick a Department of Health secretary 75 days into his presidency.
In a sit-down with pro-administration TV host Toni Gonzaga, Marcos said the department is undergoing reforms and that it will continue to perform its duties without a head.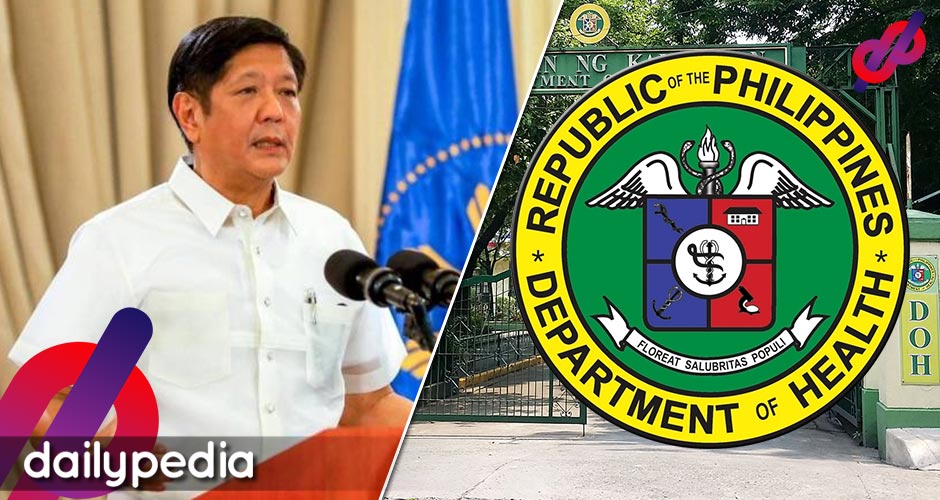 "There are many elements to the DOH, so that's why until we finalize the structure — we just have to keep it functioning and finalize the structure," he said.
When asked why a DOH secretary hasn't been named yet, the president said that the country is not only struggling with COVID-19 but also with other diseases such as HIV, dengue, and tuberculosis.
Without dropping any names, Marcos said he has a few candidates in mind for health secretary.
"I am hoping and I am thinking that the person who is helping us, the consultants from there, the consultants helping us, putting the new structure of DOH together, diyan manggagaling ang ating bagong secretary," he said.
"We have the dengue rates are climbing. We have the second highest HIV rate of infection in the world," he added.
Netizens weren't receptive to Marcos' reason and criticised his decision-making skills.
https://twitter.com/rrheaalcohol/status/1569984586490445825?s=20&t=FwROy1__Wi7KNQWzZbSYFA
So he refuses to appoint a DOH Secretary because the problem is not just the pandemic but "public health"???

Sir, are you high? 🤣
Kakaparty mo 'yan eh. https://t.co/1aQLOUGEV1

— Kristoffer Pasion (@indiohistorian) September 14, 2022
We are about to head to this direction naman either way but… are we ready for this? We do not have a proper DOH secretary yet. A lot of health experts in the govt disregard wind dynamics. How sure are we na kakayanin ng govt ang consequences nito? https://t.co/q7L3Ny9Kwc

— Ky #PagodtNa (@Kywooooooooooah) September 12, 2022
Some joked that the president is too busy having fun these days.
Party party pero wala kang DOH secretary. Buti pa party dami na naplano.

— sml (@sml52262318) September 13, 2022
Marcos has recently attended events that do not require the president's presence. He also sang at his birthday luncheon at the Palace, which left a bad taste in people's mouths.
Still no DOH secretary. Unity! 🫠😆 https://t.co/bIk09O6EVZ

— Christian Dave P. (@xtian_daveRND) September 14, 2022
All the more reason for a DOH secretary now… https://t.co/9r6idghL5s

— kj (@kjtanada) September 14, 2022
So alltv is like gma and abs but it's made for bbm supporter like Toni Gonzaga and Ella cruz???? and for their propaganda?!?!???

— Ms. Eme (@eme_lequeen) September 13, 2022
ALAM NAMIN KAYA BAT MO YUN GINAWANG RASON YON KUNG BAKIT WALA KA PANG INAAPPOINT NA DOH SECRETARY??? naririnig mo ba yang sinasabi mo? ibig sabihin ng pinagsasabi mo na mas kailangan ng secretary 😮‍💨😮‍💨 https://t.co/fI1vlN7iVO

— ♥️🌹 (@kimtaejeu) September 14, 2022
While without a health secretary, DOH Undersecretary Maria Rosario Vergeire has been active in dealing with the response to the pandemic as she was during the previous administration.
She has been serving as officer-in-charge since July.
Why can't we make Dr. Vergeire as our DOH Secretary? She's actually concerned about our health and her statements supporting persistence in masking are truly admirable.

— Michael David Sy (@mdsynic) September 13, 2022
Vergeire previously said there isn't much difference between an OIC and a department head, adding that the president has given her authority to lead the agency.
"Whatever position I may have, 100% naman po ang ibinibigay and it doesn't affect our services and the delivery and the decision-making, halos pareho naman, sir. So wala po tayong disruption," she said during the hearing of the House Appropriations Committee on Monday.