"Drag Race Philippines" has been the talk of the town lately after its first episode aired on various streaming platforms.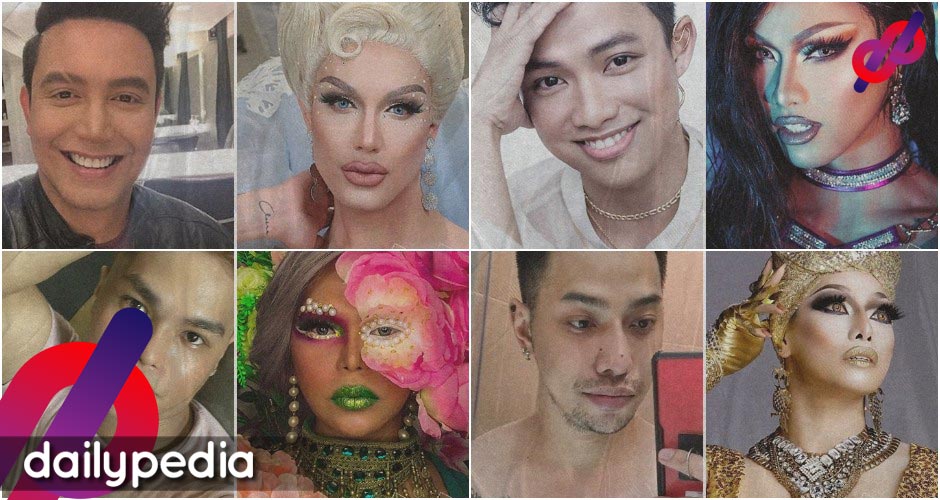 Knowing drag queens, these performers possess numerous talents that keep the audience hooked. One of the most common skills of drag queens is singing, dancing, hosting, and of course transforming themselves into something completely different from their usual appearance.
Their ability to do so has impressed even those who are not into this kind of entertainment.
Below are the 12 contestants with and without their makeup.
Xilhouete
Xilhouete is a drag mother who runs Nectar Nightclub in Manila, where drag queens begin their careers.
She shows queens the ropes on how to be a successful drag queen.
Viñas DeLuxe
Viñas has a background in theatre and entered drag during university. She owns a wig business and heads a group of queens called The Divine Divas, who provided entertainment during the height of the pandemic.
Gigi Era
Gigi moved to the Philippines after winning multiple drag competitions in Australia. She previously worked as a cabin crew and lived in Dubai. She currently represents her hometown of Davao on Drag Race: Philippines.
Marina Summers
Marina worked as a content creator for film companies in Manila. The Nueva Vizcaya native has been doing drag for three years and thrives in the music industry as a singer and performer.
She frequented the Nectar Nightclub and was a pioneer in launching Drag Playhouse PH.
Eva Le Queen
Eva Le Queen was previously an OFW in Singapore before being introduced to the world of drag. Four months into actually doing it, Eva won 1st runner-up position in Singapore's Drag It Out All-Stars competition.
Movie villains usually inspire her performances, but she also enjoys doing comedy. She's also a host at the Drag Playhouse PH.
Precious Paula Nicole
Precious is a veteran drag queen with more than 11 years of experience.
She impresses audiences with her impersonations of Beyonce and other famous personalities.
Turing
Turing is a talented dancer with lip-sync abilities. She is considered the face of O-Bar. She has been a drag queen for 7 years.
Prince is relatively new to the drag scene but is just as good as anyone when it comes to doing her own make-up. She runs her own make-up and merch lines. She takes inspiration from anime and sci-fi.
Arguably the best singer out of the lineup, Minty once caught Ariana Grande's attention after performing one of her songs. She remains a regular at the club Nectar. She also played a part in leading thousands of people in a Manila election sortie.
Corazon competes in both male and female beauty contests.
Outside of the drag world, she's a designer and make-up artist. Fellow queens also consult with her on how they should look.
Lady Morgana
Lady Morgana has been doing drag for 15 years. The Davao native's signature looks include unique wigs and outlandish costumes. She has a knack for hosting and comedy. Lady Morgana also works as a financial advisor.
Brigiding is a common fixture in Pride parades all over. One of the founders of Drag Playhouse, she helps promote local artists and entertainment.
The queens of "Drag Race Philippines" were surprised to receive a message from drag queen RuPaul who runs the hit reality TV series "RuPaul's Drag Race."
In a taped message shown on the show's pilot episode on Aug 17, RuPaul urged the contestants to be prepared.
"Mabuhay, or should I say, mabu-hey! Welcome to 'Drag Race Philippines.' This is the beginning of the rest of your life. So don't be scared, be prepared," she told the contestants. "It's time to spread your charisma, uniqueness, nerve, and talent for the whole world to see," she added.
Her only advice was for them to make the most out of the opportunity.
"If you want to be the Philippines' first drag race superstar, I've got one thing to say: Good luck and don't f*ck it up!" she said.
The show is hosted by TV host Paolo Ballesteros who will also be serving as one of the show's judges alongside celebrity impersonator KaladKaren and Filipino drag queen Jiggly Caliente.
New episodes are released every Wednesday through Wow Presents Plus, Discovery Plus, and HBO Go.