The Palace has urged state-owned People's Television to probe editor Den Macaranas after his distasteful tweet about the shooting incident at the Ateneo de Manila University.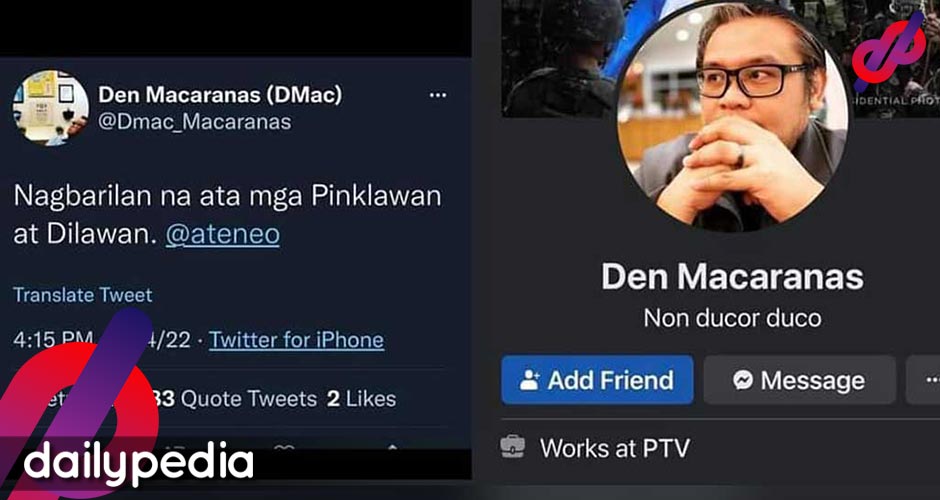 Macaranas claimed that the "pinklawans" and "dilawans" were involved in the shooting that took the of an ADMU security, guard, former Lamitan mayor Rosita Furigay, and her aide.
"Nagbarilan na yata ang mga Pinklawan at Dilawan @ateneo" he tweeted shortly after the incident made the news.
The "pinklawans" and "dilawans" are the terms used to call the supporters of former Vice President Leni Robredo and the Liberal Party, respectively.
"Pursuant to this, we called the attention of officials at PTV where he is allegedly a desk editor, to investigate the matter," Press Secretary Trixie Cruz-Angeles said in a statement. "We assure the public that if true, we will take the appropriate action," she added.
Macaranas has turned all his social media accounts private following the backlash as the incident wasn't politically motivated.
That DEN MACARANAS should be fired from his job!

— DAVAOMIGRANT (@nabunturanguy) July 25, 2022
Macaranas came off like a troll.
a journalist should not be a troll #DenMacaranas pic.twitter.com/AaBYIbMKYP

— Carlos Concepcion (@CarlosAlmedaCo1) July 25, 2022
Unfortunately, Macaranas isn't the only one who used the incident to attack the opposition.
Damn this Den Macaranas. But there were a lot of tweets from hard-hearted people just like him taking advantage of the situation who immediately made the flimsiest connection to their own political ideology and axe-grinding. (You know who you are!)

— Dean Bocobo (@OneDeanBocobo) July 24, 2022
Nalason na utak nito ng kasamaan. Buhay na ang nawala pero ganyan pa post nya. @Den_Macaranas
God Bless you.#condolence @ateneo pic.twitter.com/Ld21E3k0BR

— DM BELZA (@DOMBELZAJR) July 24, 2022
OH DEN MACARANAS, KALA KO MATAPANG KA?

BAT MAY PAGDELETE NG TWEET KANG HAYOP KA? ANO? SAGOT PUTANGINA MO

— Drave (@Drave36599229) July 24, 2022
Imbes na i-verify mo muna kung ano ang buong pangyayare. INUUNA nyo na yung PAMIMINTANG sa KULAY! Tignan mo nga si Den Macaranas na reporter ng PTV4. NAGPRIVATE kasi napahiya sa kanyang SALAYSAY!👇 pic.twitter.com/nNgO1myfZq

— Blackwell (@Mustang0020) July 24, 2022
The gunman, Dr. Chao Tiao Yumol, has been revealed to be a supporter of the current administration and the previous one. Yumol uses his following on social media to attack Robredo.
Pres. Bongbong Marcos extended his condolences to the families affected by the shooting. 
"We are shocked and saddened by the events at the Ateneo graduation today. We mourn with the bereaved, the wounded, and those whose scars from this experience will run deep.
"We commit our law enforcement agencies to thoroughly and swiftly investigate these killings and bring all involved to justice.
"Our prayers go to the graduates, their families, the Ateneo community, and to the residents of Quezon City and Basilan."
Macaranas worked for Radyo Inquirer Online, the radio arm of INQUIRER.net, up until 2019.