Thousands used #iSupportTagle on social media after it was reported that Cardinal Antonio Luis Tagle was chosen among the leading candidates to become the next pope.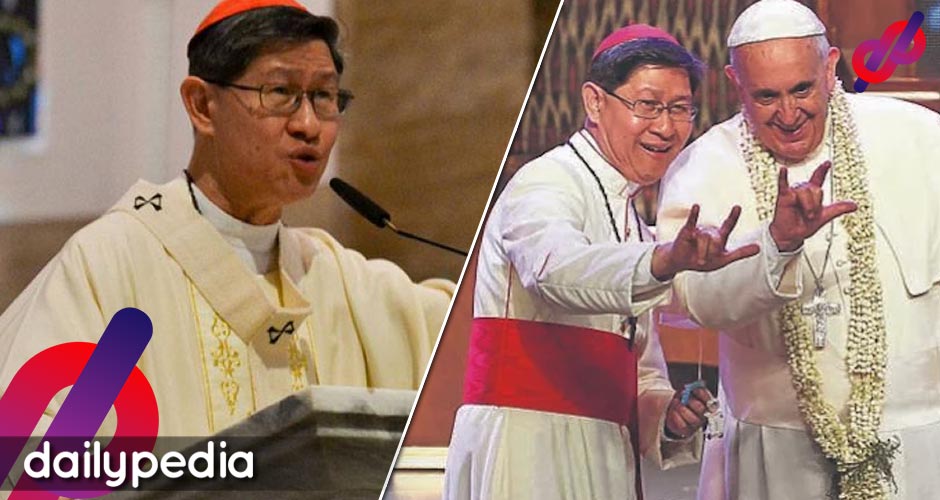 A London-based Catholic monthly publication confirmed the news, saying that the other candidates are "conservative canon law expert" Hungarian Cardinal Péter Erdő and Italian Cardinal Pietro Parolin, the current Vatican Secretary of State, as reported by the Catholic Herald on August 5.
"On the other hand, a Pope from the developing world – such as the Philippines' Cardinal Luis Antonio Tagle – would be hailed by liberals, given the changing demographics of the Church," the report stated.
It also quoted Newsweek which said that Tagle "is viewed as a top papal contender thanks to a series of promotions that make Francis' esteem for him clear."
Catholic Herald also noted that Tagle is seen as the "Asian Francis" which veteran Vatican analyst John Allen Jr. said is attributed to his similarities with Pope Francis.
"Francis clearly likes what he sees in the popular Philippine prelate, who at 56 is the fourth-youngest cardinal in the world. The pope recently appointed Tagle one of three co-presidents for a critically important summit of bishops in the fall. Francis also reaches out informally," he wrote in 2015.
Netizens then promoted #iSupportTagle across social media platforms.
Odds are 5-1, Cardinal Tagle could be the next Pope. Manila Katips pic.twitter.com/YAwEUrGP1x

— Tom Choy 🍁 (@VancouverEye) August 7, 2022
Odds are 5-1, Cardinal Tagle could be the next Pope. Manila Katips pic.twitter.com/YAwEUrGP1x

— Tom Choy 🍁 (@VancouverEye) August 7, 2022
https://twitter.com/nikk0ta/status/1557075790327472128?s=20&t=jLcCUy–cebMn1NmwC_Vpg
Tagle's popularity shot through the roof when Pope Francis ordered him to run the Vatican's main missionary department. Henrietta de Villa said the move made Tagle closer to the pope.
He was promoted by the pontiff as cardinal-bishop, the first ever Filipino to do so. Those in the position are seen as "close-in consultors" of the pope and enjoy the highest position in the College of Cardinals.
However, the Catholic Bishops' Conference of the Philippines said that any bishop or priest can succeed the pope.
"May kasabihan diyan tungkol sa conclave and I quote ano… 'Anyone who enters the conclave a pope, exits it a cardinal,'" CBCP spokesperson Father Jerome Sevillano said.
"So meaning to say, kapag ikaw ay very popular na at kinikilalang kandidato bilang maging Santo Papa eh pagtatapos ng conclave, lalabas ka na cardinal ka pa rin dahil hindi ka nahalal. So it's all up really to the voting members of the conclave."
After returning from a penitential visit to Canada last month, Pope Francis flirted with retiring.
"I don't think I can continue doing trips with the same rhythm as before," he said.
He has also been walking with a cane due to knee pain caused by a fracture and inflamed ligament.
He has denied reports of him stepping down soon but said that "there is no problem" with the changing of popes.
"I think for having taken the first step after so many centuries, he gets 10 points," Pope Francis said.
"The door is open. It is one of the normal options. Up until today, I did not use that door. I did not think it was necessary to think of this possibility but that does not mean that the day after tomorrow I don't start thinking about it," he said last month.