Kris Aquino's sister revealed that the latter has two more autoimmune diseases diagnosed by doctors.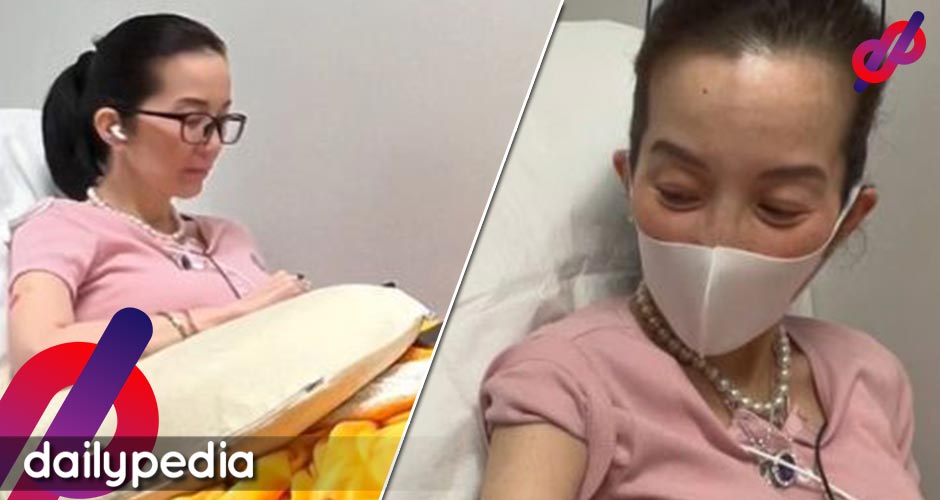 In a virtual forum, Ballsy Aquino said that Kris is barely 90 pounds and has to put on more weight to receive further treatment.
"When she left, she had two autoimmune diseases. I think now there are four," the older Aquino said.
"She's not even 90 pounds now, she's like 85 or 86. For the other treatments that they want to try, she has to put on more weight. She has to get a little bit stronger."
Treatment has also become challenging to Aquino's multiple allergies.
Kris Aquino Health Update from her Ate Ballsy 💛 pic.twitter.com/pKWndaAi8i

— TEAM AQUINOS 🎗 (@teamaquinos) August 25, 2022
"Unfortunately, they're just still trying to give her the right treatment, the correct treatment.
"She has so many allergies, that all the medicines that they've been trying haven't been working or maybe they did, but then the side effects, they were not too happy about because, as I said, she has so many allergies—from food to the plants to medicines."
Ballsy said that Kris' kids are the only people keeping her from giving up.
"And she says that there are times – because there was a time she was really feeling that she was about to give up because she was having such a difficult time. But then, when she looks at the pictures of her sons or when she sees them, then she knows she still has to fight."
Aquino's friends in showbiz showed their support. Her impersonator Tita Krissy Achino urged his followers to do the same.
Let's flood the heaven with our prayers for Ms. Kris. Get well soon! 🥺 https://t.co/pvCTaMhenr

— Tita Krissy Achino (@KrissyAchino) August 26, 2022
Lord, have mercy on her Kris Aquino. https://t.co/bnEkBFhOQQ

— Leandro Rivas (@RolandR19327469) August 25, 2022
The Philippine Star also sent prayers to Kris.
Get well soon, Kris Aquino. | via @philstarlife https://t.co/BYBCqLFull

— The Philippine Star (@PhilippineStar) August 26, 2022
Acting coach Beverly Vergel was just as sad as any Kris Aquino fan.
View this post on Instagram
Netizens want Kris to continue fighting as well.
I'll always remember yung pagtindig ni Kris Aquino despite being advised by the doctors to not stay out in the open for a long time.

She was en route to get checkups/treatment but demanded to stay for a bit and endorse Leni.

Prayers for you, queen. 'Laban'!🎗🌸🌷💗

— Ra'jah Colby (@volleybestiee) August 25, 2022
I hope she gets over this. Her sons need her. They don't have real fathers. https://t.co/trjNrCCp9U

— Mr. Brightside (@CtnCndValentine) August 25, 2022
I'm praying for Ms. @krisAquino. I don't have to agree with her politically but if i look at her as a mother to her 2 sons and a friend to many, she's the kind of person you would want to be with. Let's set aside our differences and unite in praying for her healing ❤️‍🩹❤️🙏

— R | o | d | g | e 🦅 (@nice_roger) August 26, 2022
The Queen of All-Media previously shared a medical statement explaining her condition.
"The subsequent 9-12 months will be crucial for us to see if she (Aquino) can achieve remission and continue the regimen further because to survive, Ms. Aquino will have to make whichever combination works, her lifetime maintenance medicine." read Dr. Niño Gavino, a Filipino-American doctor based in Houston.
"With no medical intervention overall, the life expectancy of those with EGPA is at about 25%. With the proper treatment, 5-year survival rate is at 62%. Only 1 in every 1 million people get this form of vasculitis per year. That is how rare and hard to treat Ms. Aquino's case is," it said.