Incoming press secretary Trixie Cruz-Angeles is already taking heat after saying that facts about the Martial Law era are questionable.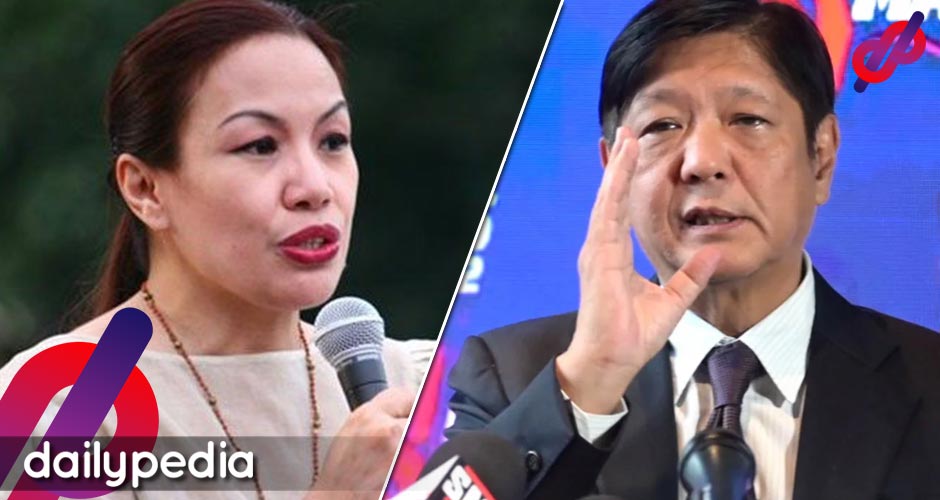 During an interview with TeleRadyo's On The Spot, Cruz-Angeles said facts regarding the dictatorship of the late Ferdinand Marcos are up for debate.
"We're all part of that discourse, kasaysayan natin ang pinaguusapan. Why don't we allow a discourse," she said when asked about the Marcos family's possible attempt at revising history.
"We're talking about free speech. I think that everything should always be open to debate.
"Even scientific theories are always open to question, but I'm not saying that just because we open it to question, a different result will come out of it."
Cruz-Angeles also blamed the "lack of discourse" on major problems, which resulted in the spread of misinformation and disinformation.
"Free speech is the rule. Discourse determines what is disinformation, misinformation," she said.
"Some ideas need discourse, some ideas are open to investigation, some ideas are supported, certain ideas can always be questioned but it doesn't mean that they will come up with a different conclusion."
Social media personalities did not agree with Cruz-Angeles. They're saying that her plan is a disaster.
https://twitter.com/piamagalona/status/1531537329998790657?s=20&t=cqYu6EDKTMv3akMdRPNi7Q
Some say that historical revisionism has already begun.
This is exactly what they want to do. https://t.co/WQaGKZvsVn

— Reb Atadero (@rebranger) May 31, 2022
Debating established facts doesn't make sense to a lot of Filipinos.
https://twitter.com/citizenjaneph/status/1531590391388344321?s=20&t=2aUdMJoatMJv6SnVkpd7oA
The Filipino people came to a conclusion in 1986. Fact. No debate there. https://t.co/LGSew3USs7

— Barnaby Lo 吳宗鴻 (@barnabychuck) May 31, 2022
If the discourse is "maybe the victims deserved it, who knows?", salamat na lang https://t.co/7DEreh58GE

— Jonathan de Santos (@desamting) May 31, 2022
Which part does she want to debate on? https://t.co/hoMOmB0j6a pic.twitter.com/nQHLRoXkb4

— Niko Baua (@Nikobaua) May 31, 2022
— Audie Gemora (@GemoraAudie) May 30, 2022
Facts are immovable.

ABS-CBN and its employees are victims of political repression, clearly twice in our history – when the Marcos regime seized the company in 1972, and when the Duterte regime used political maneuvers to deny us to operate with a broadcast franchise in 2020. https://t.co/OAl2Xprbza

— H Y R O (@heyrow) May 31, 2022
What happened during the martial law era are of public record and the events are well-documented.
FYI, there is NOTHING to "debate" on DICTATORSHIP, especially the uber KLEPTOCRATIC kind that produced ZERO world class industries a la neighbouring Taiwan & Korea. FACTS clearly show: IT WAS a governance, economic and human rights DISASTER on so many levels! Period!

— Richard Heydarian (@Richeydarian) May 31, 2022
Notice that given the set of established FACTS, *they* obviously FEAR that people, on their own, will come to these facts' logical conclusion.

The challenge for the next 6 yrs: never budge/compromise when it comes to these facts, while persuading people to accept these truths. pic.twitter.com/IuQMdZdgO2

— Kristoffer Pasion (@indiohistorian) May 31, 2022
Cruz-Angeles wasn't always a pro-Marcos lawyer. After becoming the top choice to head the PCOO, netizens dug deep and found that she was a critic of the Marcos family.
In 2013, she tweeted: "True justice is when we see at least Imelda in jail."
The former First Lady was found guilty of several counts of graft in lower courts but beat her cases in the higher courts.
And in 2016, she said that her "deepest worry may not be his (Marcos') manufactured heroism, but that future generations will believe it."
She recently explained that anyone can have a change of mind.
"I've told my story about how and when I changed my mind about it." she said, referring to what she mentioned in one of her vlogs.
"Aren't people entitled to change their minds? I think we are 'di ba?" Cruz-Angeles told reporters. "I think that evolution is a natural thing even among our consciousness.
"It's pretty much it. I'm sure you can see them [on the vlog]."
In 2016, Cruz-Angeles was suspended by the Supreme Court from practicing law for 3 years over violation of passages in the lawyer's code of conduct against dishonest practices, neglect of legal matters entrusted to them, and accountability for a client's money.