This May 1, 2022, KFiesta will bring color to Amoranto Sports Complex as Filipino K-Pop fans join hands to show their one love for the country.
Hallyu fans have always been passionate about the things and people they love. With several K-Dramas and K-Pop songs strongly advocating social responsibility, it is truly inevitable that it sparks inspiration in the hearts of fans to want to become catalysts for change themselves.
K-Pop Stans 4 Leni was established on the day VP Leni Robredo announced her presidential bid and support for the group's cause has grown extensively since.
The group's Externals Committee head, Majo, stresses that K-Pop has always been political, just as any other form of music or art is. "In 2022, Filipino K-Pop stans will stand together to elect the leaders we deserve", says Majo.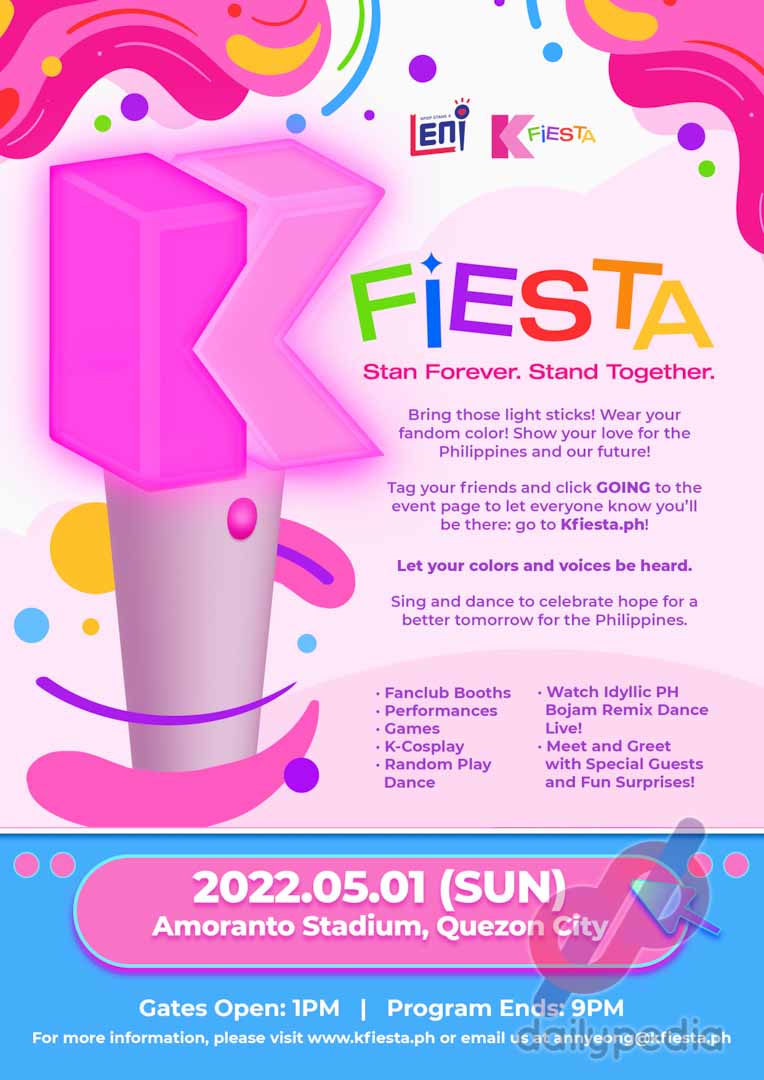 Concert producer Happee Sy, one of the main organizers of the event, shares that this will be the biggest gathering of K-Pop fans since the pandemic began. "We are so happy that all fandoms decided to step up and volunteer their time in the spirit of loving their country and showing it the way we know best—through K-Pop," she enthuses.
The event is co-organized and hosted by Kring Kim, an established figure in the local K-Pop community. Kim explains that events like these are something that all Hallyu fans missed during the pandemic which is why they are especially excited about KFiesta as this is a venue for fans to share their love for both K-Pop and the Philippines, all while having fun with fellow fans.. She adds, "I just know it's worth the wait. These last few years, we were confined to our homes and we all couldn't wait for our next face-to-face interaction, but it's here now! And who would ever imagine that different fandoms who are one another's biggest rivals during awards season can all be united for one cause? All of them are waving their own fandom's lightsticks yet shouting the same name and it's amazing!"
Fans of different Hallyu groups volunteered to organize booths, donate merchandise, and even plan activities for all to enjoy. This historic first of different K-Pop fandoms coming together, waving their lightsticks to the same beat in support of the same political movement will surely be one for the books. Fans are encouraged to wear their fandom color/s and join a day filled with fun Hallyu-inspired games, booths, activities, cosplay, performances, and other surprises.
The event is open to all Filipinos, K-Pop fans or not, who believe that the Philippines deserves no less than a governance that is grounded on integrity and accountability. Through KFiesta, K-Pop Stans for Leni unite as one collective community to show their full support for presidential candidate Leni Robredo, vice-presidential candidate Kiko Pangilinan, and the TRoPang Angat senatorial slate in the upcoming national elections.
Admission is free with no pre-registration required. Attendees must be at least 13 years of age and fully vaccinated. They should also bring their vaccination card and a valid ID that shows their age as these will be checked upon entry. Gates will open at 1PM. Attendees are encouraged to RSVP at the event's Facebook page: Kfiesta.ph before the event.
For more information, follow K-Pop Stans 4 Leni on Facebook, Instagram, and Twitter, and visit Kfiesta.ph. For inquiries, email [email protected] or contact Majo Endriga at 09772145173.