While Star Cinema is largely-known for its hundred-million-grossing romantic comedy flicks, the film production outfit's library has award-winning cinematic masterpieces, too.
Star Cinema established its name and became one of the biggest (if not) or large-scale film production outfits in its three-decade history.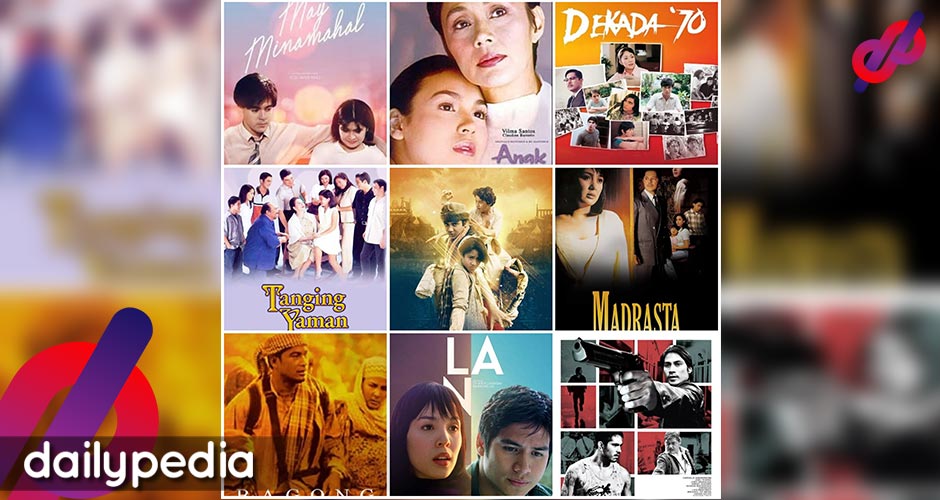 It has produced at least five of the Filipino films to hold the highest-grossing Filipino film of all time title. It remains the only Filipino outfit to release two films whose box office gross went beyond PhP800 million (The Hows of Us in 2018, Hello Love, Goodbye in 2019).
Because of its excessive success in rom-com films, the outfit has become known for producing formulaic romantic movies.
Star Cinema's film library isn't devoid of rare cinematic gems. These have defied norms and trends in local cinema. The following are just nine of those films:
May Minamahal (1993).
This Jose Javier-Reyes film may still have the trappings of a formulaic rom-com, but it's one you can easily dismiss as typical.
The film follows the story of a guy who grew up in a conservative all-female household and then, later on, fell in love with a girl his family won't approve of.
May Minamahal is a rom-com, but it's a compelling social commentary, too. The film starred Aga Mulach and Aiko Melendez.
Magic Temple (1996).
Magic Temple won 13 awards including Best Picture and Best Director (Peque Gallaga) at the 1996 Metro Manila Film Festival's awarding ceremony. 
The fantasy drama film also received Gawad Urian and FAMAS nominations. Chronicling the adventure of three teenage boys to the magical world of Samadhi–to restore the balance between good and evil, Magic Temple is a moving fantasy adventure that imparts valuable lessons about camaraderie, self-discovery, and courage.
Madrasta (1996).
Directed by Olivia M. Lamasan, Madrasta did not just score a box office success but also earned the nod of local critics.
For her performance in this film, Sharon Cuneta became a grand slam actress for winning the Best Actress trophy from four major award-giving bodies (FAP, FAMAS, PMPC, and Urian).
Anak (2000).
The family drama got submitted by the Philippines as an official entry to the 73rd Academy Awards for the Academy Award for Best Foreign Language film. 
Starring Vilma Santos and Claudine Barretto, Anak follows the story of an OFW mother who came home to the Philippines, only to find out that her eldest daughter has gone astray and estranged. 
Santos received a Best Actress trophy from the PMPC Star Awards for Movies for her performance in the film.
Tanging Yaman (2000).
Tanging Yaman is one of Star Cinema's most commercially-successful family dramas. It is one of its most awarded, too. 
The ensemble got a Best Performance trophy by the Young Critics Circle. The film went on to take home nine major awards during the awarding ceremony of the 2000 Metro Manila Film Festival, including Best Director for Laurice Guillen, Best Actor for Johnny Delgado, and Best Actress for Gloria Romero.
Bagong Buwan (2001).
Bagong Buwan's socio-political and cultural relevance has been widely-regarded in the history of 21st-century Philippine cinema.
This Marilou Diaz-Abaya's masterpiece touched the long-standing rift between Christians and Muslims, and the quest for peace in Muslim Mindanao.
Cesar Montano won an MMFF Best Actor trophy for his performance in the film, while Jiro Manio got the Best Child Performer award
Dekada '70 (2002).
This ensemble historical drama gave Piolo Pascual an MMFF Best Supporting Actor trophy, while John Wayne Sace was named the festival's Best Child Performer.
Vilma Santos won Urian, PMPC Star Awards for Movies, and Luna Best Actress trophies, for her exemplary performance in this film which depicts the life of a Filipino family during the years of Martial Law.
Milan (2004).
Shot in Italy, this Olivia M. Lamasan film touched many hearts when released in 2004.
Starring Claudine Barretto and Piolo Pascual, Milan is a story of self-discovery and unconditional love. Claudine Barretto was awarded FAMAS and Luna Best Actress trophies for her performance in the film.
On The Job (2013).
This film is undoubtedly one the most critically-acclaimed Filipino films of the previous decade, as it received even global recognition from Hollywood and foreign critics. It was widely regarded as an eloquently jarring illustration of the drug, prison, and criminal problems in the country. 
alongside their sociopolitical consequences. Directed by the visionary director Erik Matti, On the Job, received prestigious accolades from various international film festivals. It also scored various nominations and awards from both FAMAS and Film Academy of the Philippines.
Do you think we missed something else on the list? Don't forget to share your thoughts and recollection of these films, in the comment section: