Around 150,000 Marcos supporters gathered at the Leyte Development Center for Ferdinand 'Bongbong' Marcos Jr., who graced the mammoth grand rally amid the gloomy weather and the absence of his running mate, Sara Duterte-Carpio.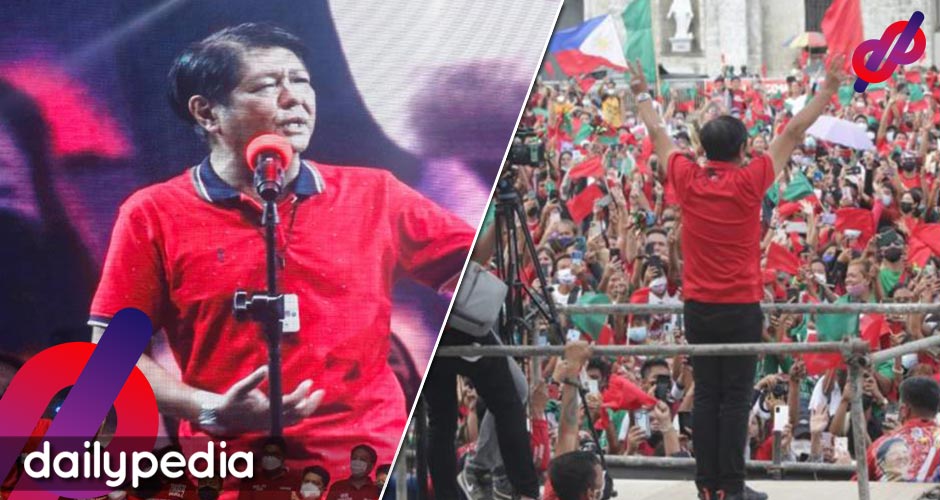 The Warays of Leyte staged an unsurprising show of force for Ferdinand 'Bongbong' Marcos Jr., at a grand rally held in Tacloban City, last night, April 9. Leyte is the known bailiwick of the Romualdez political clan and the home province of the presidentiable's mother Imelda Romualdez Marcos. 
In the 2016 national elections, Bongbong won the province of Leyte, with a commanding 405,000 votes over Leni Robredo's 240,000 votes. It is interesting to note, however, that he lost to Robredo, in Southern Leyte and all the three Samar provinces.
Comedian and host, Bayani Agbayani, was one of the hosts of the event, where he proudly led the crowd to chant 'Tao kami, hindi kami sibuyas! (We are real people, not onions)" which can be taken as a swipe at critics who accuse the Marcos-Duterte team of photoshopping their rally photos to make them look jampacked. 
The crowd also roared the famous line "Hindi kami bayad (We're not paid)" as a response to numerous allegations of vote-buying. There had been video footage of rally participants lining up in queues, to receive compensation, for their attendance in the past rallies held by the UniTeam, that circulated on twitter and other social media sites.
LOOK: Presidential candidate Bongbong Marcos holds grand rally in Tacloban City tonight (April 9). | via Daniel Manalastas #HatolNgBayan2022#PTVElectionTV pic.twitter.com/CJhztNUpAX

— PTVph (@PTVph) April 9, 2022
In his speech, the defeated 2016 vice-presidentiable expressed his awe for the massive crowd that showed up for him in his mother's bailiwick. According to local organizers, around 150,000 supporters flocked the venue to witness their presidentiable speak. Despite the accusations of faking crowd estimates, the excitement of the humongous Tacloban crowd can neither be denied nor get faked. 
It felt like a necessary rebound from the canceled rallies in Samar and Southern Leyte, which all didn't push through due to the intense downpour of rain. In Tacloban, the staunch Marcos supporters allowed themselves to get soaked, and their feet slumped on the muddy ground.
After Tacloban, the team of the former Senator proceeded to the city of Baybay–to whom former Governor Jericho Petilla promised to deliver 70-80% of the votes for UniTeam. Petilla was also a part of the late President Benigno 'Noynoy' Aquino III's cabinet as Energy secretary.