The social media giant's crackdown on misinformation ahead of the 2022 polls has affected the official pages of several pro-BBM, pro-Duterte personalities, and other groups.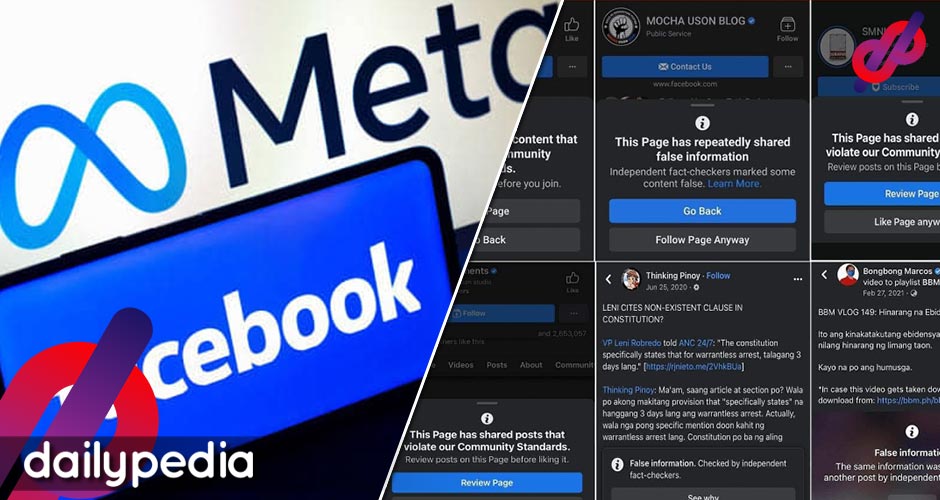 The rising concerns about trolling and the proliferation of fake news online, have prompted Meta Platforms Inc. to take down hundreds of Facebook pages and accounts. In its statement last April 7, the social media giant said it has suspended over 400 accounts, pages, and groups, as part of its ongoing crackdown on hate speech and misinformation ahead of the May 9, 2022 elections.
It looks like the said campaign has already come into full swing, as netizens observed the warning prompts on a various page operated by certain personalities and groups on Facebook. Among those pages that such a regulation affected include the Pastor Apollo Quiboloy-owned SMNI News, known Marcos loyalists and propagandists, Thinking Pinoy and Darryl Yap (Vincentiments), and Duterte Diehard Supporters (DDS), Mocha Uson and Banat By. Presidential aspirant Bongbong Marcos, himself, had some of the posts on his official page, flagged by the social media giant as 'fake news.'
President Rodrigo Duterte recently reiterated the need to hold social media corporations liable for being instrumental in the spread of misinformation in the country. It can be recalled that Meta significantly modified its regulations last month, during the start of the Ukraine-Russia crisis. Facebook's move is largely seen as an attempt to tame, or even stop, the 'wild fire' effect of misinformation and hate speech, as the current political climate gathers more heat ahead of the 2022 polls.
Many of the flagged accounts are not necessarily taken down for good, as most of them are just flagged for engaging in anomalous activities. When liking Bnat By's official page, for example, a prompt that says 'This page may share content that violate or Community Standards' shows up. Liking Mocha Uson Blog, meanwhile, generates a stark warning that reminds users the page has "repeatedly shared false information". 
A similar note is also displayed under posts made by Thinking Pinoy and Bongbong Marcos.