Viva actor Diego Loyzaga joined his father, a multi-awarded actor and BBM loyal supporter Cesar Montano on the Marcos Jr-Duterte-Carpio Celebrity All-Star event in Cebu City, on the afternoon of April 8, 2022.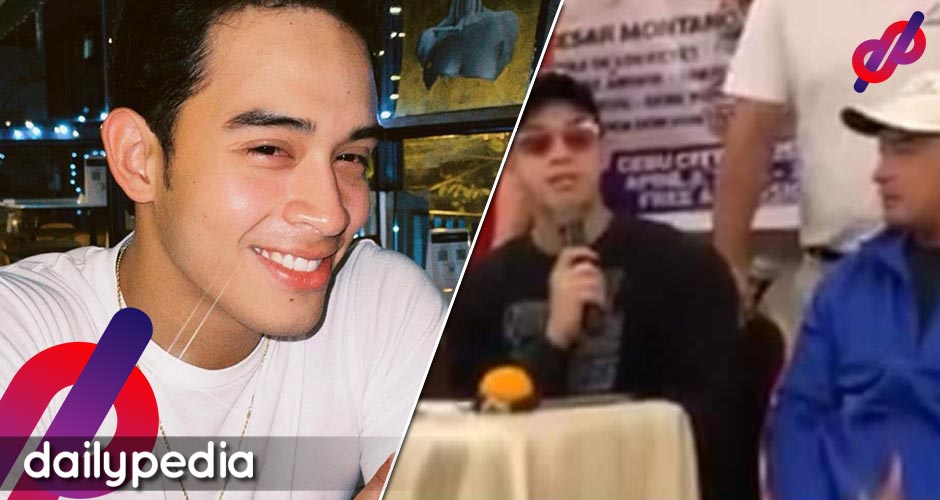 It was not so long ago, in March 2022 that Montano and Loyzaga reconciled after seven years of a feud.
Loyzaga revealed on his Instagram post how God brought him and his father Montano together after seven years.
He apologized for his impulsiveness. He wished to take back all the words he had said and the distance and time that they wasted. He later urged everyone to value one's family for time is short.
https://www.instagram.com/p/CapNmgIhx18
Since then, Montano is a vocal supporter of Ferdinand 'Bongbong' Marcos Jr.
He performed during the Ilocos Norte local campaign kickoff of Marcos.
Aside from being an award-winning actor, Montano was the chief of the Tourism Promotions Board. He resigned due to a controversy involving him in a P80M sponsorship deal in 2018.
LOOK: Award-winning actor Cesar Montano performs at the Ilocos Norte local campaign kickoff for Team Marcos.

Montano was Tourism Promotions Board chief before he resigned amid controversy over an P80M sponsorship deal in 2018. pic.twitter.com/wSVWAtE2yz

— Philstar.com (@PhilstarNews) March 25, 2022
The father and son together with some of the celebrities who came to Cebu for the All-Star event where the two played together.
LOOK: Actor Cesar Montano, his son Diego Loyzaga, and other celebrities are now in Cebu City for the 'BBM-Sara Celebrity All-Star' event that will be held at the Cebu City Coliseum this afternoon, April 8. #VotePH #OurVoteOurFuture| via Pegeen Maisie Sararaña, @cebudailynews pic.twitter.com/6ycPPNKZvw

— Inquirer (@inquirerdotnet) April 8, 2022
In an interview with his father for the event, Loyzaga explained that the win of Marcos Jr-Duterte-Carpio tandem will result in the continuation of the change started during the Duterte administration and that if other candidates win, the said change might be altered.
"Meron na kasing nasimulan 'yung president natin ngayon na, when I think BBM-Sarah will come to the position, sila yung uupo matutuloy po yung nasimulan…" he explained.
"Yun tunay na pagbabago," Montano added
.
"So kailangan, kasi pag iba yung uupo baka may magbabago na naman, mapunta pa sa iba so maganda na tutuloy na yung nasimulan. It continues," Loyzaga continued.
Loyzaga emphasized that the group, Next Gen. for BBM-Sarah or NextGen Hoops 4 You7h (Youth) aims to raise awareness among young people who don't know who to vote for.
Montano added that this would also cater to those who are undecided.
"Just to add bakit ba youth-oriented. We're raising a platform to spread awareness to younger people. Being young kasi, you don't know who to vote for, who to choose, bakit itong candidate na to ang pipiliin ko, stuffs like this, is raising awareness for younger people who are not sure bakit ko ba pipiliin ang candidate na to. It's making opportunity for people to be curious," Loyzaga explained.
"Malaking porsyento kasi yung 'undecided'. Andito kami para sa kanila," Montano said further.
The Next Gen for BBM-Sarah was announced on twitter as part of BBM-Sarah Celebrity All-Star
r.
SAVE THE DATE FOR Next Gen for BBM – Sara!

BBM-SARA Celebrity All-Star is coming for you!! See you on Friday, April 8, 2022, 3pm

📍Cebu City Coliseum,

kasama sina Cesar Montano, Diego Loyzaga, at iba pang All-star celebrity.❤️💚🙌🏿BBM-SARAH UNITEAM!!! pic.twitter.com/ziWpBtwVGN

— mar30samar (@avemar30samar) April 7, 2022