There's a reason why presidential aspirant Ferdinand 'Bongbong' Marcos Jr's critics couldn't believe that his supporters dub him the Tiger of the North when he constantly skips debates and avoids answering pressing questions.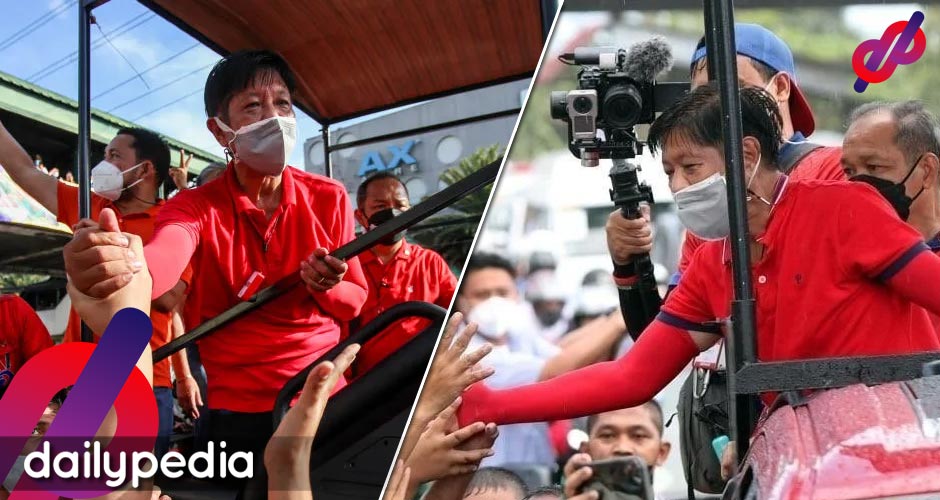 Unfortunately, Marcos Jr's cowardice" was caught on camera on April 20 during his trip to Lipa, Batangas.
At the time, BBC correspondent Howard Johnson asked Marcos Jr if he could be "a good president if he doesn't answer serious questions."
The dictator's son glanced at the reporter before asking him if he was "hiding something from the public." 
Marcos Jr then laughed and walked away.
Netizens weren't too surprised as Marcos Jr's camp has been selective on what questions to answer.
Are you hiding something from the public @bongbongmarcos ? https://t.co/k4209cLbdf

— h🌸pe (@hopefulmommy01) April 20, 2022
Are you hiding something, Mr. Narcos? https://t.co/xGCCUoxUOT

— hangrydora rah rah rah 💕💕💕 (@hangrydora1) April 20, 2022
Cant even answer a simple question! Di humaharap sa laban! #marcosduwag #MarcosNumber1Sinungaling

— Bigotilious maximus (@bigotilyolgw) April 20, 2022
Marcos Jr's supporters, however, see no problem with their idol's passive tactics.
"Bias" media will never end especially if you become the next president, Mr Marcos Jr. Stop hiding behind Mrs Rodriguez and face your harshest critics. #marcosduwagparin #MarcosDuwag #Eleksyon2022 https://t.co/MSSZWL4llv

— Bien Bullicer #LeniKikoAllTheWay (@thebullicer) April 20, 2022
https://twitter.com/whoisthatdork/status/1516794937928749058?s=20&t=HdrPngnqk-CFsUdkIFp5QQ
Ginagawa niya lang naman kung san siya magaling 🥲#MarcosDuwag #MarcosSinungaling#KayLeniTaloSiMarcos https://t.co/hh2kq0KKky

— arjunjey (@srnmkp) April 20, 2022
The Kakampinks just don't see Marcos Jr as a leader that would bring the country back from the ashes.
basic question he can't even answer? you expect to do him well once he is on the position already? can't have a name without his father's shadows, can't present credible credentials and platforms, CAN'T DO ANYTHING. there is no reason to vote for this vile creation. #MarcosDuwag https://t.co/R42J9jnQ8I

— ㅍㅍ (@kjnyzsm) April 20, 2022
Marcos Jr's latest campaign issue is real estate tax deficiency of his family, amounting to over P203 billion. 
The Bureau of Internal Revenue (BIR) earlier confirmed the agency sent a letter to the Marcos family to settle their obligation.
Bayan Muna Reps. Ferdinand R. Gaite, Carlos Isagani T. Zarate, and Eufemia C. Cullamat have already filed a resolution to investigate the unpaid taxes.
"It has been around 25 years since the Bureau of Internal Revenue (BIR) assessed the estate tax deficiencies on the Marcos estate in 1997 and more than two decades since the Supreme Court ruled with finality on the estate tax deficiency in 1999," they said. 
"Yet, no payment has been made by the heirs of Marcos." 
The group also highlighted that the responsibility might not matter should Marcos Jr. win the presidency.
"Worse, there is a possibility that this tax deficiency may not be collected at all in the event of another Marcos presidency," they said.
Despite the controversy, the former senator remains the favorite to win the top position in the country.