The Queen of All Media did not hesitate to call out, albeit indirectly, the city mayor for withdrawing her initial support for Robredo.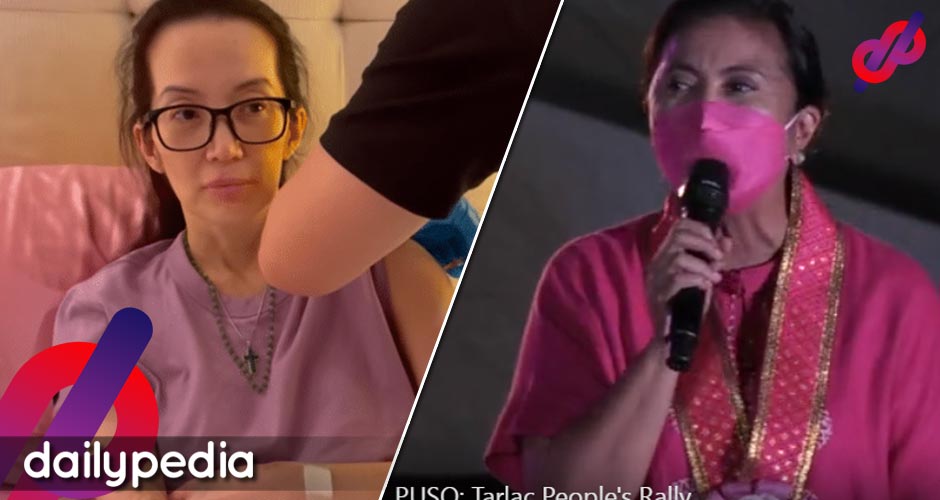 During the Robredo-Pangilinan rally in Tarlac, on May 23, Aquino was unapologetic for being who she is as the frank, no-holds-barred woman the public knew her.
She surprised netizens with her rare appearance, but she also delighted Robredo supporters not just by openly endorsing the presidentiable, but also for spitting facts against certain people.
Aquino told the crowd she learned about the event just a day earlier, but she confirmed her attendance right away.
Kris being Kris. No chill Kris Aquino is in the house #TarlacIsPink pic.twitter.com/wVcf6DGpat

— Cjay (@tian_cjay) March 23, 2022
In her speech, she reminded the attendees of her family's deep connection with the Tarlaqueños, her father, Benigno 'Ninoy' Aquino Jr, and her brother Benigno 'Noynoy' Aquino III's political careers that began in the province. 
She thanked the people for their continued trust in their family and for not leaving them. She then made a swipe at the Tarlac City Mayor Cristy Angeles, whom she didn't name, by calling her ungrateful. 
"Di ninyo kami pinabayaan—well, at least kayo, except for you know who…(You didn't forsake us—well, at least you guys, except for you know who)" she said.
She then expressed her disapproval of Angeles's apparent ingratitude by saying, "Nakakabuwiset talaga 'yung mga walang utang na loob (It really me annoys me to know people who are ungrateful". 
It is not clear yet whether the Aquinos had a previous deeper connection with the city Mayor, but earlier reports suggested that Aquino's statement may have emanated from the fact that Angeles switched sides from Robredo to Marcos. 
The Mayor recently withdrew her initial endorsement of Robredo and shifted to the presidential campaign of the defeated 2016 vice-presidentiable Bongbong Marcos. 
In the 2016 national elections, Robredo scored the most votes in the province of Tarlac, edging out Marcos by around 5% of the votes. Tarlac was the only Central Luzon province that Robredo won in the said election. Her camp hopes to not only dominate the province again but also widen the gap over the former dictator's son.
🌸Queens supporting Queens🌸

This is, by far, the most emotional and powerful introduction of our✨Future President✨

Kris Aquino is no doubt the OG Multimedia Queen 👑 #TarlacIsPink 🌷#TarLENIqueño#PUSOTarlac pic.twitter.com/dPeFJOiTWX

— Jaybee Domingo (@jbeedomingo) March 23, 2022
According to the organizers' estimation, more than 50,000 Kakampinks flocked the venue in Tarlac City, making the event yet another testament to Robredo's crowd-gathering power. 
Robredo thanked Kris, who then assured the presidentiable of her continuous support. 
"I did this for you. I did this for my dad, my mom, for Noy, but most of all I did this for the future of Kuya Josh and Bimb. Kasi ang gusto ko ang Pilipinas nasa mabuting kamay" she declared.
The actress-host looked frail with her coarse voice, as she continues with her recuperation stage, but her statements did not lack conviction. She is Kris Aquino, after all.