Not even the supporters of the Bongbong Marcos-Sara Duterte tandem bought the claim that the UniTeam rally in Las Piñas drew around 500,000 attendees.
The Marcos camp came up with the number on March 14, citing a report of the Philippine National Police (PNP) in Las Piñas.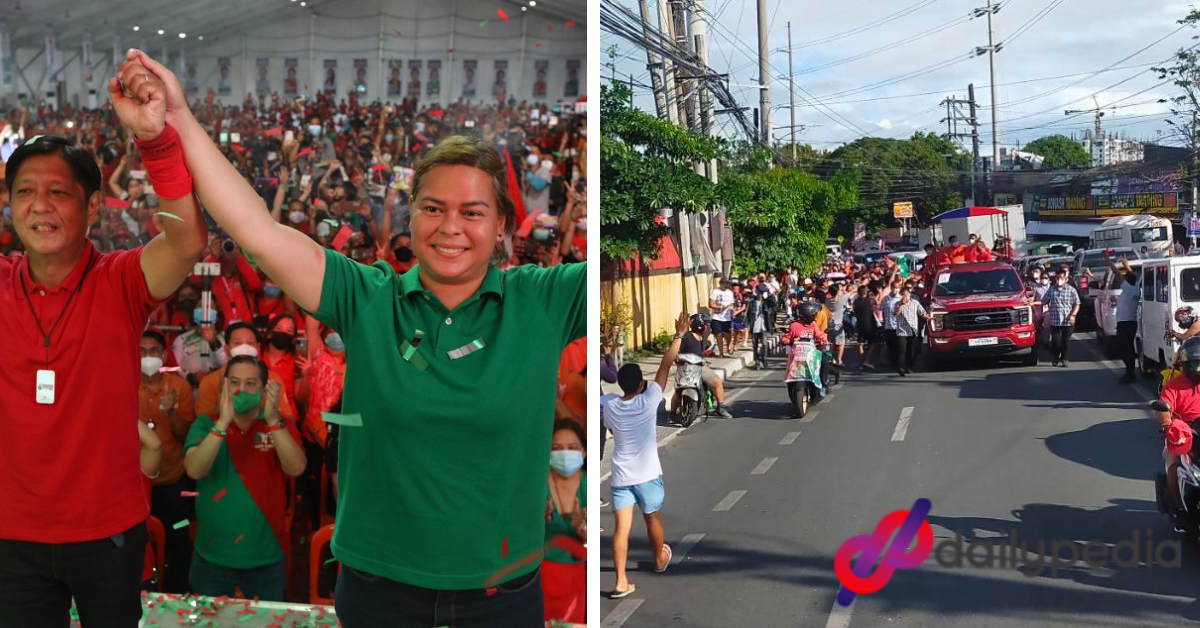 "The total number of people who came out of their respective homes and expressed their support along the entire 12-kilometer stretch of road from Muntinlupa to Las Piñas, including those who participated in the caravan, and those who attended the grand rally at The Tent of BBM-Sara UniTeam was estimated to be 500,000," the statement read.
However, a staff member of UniTeam Senate slate member Mark Villar said the turnout could've exceeded half a million supporters.
But the same statement said that the turnout for the Sunday activities could be even higher, as it noted the logistical computations of a staff member of UniTeam Senate slate member Mark Villar.
"She indicated that with a 12-kilometer long road full of people on both sides, with a conservative 20 layers of people (but in fact there were more) on each side, computed at one person per meter, there would already be 480,000 people, and including the thousands of supporters who went to The Tent, the grand total number of those who sacrificed and paid tribute and support to the BBM-Sara UniTeam in the two cities, may likely exceed 500,000," it added.
Villar also claimed that everyone left their homes just to see Marcos and Duterte in person.
Well-known personalities immediately called BS on the reported turnout as Las Piñas only has a population of a little over 600,000.
https://twitter.com/barnabychuck/status/1503220417724497922?s=20&t=aJu5CNACY1bQVL7APa-Sfw
Hoy Uniteam gagawa lang kayo press release, fake news pa: 20 layers of people on both sides greeted Dayunyor's caravan. Bakit nalipat na ba Commonwealth Ave sa Las Pinas?

— manuel mogato (@ReutersPH) March 14, 2022
The figure is unbelievable, and even worse, some assumed it to be true.
Manila Bulletin News also slammed for calling it 'breaking news.'
https://twitter.com/jemanorange/status/1503242621216382976?s=20&t=IQavTDTY050IIozzbttD-w
The word 'news' means the story has undergone several levels of verification to come up with what we call journalistic truth that is accurate and fair.
When we journalists do not do our jobs correctly, call us out. Make us accountable.
Let us not settle for anything less.

— dabetski (@dabetcp) March 14, 2022
Sorry @manilabulletin but I'm calling you out on this. What vwas source of this supposed number – your reporter's or the fake news media bureau? Asan ang resibo? https://t.co/7HSyQIHmyZ

— Citizen Jane (@citizenjaneph) March 14, 2022
San banda yung half million. Manila Bulletin CHAROT! https://t.co/VHLaLVzZ0x

— g3 san diego (@g3cafe) March 14, 2022
The more accurate estimate is actually around 8,000 to 18,000 attendees. According to Las Piñas PNP chief PCol Jaime Santos, he never said half a million showed up, contrary to what the Marcos camp has claimed.
"Wala po akong sinasabing ganoon. Ang totoong sinabi ko, 5,000 sa loob ng tent, 3,000 sa labas ng tent. Mayroon po kaming official report niyan," he told ABS-CBN News.
"Tapos estimate lang po iyong sa kalsada 8,000-10,000 po 'yung stretch po ng Alabang-Zapote at 'yung iba pang dinaanan," he added.
Like all the confused voters, Santos also said that the figure doesn't corroborate the number of residents of the said city.
"Estimate po iyon. Walang 500,000. Kasi kung 500,000, napaka-obvious. Ano 'yun? Lahat, buong Las Pinas andun na? Kahit naman sinong matinong pagiisip, gawa-gawa lang po iyan. Wala pong katotohanan iyan," he said.
Out of the 630,872 locals, only 291,074 are registered voters.
Marami ang nagtatanong tungkol sa total population. Ito ang data para sa NCR na galing sa Philippine Statistics Authority. Latest data yung 2020 na nasa last column.

Example: 2,960,048 ang total population sa Quezon City at 606,293 ang sa Las Piñas pic.twitter.com/7KhNrS0PlG

— Edson C. Guido (@EdsonCGuido) March 14, 2022
https://twitter.com/Richeydarian/status/1503241882268504065?s=20&t=HZHS6g4eAtTsussgJtXjQQ
Taliwas ito sa pahayag ng kampo ni Marcos na hindi bababa sa 500,000 ang bilang ng mga lumabas sa kanilang bahay, sumama sa caravan, at dumalo sa grand rally.

Ayon pa kay PCol. Santos, nasa 18,000 lamang ang kabuuang tantya ng PNP sa lahat ng nakilahok sa mga aktibidades na ito.

— ABS-CBN Fact Check (@abscbnfactcheck) March 14, 2022
Almost half a million daw tao sa Las Piñas caravan with a population of 588K? Tapos 8k na tao sa event? Sino niloloko niyo? Mga sarili niyo? Haha

— rod singh | Leni-Kiko 2022 | (@iamrodafrog) March 14, 2022
Critics couldn't help but mock the UniTeam's deceiving tactics.
#RespectMyOnion pic.twitter.com/KbgbSGLsIj

— Emil Marañon III (@13thFool) March 14, 2022
Based on photos and videos, it looked like the event barely accumulated 5,000 supporters.
500K daw umatend sa rally. 500K ito?! https://t.co/OoqXWjKQL9

— Jerry B. Grácio (@JerryGracio) March 14, 2022
https://twitter.com/krizzy_kalerqui/status/1503242284652920833?s=20&t=rdIJm5r3p62z36pRTORGcw
It seems the Marcos camp also counted the people who didn't attend the rally.
This is hilarious! Half a million based on how many people live in the houses on the motorcade route! 😂 https://t.co/2yTN3qw2ud pic.twitter.com/NGhr2aGXDt

— Manuel L. Quezon III (@mlq3) March 14, 2022
https://twitter.com/pinkgreysss/status/1503219877875974144?s=20&t=eWN0B1wkFLk64tCWnWU5_A
600k lang population ng Las Pinas, imposible naman yung claim ng @manilabulletin na 500k yung sumali sa caravan at rally ng Unithieves.

Apparently, this not news but a propaganda using fake data.

— Clive Reyes JR (@datumx11) March 14, 2022
Despite the recent success of the recent Pink rallies, Marcos remains the favorite to win the presidency based on multiple surveys. Duterte-Carpio also leads the vice-presidential surveys.