Presidential aspirant Bongbong Marcos has suddenly switched his stance on the Russia-Ukraine conflict.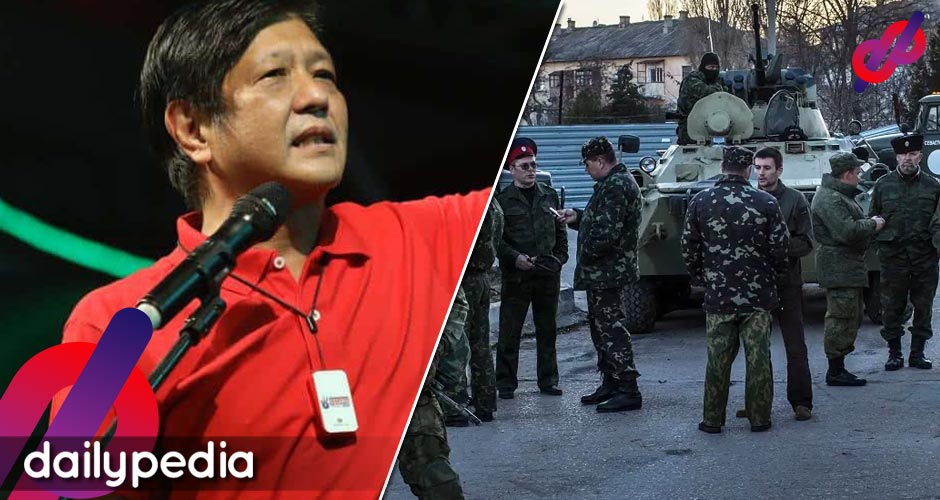 In a statement, Marcos called on Russia to consider its invasion of Ukraine.
"I appeal for sobriety to prevail, for a peaceful resolution to the ongoing armed conflict as I stand united with the rest of the world for Russia to respect Ukraine's freedom and its citizens' democratic way of life," Marcos said in a statement.
He also wants an "observance of human rights," something his dictator of a father never did.
"I support the unconditional observance of human rights and fervently hope that there will be no more targeting of civilian communities and civilian establishments," he added.
Marcos Jr. calling for the unconditional observance of human rights in the Ukraine-Russia conflict but can't even denounce the atrocities during his father's dictatorship

wHAcKkkk

— jv (@jvcabrera_) March 4, 2022
However, he earlier said that Filipinos shouldn't worry about what's happening to European countries.
"I don't think there is a need to make a stand. We are not involved, except for our nationals," Marcos said.
Marcos only switched up his stance after millions of Filipinos supported a ceasefire.
Because he saw that the majority sentiment of Filipinos is pro-Ukraine? Kaya sasakyan na rin? https://t.co/xCLjN35mEo

— Citizen Jane (@citizenjaneph) March 4, 2022
True to form, walang paninindigan, kayang dalhin ng hangin kung saan-saan.

I'm talking about the plastic bag I just threw away, ha. Baka akala niyo iba tinutukoy ko.

— Guy With A (Hibernating) Blog (@GuyWithABlog) March 4, 2022
I hope more people will realize that this spoiled brat only says what the voters want to hear and not mean them or plan to make them happen. He does not have a mind of his own or better yet does not have a mind.

— Chris Zuniega (@chris_zuniega) March 4, 2022
Marcos' running mate, vice presidential candidate, and Davao City Mayor Sara Duterte-Carpio shared the same sentiment, saying that the Philippines must remain "neutral" on the issue.
This isn't the first time the dictator's son flip-flopped. He previously expressed disinterest in releasing his statement of assets, liabilities, and net worth (SALN). After being accused of stealing from the people, Marcos changed his tune.
"I was talking about my own SALN. I'm perfectly willing to release it," he said during an appearance on One PH's "Sa Totoo Lang."