Voters are left wondering again about how long will supporters of presidential aspirant Bongbong Marcos defend him from his displays of dishonesty.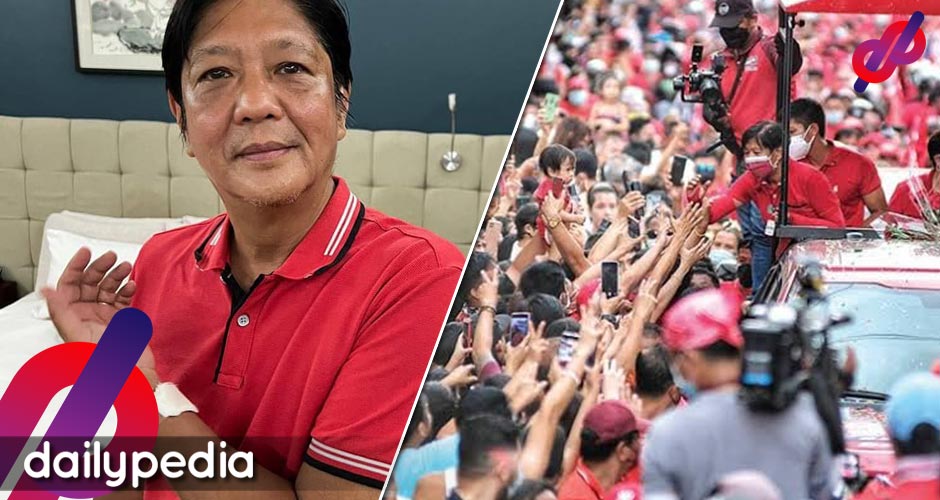 Recently, his love for the Filipino people was questioned once more. He was caught on video aggressively pulling his arm away from a supporter who grabbed his wrist during a caravan in Caloocan.
Marcos looked visibly repulsed and was said to have sustained an injury.
Luh! LBM niyo wala sa mood? Diring-diri naman mahawakan yan? Sino ngayon elitista? 🙄#MarcosGalit#MarcosElitista
(📷 K Cañalete) pic.twitter.com/QQSC255qGa

— Terio García (@terio_garcia) February 19, 2022
A photo shared by BBM Media Bureau shows a part of the former senator's left arm covered in gauze. However, it was his right wrist that was touched. This prompted highlight his untruthfulness and inauthentic love for the country.
BBM 's right wrist was the one apparently pulled by a fan not the left wrist. 👨‍⚕️😊. Please check. https://t.co/YPJbRrNUbD

— Tony Leachon MD (@DrTonyLeachon) February 20, 2022
https://twitter.com/iangabinete/status/1495414949996232705?s=20&t=-2p28dDu2UWK05OSnjnNIw
they even showed the WRONG wrist!!! kanan yung sa video while kaliwa yung nasa news kaloka https://t.co/RJ8T4W0L7l

— BüTTman | #LetLeniLead #AngatBuhayLahat (@alterJUPA) February 20, 2022
Others just rotated the picture to defend Marcos sarcastically.
https://twitter.com/macoyestrella/status/1495601922195312646?s=20&t=eqKoxnyFFOvRC4q1qO4TLg
https://twitter.com/RobbiePadilla9/status/1495411293251317767?s=20&t=g6lFd3qVkwy5wBEBKDWV4Q
An anonymous Marcos supporter shared an altered photo and argued that the dictator's son already had his wrist slashed in a previous assassination attempt.
Ahhhhh basta. #notofakenews pic.twitter.com/3nNQu35xf6

— simply_clinton (@Simply_Clinton) February 20, 2022
Sa mga nagsasabing Mirror-Image daw ung picture… HINDI PO SIYA MIRROR IMAGE. Paano ko nasabi? There is actually a basic/common knowledge (more of a secret) sa mga designers when designing a POLOSHIRT (or any clothing with buttoned-placket)… pic.twitter.com/YSaezujlZU

— (Gucho) กู่โจ้ เจริญสุข ตาคอน 🌸🌺🌱💗 (@GuchoPRMaven) February 21, 2022
The Marcos camp on Monday explained the video. Spokesman Atty. Vic Rodriguez said Marcos gave a normal reaction and that the team would "rather not dignify the undignified way of campaigning and peddling of lies being resorted to by their rivals."
"Normal na reaksyon 'yun pag ikaw ay nakurot 'di ba? Normal na reaksyon 'yun pag ikaw ay nagalusan, or medyo napiga 'yung kamay eh instinct 'yun eh. Kahit kanino mo gawin 'yun, instinct mo 'yun, para kang nagulat but it doesn't mean anything,"
Rodriguez denied that Marcos avoided handshakes with the crowd, arguing that a supporter might have scratched or pinched him too hard.
"Baka nga napisil, baka nakurot o baka nakalmot. Again I don't have to explain it sapagkat kayo nga mismo, ikaw mismo ay nakakasaksi kung paano siya salubungin ng kanyang mga supporters at kayo rin mismo ang buhay na saksi kung paano siya makitungo sa kanyang mga supporters," he added.
Due to COVID-19, the Comelec disallows candidates from shaking hands with supporters.