Former presidential spokesperson Harry Roque appears extremely desperate to win a senatorial seat.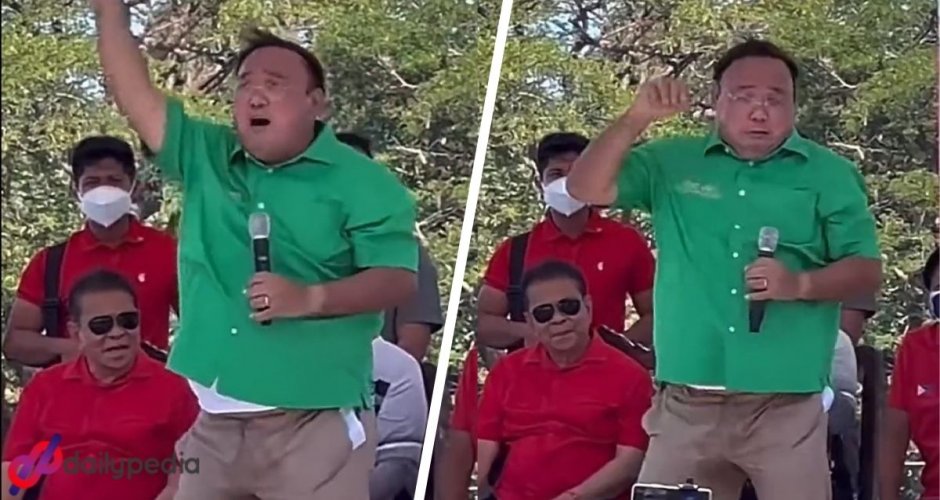 People seeking a position in government will do anything to win as the benefits of becoming a politician are historically coveted. Therefore, the moment election season starts, these candidates spend millions on ads and campaign materials.
They'd visit cities with the most population to garner support. Today, it is not common for them to dance to look more down-to-earth—exactly what Roque does, but his performances don't seem to impress anyone.
He recently attended the UniTeam caravan in Ilocos Norte along with Chavit Singson and other prominent names. And just like in the proclamation rally at the Philippine Arena, Roque danced when introduced on stage as well.
He was flailing his arms in the air and doing all sorts of other dance moves. His watch even came off that made Singson laugh. People also noticed that Roque's pants were wet. Even worse, the dancing only means he is desperate to win.
On a scale of 1 to Harry Roque, how desperate are you?

— Czar Lee Puth 👕 (@Stewart___O) February 18, 2022
Before being appointed as Pres. Rodrigo Duterte's spokesman, Roque, had a fragrant reputation.
NO SELF-RESPECT. The great lengths this creature is willing to go through just to get votes. Did he wet his pants or pinagpapawisan singit nya? Look at Chavit's reaction. NAKAKAHIYA!!!! pic.twitter.com/D9uiaw7T62

— Mac Zamora (@MackinleyZamora) February 17, 2022
I cannot unsee Harry Roque dancing. Reminds me of this. pic.twitter.com/BN020x4xNq

— Vicente Velasco (@rashbold) February 19, 2022
What is ironic is that @harryroque knows more than most people about pressing issues but yet he has to resort to dancing.

— Em Dy (@docemdy) February 19, 2022
Roque dancing wasn't a pleasant sight to many.
I just saw a vid of Harry Roque dancing at a rally and almost barfed my breakfast.

— angelina (@karm1elle) February 18, 2022
https://twitter.com/alter6141/status/1494529433763385346?s=20&t=a5iw6b8OeBrIu_mQtqGoFQ
Harry Roque dancing on stage campaigning confirms that he has no self-respect neither respect for the electorate.

— UPDil92 (@UPD92XXXXX) February 17, 2022
Roque's path to winning is a little blurry. His time as a spokesman has been controversial. He berated health workers and flipped on his principles as a human rights lawyer.