Manny Villar's Advanced Media Broadcasting Systems will soon take over ABS-CBN's television broadcast frequencies.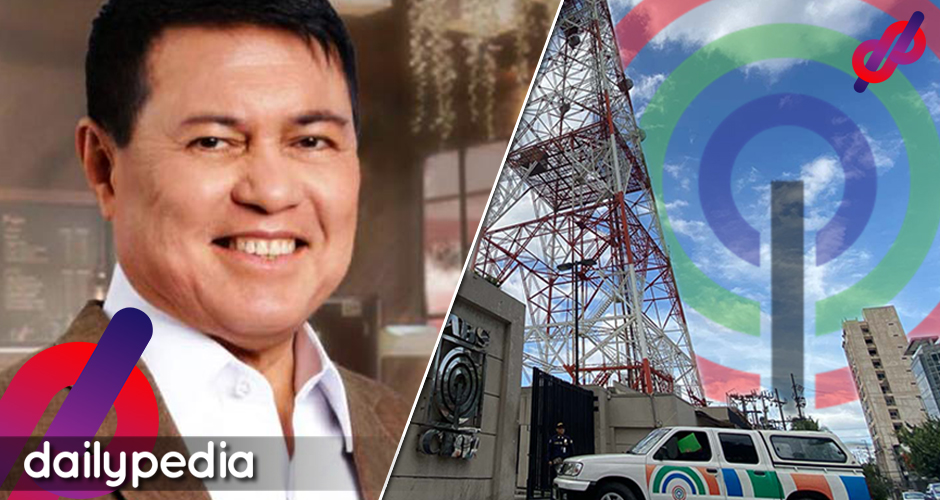 The Kapamilya network was the country's top media company before the Lower House decided to shut it down.
Villar, the richest man in the Philippines, is a known ally of the Duterte administration. His wife, Cynthia, currently serves as a senator, and his son, Mark, is gunning for a Senate seat. His daughter, Camille, was one of the representatives who voted to deny ABS-CBN's bid for franchise renewal.
On Wednesday, ABS-CBN's stock value dropped by 10 percent and closed at P12.76. ABS-CBN and Villar representatives declined to comment on the story.
ABS-CBN stopped airing on free TV on May 5, 2020, posting an annual net loss of $261.5 million. It is now focused on producing digital content through internet channels. Rival network TV5 also accepted a deal to feature limited Kapamilya programs.
The National Telecommunications Commission recalled broadcast frequencies previously used by ABS-CBN following the network's franchise expiration. Congress in September agreed to re-assign the frequencies to Advanced Media.
Well-known outspoken personalities are waiting to see how Villar's media company matches with ABS-CBN's previous success.
Alam kaya nila ang dahilan kung bakit kailangan mag-invest ng ABS-CBN nang malaki sa broadcasting equipment para mapaganda signal nila sa Metro Manila noon? Sksksks

Good luck sa Channel 2, guys. 🙂 https://t.co/RIqp2djulu

— Hyro P. Aguinaldo (@heyrow) January 25, 2022
This is huge, but hardly surprising. Villar's broadcast company may take over ABS-CBN's former frequencies, but it will need excellent manpower, equipment, and viewer loyalty enough to be on par with the Kapamilya brand, which ABS-CBN has built for YEARS. Content is still king. https://t.co/Wpi9YrvmDR

— Nick Villavecer (@nickvillavecer) January 25, 2022
Some say the Congress' move was premeditated.
Ito ang bunga ng grand scheme: persecute ABS, deny franchise and then grab the frequency! Same modus but hindi na land grab, air grab! pic.twitter.com/0XwU1GffYu

— Teddy B. Baguilat (@TeddyBaguilatJr) January 26, 2022
Manny Villar's daughter, Las Piñas Rep. Camille Villar, voted in 2020 against granting ABS-CBN a new franchise.

— Camille B. Naredo (@camillenaredo) January 25, 2022
Camille Villar is one of those who voted to deny the franchise renewal of abs-cbn. Lo and behold, the Viĺlars now have the abs-cbn frequencies. Sino nga ang Oligarch?

— tito (@TSalvosa) January 25, 2022
Duterte did say that he'd support Villar if the businessman would run for the presidency once more.
Ang pagpasa ng frequencies ng ABS-CBN kay Villar, hindi lang nagpaalala ng sakit sa atin. Nagpapaalala ito sa atin ng galit: Galit na nagiging TAPANG. Ang pasistang gobyernong ito ang nagpasama ng imahe ng journalismo. Ibalik natin ang tunay na demokrasya #AnditoTayoParaSaABSCBN pic.twitter.com/TsrtBX7yd2

— Moon Sirius 🎀 #LeniKiko2022 (@MoonsiriusBlack) January 25, 2022
Oh no! So the Channel 2 frequency on free tv will no longer belong to ABS-CBN. It will soon be operated by the Villars. From Kapamilya to Kacamella. The Villars truly has got no delicadeza.

— Iskolokoy (@IskoKolokoy) January 25, 2022
It seems the Villar family is only going to get more powerful.
SHAMELESS: Villar's Advanced Media getting frequencies previously assigned to ABS-CBN is anomalous. A Villar at the HOR voted against ABS-CBN's franchise. Another Villar at the Senate is largely pro-administration. Yet another Villar was in the Cabinet and is running for Senator.

— Danilo Arao (@dannyarao) January 25, 2022
The NTC has now granted ABS-CBN's previously used frequencies, Channel 43 and Channel 23, to Pastor Apollo Quiboloy's Sonshine Media Network International (SMNI) and Aliw Broadcasting Corporation.
"Yes, 'yung Ch43 ang binigay," said SMNI.
Infrawatch PH convenor Terry Ridon noted that granting frequencies to new companies was done just before the national elections.
According to the Fair Elections Act, "No franchise or permit to operate a radio or television station shall be granted or issued, suspended or canceled during the election period."
"Kaya almost midnight deal. Kasi yan yung midnight deal," Ridon told ABS-CBN News.
"They can try to legally justify it all they want, but the public will surely have none of it, especially with one of the Villars running now for public office," he added.
The National Union of Journalists of the Philippines (NUJP) also saw the deal as fishy.
"These networks are perceived to be friendly to government and to one presidential aspirant. We are concerned at the concentration of power in a corporate media landscape already dominated by conglomerates and political clans," the group said in a statement.
Duterte, for the good part of his term, blasted ABS-CBN constantly for failing to air his political ads during the 2016 election season.