Presidential aspirant Ferdinand "Bongbong" Marcos Jr. caused a delay in the Commission on Elections' preliminary conference on disqualification cases against him on Friday.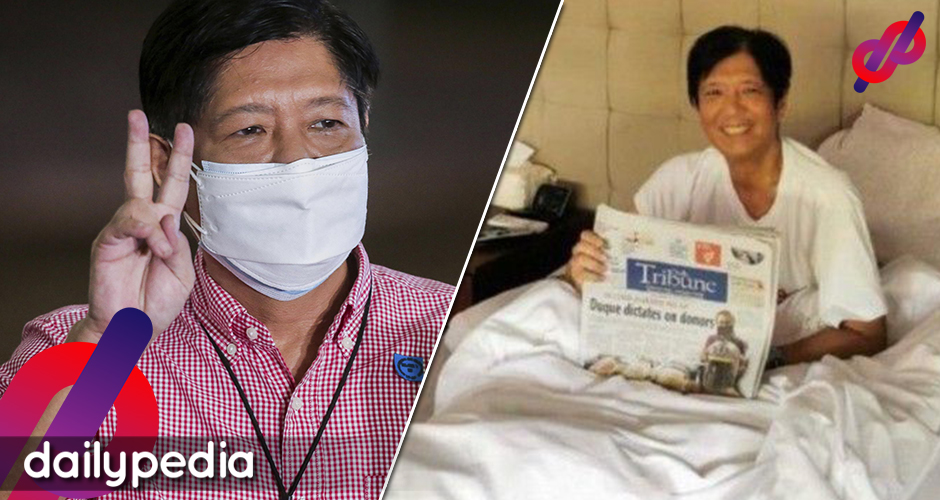 Instead of starting at the scheduled 9 am, the proceedings commenced at around 10:30 am. Commissioner Rowena Guanzon had to wait for Marcos' camp to produce a medical certificate before the discussion streamed live on Facebook.
"Hearing cannot begin, we are waiting for the medical certificate of Marcos Jr. to prove he is not well, hence he is absent," she wrote in a tweet.
Despite producing a medical certificate, Marcos failed to attend via Zoom due to "not feeling well," said his legal counsel.
LOOK: Ferdinand "Bongbong Marcos' medical certificate issued by Aegle Wellness Center. | via @kristinepatag

Marcos is currently in isolation after being exposed to two COVID-19 positive individuals. pic.twitter.com/tmVVtQzkq4

— Philstar.com (@PhilstarNews) January 7, 2022
His camp said Marcos was exposed to a staff who tested positive for COVID-19.
Based on the written statement, Marcos is suffering from a swollen throat.
However, Guanzon didn't see this as an excuse for why he couldn't join through a videoconference.
"But why can't he be on Zoom?" Guanzon asked. "I want to see him because he has no medical certificate," the commissioner said.
Netizens then questioned Marcos' stamina to lead the country.
Not the biggest Marcos fan, Kerwin King finds it funny that the presidential aspirant's slogan is all about rising again, but he couldn't get up for Zoom call.
Paano ibabangon muli ang bayan kung sarili nga niya hindi makabangon para umattend ng COMELEC hearing? Walang respeto sa oras, unprepared, thinks he's above the law, sinungaling, magnanakaw at convicted tax evader. Iaasa mo ba ang bansa sa taong ganyan? #NeverAgain #DisqualifyBBM

— Kerwin King (@imkerwinking) January 7, 2022
Sabi niya, sama-sama tayong babangon. E, ba't hindi siya makabangon para umatend ng disqualification hearing niya sa COMELEC? Tamad amputek.

— Jerry B. Grácio (@JerryGracio) January 7, 2022
Two days before the preliminary conference, Marcos attended a virtual meet-and-greet with his running mate Davao City Mayor Sara Duterte.
Paalala ko lang ah Jan 5 nagzoom call sya. Ngayon di sya maka zoom call 2 days later ?!? Eto resibo oh !!!
Tamad talaga !!! pic.twitter.com/ZBArLxmnZ6

— 𝐏𝐚𝐮𝐥 𝐋𝐢𝐦 💻📸📱🍜🍡🍣🍵 (@paullim0314) January 7, 2022
Keep asking, Madame Commissioner. It is just a delaying tactic. https://t.co/LgoEG6RVDB

— Citizen Jane (@citizenjaneph) January 7, 2022
I understand BBM not being physically present during his DQ case hearing if he's TRULY symptomatic. Pero yung kahit Zoom di pa din kaya?? Yung intern nga namin kayang magreport via Zoom kahit COVID POSITIVE with symptoms pa. Kinaya niya 'yun. Ikaw ano excuse mo? #DisqualifyBBM

— Aimee, MD (@AimeeRNMD) January 7, 2022
Iba yung "hindi kaya" sa "ayaw" umattend ng zoom meeting or hearing. Charot!

— Charot! (@IamCharotism) January 7, 2022
Comm. Guanzon: "Why is it so hard for Marcos Jr. cannot attend on Zoom? He has a cellphone!"

It's a simple task! We received the notice on this hearing two weeks ago and it only takes 5 minutes to open your Zoom account.

Ano bang dahilan at hirap na hirap ka, @bongbongmarcos?

— Carwyn Candila #95Kabataan (@JCRWYN) January 7, 2022
Marcos lawyer Hanna Barcena said the camp is only worried about one issue: if the Comelec can determine whether the former senator is qualified to run for the presidency.
Barcena also refuted the stipulation that Marcos had not paid deficiency income taxes and subsequently fines. She said the payment was "made a long time ago."