Philippine medical experts shot down the statements of a Filipino-American priest who said the Omicron variant is a "natural vaccine."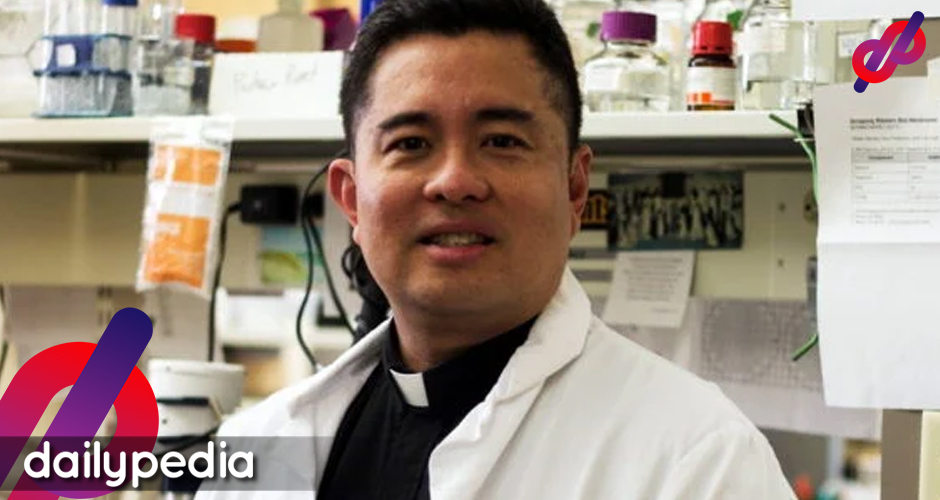 On Wednesday, Fr. Nicanor Austriaco, an OCTA Research fellow and molecular biologist, said the variant could be "the beginning of the end" of the pandemic.
There was nothing wrong with what he said except for when he called the Omicron a natural vaccine.
"So as the virus rapidly increases, it's going to try to spread to everyone and it's going to try to find as many of our kababayans vulnerable. It is spreading so rapidly, what you will expect is it will run out the food sooner," Austriaco said.
"And when it runs out of food, it will begin to crash — which is why you see in South Africa, the numbers are crashing. In London, the numbers are beginning to fall only because, once it spreads like wildfire, and when all the trees are burned, there's nowhere for it to go. So it begins to crash," he added.
He even called the variant a "blessing" because it would provide further protection collectively.
"We have to realize that Omicron is the beginning of the end of the pandemic because Omicron is going to provide the kind of population immunity that should stabilize our societies and should allow us to reopen," he said.
"This is the hope and the prayer. The Omicron is actually a blessing. It will be hard for one month, but afterward, it should be a blessing because it should provide the population protection that we need everywhere," he added.
Just because the variant is milder doesn't mean it cannot harm, especially to the unvaccinated, he highlighted.
"It's milder, but if you're unvaccinated, it's still harder for you.
"We should expect that most of these cases will be mild. We should expect fewer hospitalizations and deaths," Austriaco said.
His fellow medical practitioners couldn't disagree more with what he said.
Father, hindi po ito tama. Hindi natin 100% alam ano ang complications ng COVID-19. Malalaman pa lang natin 10-20 years from now. Para sa walang bakuna, pwedeng mamatay sa COVID-19 infection – at maraming wala pang bakuna lalo na sa mga probinsya. https://t.co/uN5b8neRz6

— Winlove Mojica, MD (@theskinsensei) January 6, 2022
For a molecular biologist, Austriaco did not sound smart.
So Fr Austriaco, what if you're WRONG? and your IRESPONSIBLE statement have boosted the confidence of the people to go out & not care anymore for the others & refuse to wear a mask nor get vaxxed?
If now its milder, the next one may be mild or even a LOT WORSE than DELTA.

— BzMe (@BzMeNow) January 6, 2022
This idiot is from Octurd. Kung ano ang nabasa niya sa Internet iyon ang sinasabi niyan. No medical evidence. This gagawin just wants to get his face and name in the press. If Omicron is the end dapat siya mismo ang mag infect and let's see of this is the end for this Octurd!

— Michael (@Michael550265) January 6, 2022
"Omicron is the best vaccine."

Well, no thanks. Indeed, a dangerous and careless idea. https://t.co/nEw5Zbg7vi

— Edson C. Guido (@EdsonCGuido) January 6, 2022
Dangerous yung statement mo Fr. Nicanor Austriaco. Maybe you are right or deadly wrong.

— AdunToridas (@AdunPio) January 6, 2022
This sends the wrong message. Sa Homily niyo nalang po gamitin yang messages of hope niyo Father.

— Arch (@rantsss9) January 6, 2022
Meanwhile, the World Health Organization (WHO) has admitted that labeling Omicron "mild" was a mistake.
WHO chief Tedros Adhanom Ghebreyesus said the variant is overwhelming health facilities.
"While Omicron does appear to be less severe compared to Delta, especially in those vaccinated, it does not mean it should be categorized as mild," Tedros told a press conference.
"Just like previous variants, Omicron is hospitalizing people and it is killing people.
"In fact, the tsunami of cases is so huge and quick, that it is overwhelming health systems around the world," he explained.
The WHO's Covid-19 technical lead Maria Van Kerkhove also said that Omicron may not even be the last variant. She urged the public to remain cautious and careful all the time.
"Do everything that we have been advising better, more comprehensively, more purposefully," she said.
"We need people to hang in there and really fight," she added.