Special adviser to the National Task Force Against COVID-19, Dr. Teodoro "Teddy" Herbosa, received criticism after exchanging with American chemistry professor Jose-Luis Jimenez.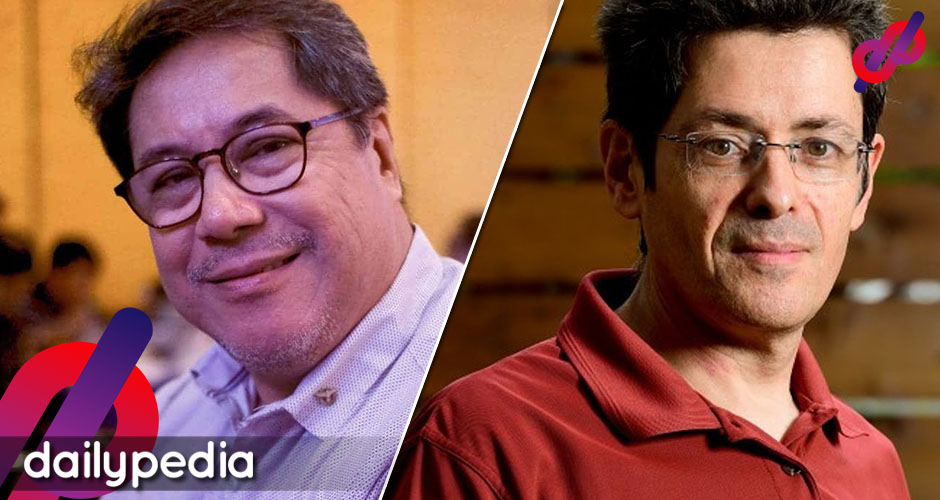 Jimenez, an aerosol expert from the University of the Colorado Boulder, told ANC in an interview that face shields are "outdated," highlighting how important it is for the government to promote quality face masks.
"Face shields are outdated. At the beginning of the pandemic, we saw that when two people talk, there were some projectiles, these droplets, were flying through the air and then a face shield could intercept them," he said.
"Now we know that's not the case. It's like smoke, and the smoke can go under the face shield. So face shields, basically, are useless except in a hospital," he added.
He also talked about maybe mandating the use of "close glasses" which are used in laboratories.
"If someone's gonna cough in your face… but really, what we need in a place like a hospital since there can be transmitted through the eyes and aerosols can get under the face shields, is to have some closed glasses. Like safety glasses that you may use in a laboratory or something like that,
"And face shields are not useful, we should invest our money instead of in… masks and things that actually work," he continued.
Herbosa responded to Jimenez by questioning the latter's knowledge on the issue.
Well, I just lead a peer-reviewed paper that demonstrates (with epi data from real outbreaks) that superspreading is due to shared-room airborne transmission:https://t.co/K5uB26xwng

— Prof. Jose-Luis Jimenez (@jljcolorado) January 8, 2022
"I collaborate with medical expert such as @trishgreenhalgh, epid. Like @DFisman, microbiologist like Stephanie Dander and Raymond Yellowed, virologists like Julian Tang…" Jimenez said in another tweet.
Herbosa didn't stop there, warning Jimenez that his statements could be dangerous.
"Airborne or aerosolized transmissions? The path (of) on bench science to clinical practice is a long route. You need to be cautious with dogmatic statements because lives are lost when the science and interpretation of the evidence is wrong," Herbosa said.
Jimenez then explained that airborne and aerosol transmission "are the same thing," adding that the World Health Organization "uses both terms interchangeably for both short-range and long-range."
"I wish @WHO had considered that BEFORE they told us airborne transmission of COVID was MISINFORMATION," he said.
Their spat continued and even Filipinos took the side of Jimenez.
Like the millions of people in the country, Raquel Fortun cannot understand why retired generals are overseeing important governmental positions.
In the Philippines retired generals are in charge https://t.co/eNKBDV0YK5

— Raquel Fortun (@Doc4Dead) January 9, 2022
Somehow, the audience learned a little something from Jimenez.
Some thoughts after Prof. Jimenez' tweets:
1. Do people know that COVID is airborne?
2. Do people understand what airborne is and its implications?
3. How do we communicate to Filipinos that COVID is airborne effectively?

— JX (@itisthehormones) January 9, 2022
Doctors also didn't like the way Herbosa tried to discredit Jimenez.
This thread: A face shield apologist debating with a physical engineer and aerosol expert that simulation results are just lab results and not truths. 🤦🏽

The pandemic is a global problem needing MULTIDISCIPLINARY solutions. Stop invalidating other scientists and professions! https://t.co/WScBahVpiQ

— Carlo Trinidad (@hellokidneyMD) January 9, 2022
Prof @jljcolorado thank you so much for being a voice of reason & for calling out unprofessional behavior.

We do have excellent scientists & physicians here but our ~leaders~ prefer to use meter sticks, shields, plastic barriers, & confusing forms of lockdowns on loop. https://t.co/hEIqQVKd8h

— The Nerdy Derma (@thenerdyderma) January 9, 2022
Admit to PGH Burn Unit 80% TBSA Full Thickness Burns.

NPO

Intern-on-duty to "carwash" daily and dress with MEBO pic.twitter.com/1PoIXQWXW6

— Edsel Salvaña's (non-existent) Conscience (@ScienceMocha) January 9, 2022
Govt should acknowledge that COVID is airborne.

Face shields are useless and emphasis must shift to ventilation, air filtering, and air flow instead of just adherence to minimum health protocols.

In short, State and institutional OBLIGATIONS, not just individual responsibility.

— doc gene (@genenisperos) January 9, 2022
I'm honored.

This goes to show that the work done hasn't been in vain.

I really hope for the policy-makers of this pandemic to heed our inputs. https://t.co/5wTiIpVO1M

— Joshua C. Agar (@JoshuaCAgar) January 9, 2022